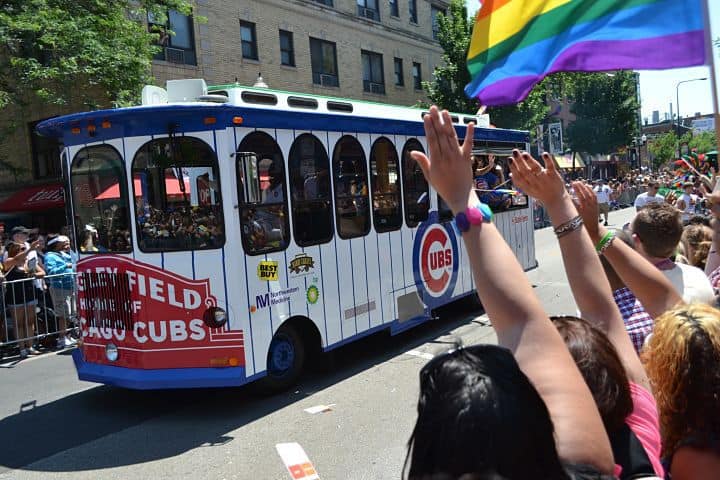 Okay, basically, all of Chicago is going nuts for a win that has been 108 years in the making — and of course that includes the queers in the Windy City's gayborhood, Boystown, who are Wrigley Field's neighbors.
Even if you don't put on a blue and red jersey, this historic milestone for Chicago's northside team is something that should put a smile on anyone's face today.
While the World Series Championship parade details are still in the works, here are a few things we know:
Chicago's gayborhood, Boystown, will be just steps away from the epicenter of the celebrations as it is next to Wrigley Field, the home of the Chicago Cubs.
Right now this is not confirmed but we know City Hall's preference is that the World Series Championship Parade start at Wrigley Field and head down Lake Shore Drive to Grant Park. We do know It will be on Friday, November 4. [ps. Fagabond's own Rayme Gorniak will be there!!]
Expect big crowds — bigger than gay Pride! If you decide to leave Boystowns and head to Grant Park for the championship celebration, take note that there will be a sea of fans — straight and gay — as Baez, Arrieta, the bearded-MVP Ben Zobrist with the rest of the team take the stage to revel in Cubs glory. Pro Tip: You'll probably see more if you just watch it on TV with your fellow queers on Halstead Street.
The Cubs are one of the gay-friendliest sporting teams, think about this:
– The Cubs have a float in the annual gay pride parade.
– The team's co-owner, Laura Ricketts, is an out and proud married lesbian!
– The Cubs have also been holding Out at Wrigley, a gay day at the ballpark since 2001, making it the longest-running LGBT-themed day among the 30 Major League Baseball teams.
So we kinda owe it to them to come out and celebrate!
Have fun! This is a party that was over a century in the making and will be huge! Go Cubs, Go!
Photo by Flickr user Nathanmac87 used under the Creative Commons Attribution license