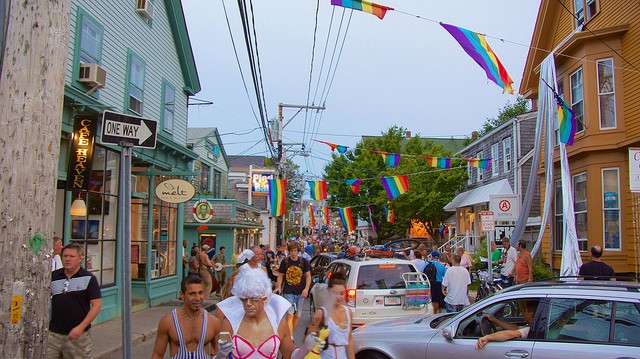 Sightings of velour tracksuits, giant earrings and shoulder pads can mean only one thing – Provincetown's Carnival Week extravaganza. This year's theme "Back to the 80's" will have everyone adding "Thriller," "Sweet Child of Mine," and "Papa Don't Preach" to their vacation playlists.
Carnival Week, August 14 – 19, 2016 in Provincetown — the first and longest running festival of its kind in New England. More than a few Madonna impersonators are likely to be seen this year as 80's fashion, culture and music fuel the street scene. Here are a handful of events to hit up that are packed with variety, humor and the outrageous.

August 14 – The official Carnival Week kicks off with a 10:00 am Pride Flag Raising at the Pilgrim Monument. Evening brings the the nautical-themed 'Love Boat Cruise' departing from MacMillan Pier at 5:00 pm, with perhaps a few Captain Stubing's and Julie McCoy's in attendance.
August 15 – Things begin to heat up as clothes drop off for the "Boys Just Want to Have Fun" pool party, 2:00 pm at the Brass Key Guesthouse. From the pool to dress up time, the Crown & Anchor hosts the "Back to the Future Costume Ball" at 7:00 pm.
August 16 – Join friends, new and old, at 3pm at the Watership Inn for one of the original Carnival parties – the "Love Shack Party." Then dance the night away at "It's Raining Men Dance Party," 10:00 pm at the Atlantic House.
August 17 – At night fall it's "The So 80's Dance Party," 7:00 pm at Provincetown Town Hall. Come in drag and dress to impress while enjoying special guest performances by Martha Wash & Lisa Lisa and you may walk away with a $500 prize.
August 18 – The crown jewel of Carnival week is the annual Provincetown Carnival Parade! The always outrageous and exotic entourage kicks off at 3 p.m., August 18th, at the Harbor Hotel traveling down historic Commercial Street, to the delight of costumed revelers. Parade-goers always alert to the parade's final float, which traditionally unveils next year's Carnival theme. Following the parade and street party, slap on some leather and head out to the annual "Where's the Beef Leather Dance Party" starting at 10:30 pm at Club Purgatory.
August 19 – Don't miss the official closing party as DJ Phil B rocks the house at the "Electric Slide Dance Party," 9:00 pm at the Crown and Anchor.