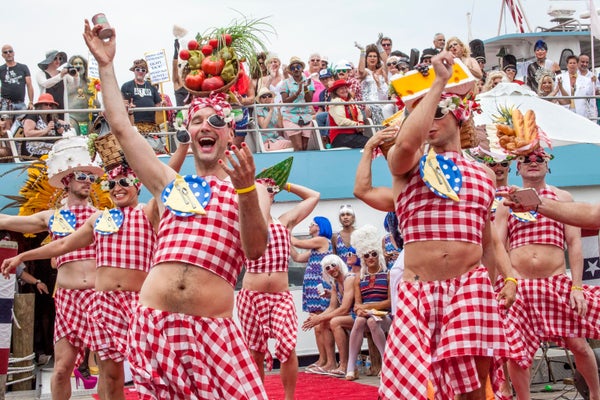 Photographer Susan Kravitz has captured one of Fire Island's best-known annual events for posterity in a dazzling coffee table book.
Mascara, Mirth & Mayhem is billed as a "provocative, introspective, sad and funny" look at the Invasion of the Pines, a yearly tradition that brings a ferryboat of drag queens to New York's premier gay beach resort for a raucous Fourth of July celebration. Kravitz's book is a compilation of 30 years of photographs, from the 1980s until today. Fittingly, it will hit retailers July 4.
Many Fire Island visitors today, however, don't realize the solemn origins of the Invasion. In 1976, a drag queen, whose real name was Terry Warren, was denied service at the Blue Whale restaurant in the Pines. This prompted a group of drag queens, many of whom were friends of Warren's, to descend upon the Blue Whale from neighboring Cherry Grove and demand service from wait staff.