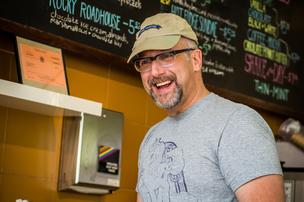 The men behind New York's Big Gay Ice Cream announced they would be opening up shop in Philadelphia earlier this year — an announcement that was actually made prematurely. But now Douglas Quint and Bryan Petroff say the store's opening is coming soon.
The company started as a business on wheels, reusing a Mister Softee truck. Fast-forward five years later, the partners now have two brick-and-mortars in the East and West Village.
Now, the two are about to expand into Philadelphia and Los Angeles, although there's no opening date set yet. The Philly shop will be located in the SouthStar Lofts on S. Broad St., the $31 million apartment project at the corner of Broad and South streets.
I spoke with Quint about the move to Philadelphia, and he talked about competition, not being necessarily a "gay" company and why he doesn't care what people think.