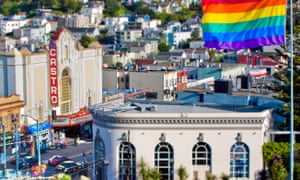 The City by the Bay has a long and varied history of artists, activists, and eccentrics, and was a key location in the rise of the early LGBT rights movements with the Compton's Cafeteria Riot in 1966 (the first large-scale rebellion against police violence by trans and queer people), the annual pride parade beginning in 1970, and the historic election of Harvey Milk in 1977 – the first openly gay man elected to public office in California. The city also boasts the US's original gayborhood: the Castro.
Today, the Castro has a flourishing bar and nightlife scene and plenty to offer in the art and history departments, too, such as the GLBT History Museum and Castro Theatre, which hosts the annual LGBTQ film festival, special screening events, and drag-inspired parodies of classic and cult films.
However, the Castro is not the only place you'll find LGBT people congregating: the South of Market (SoMa) neighborhood in particular has long been a stronghold for the leather and bear communities. And, despite San Francisco's rapid transformation during the recent tech boom, many gay and gay-friendly institutions are keeping queer creativity alive in SF. Among them are the literary-inclined RADAR Productions, CounterPulse, a theatre, gallery and community centre, the SF Queer Open Mic, the community-focused arts organization Galería De La Raza, SOMArts and the Center for Sex and Culture. In fact, you can find a strong queer presence throughout the city, it's just a case of knowing where to look.