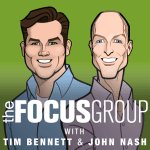 SiriusXM OutQ – The Focus Group
OutQ's resident Mad Men, Tim Bennett and John Nash, pioneered the business of advertising for the gay market. Now, their show, The Focus Group, gives listeners an inside look at the strategies, campaigns and personalities that drive the world of marketing. Their snappy banter, refreshing topics, intriguing guests and unique perspective are giving all listeners a good reason to tune in.
Click below to hear Tim and John interview fagabond.com co-owners, Mike and Jim, about the website, how it started and its future, in its entirety.