If I were a betting man — and I am, especially for those penny slots in the Vegas airport — I'd venture to say that 2017 will be a year when we need a lot of vacations on the calendar. You'll need to unwind, reconnect and let loose. Here's what to do and where to go:
 1. Get in the game during the World OutGames IV.
The gay Olympics (pretty much) are coming to the U.S.A. for the first time. Miami, to be specific. Join thousands of players, spectators and thought leaders for 10 days (May 26-June 9) of sporting, cultural and human rights events. From swimming and soccer to a film festival and concerts, the physical and intellectual displays will inspire all participants and audiences.
 Photo courtesy of the Museum of the American Revolution
Steps from Independence Hall, Philadelphia's newest museum opens on April 19. Discover how dissatisfied colonists organized against an oppressive regime and, eventually, launched the biggest upset in history. Sound intriguing?
3. Indulge your inner bibliophile.
As if you needed another excuse to visit Chicago — lakefront, art, food, architecture, the Obamas — the American Writers Museum will open in spring 2017. It will honor the likes of Walt Whitman, Truman Capote, James Baldwin, Emily Dickenson and other literary geniuses from our great nation. Think manuscripts, first drafts, letters from writers to other writers, penmanship! Bonus: Hamilton takes the PrivateBank Theatre stage through September.
 Cher photo by Machado Cicala Morassut
4. Lip sync every Cher hit, and then gamble.
It's possible at MGM National Harbor outside Washington, DC. The singer/actress/icon/everyone's mom takes the stage for a six-show run in March and returns in late August for another half a dozen life-altering performances. After screaming your adoration for a few hours, take your good vibes to the casino floor, and lay your money down.
Jim and Mike from fagabond.com
5. Make the happiest place on earth even happier during Gay Days.
It all started with a mouse, and a few proud Floridians who started gathering at Walt Disney World 27 years ago. In 2017, 180,000 people will converge on Orlando for themed expos, pool parties, #redshirtdays at theme parks and the Miss Gay Days® Pageant, May 30 to June 4. With the victims of the Pulse Nightclub shooting in our hearts, we'll take back this city and look forward with pride.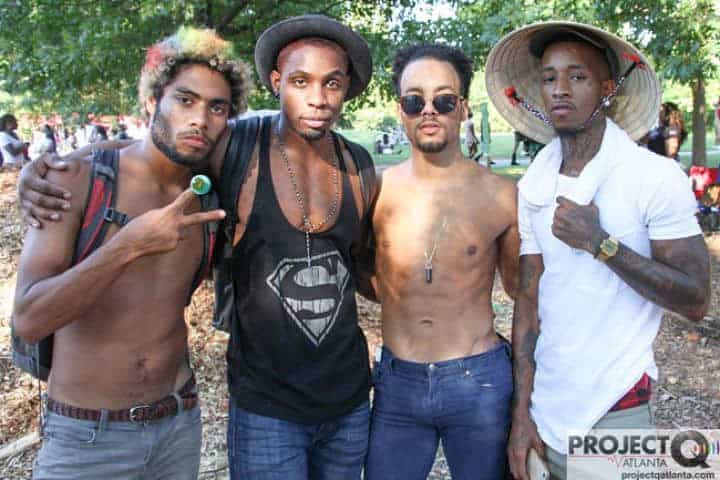 Black Gay Pride photo courtesy of Project Q Atlanta

6. Show your Pride.
Standing up for who we are is pretty important these days. Remember–even though many celebrations take place in June, you can find Pride all year long. Atlanta Black Pride during Labor Day weekend attracts thousands of men and women of color for meaningful daytime events and unforgettable nighttime parties.
 Baker Beach and Marshall\\'s Beach photo by JoeSwickFoto
7. Ditch your clothes at a nude beach.
When you just need to let it all hang out, San Francisco delivers. Sunbathe in the buff at Marshall Beach, where the largest ocean is only one of nature's gifts on display. For manmade beauty, take a pic of the Golden Gate Bridge.
New Hope Celebrates Pride photo by A. Sinagoga for Visit Philadelphia®
8. Walk hand-in-hand with your boo down a lovely Main Street.
At some point in 2017, you'll need to simply stroll with a loved one. While you're meandering down Duval Street in Key West, Commercial Street in Provincetown or Main Street in New Hope, Pennsylvania, stop into the LGBT-owned shops to pick up a few souvenirs.
 Photo couresty of Glace Chase
9. Take a gay tour.
Yes, it's a thing, and they're more prevalent than you may think. Find one in destinations such as Key West, Palm Springs and San Francisco. A local drag queen leads New York's iteration through the historically gay-centric Greenwich Village. Join Glace Chase's Dream Queen Tours for a bit of history, a few personal anecdotes and plenty of commentary.
 Boston Santa Speedo Run photo courtesy of GBCVB
10. Get on the naughty list during the Santa Speedo Run.
Revelers strip down to their red skivvies for Boston's annual tradition, which benefits a worthy cause. Get in the holiday spirit and prepare to end 2017 with a festive day of drinking, running and drinking again. In Boston in December, the libations are a must.