Break out the rainbow flags, this weekend is the official start of Pride season. All month long cities across the country will roll out the rainbow carpet to celebrate their LGBTQ+ communities.
Pride celebrates our freedom and promotes equality in this great country (thank you, Stonewall rioters.) With support for same-sex marriage at an all time high, states starting to ban conversion therapy for minors, and "RuPaul's Drag Race" ruling the cable ratings game, the LGBT community has plenty of reasons to be proud.
However, we cannot ignore that the past year has been rough for our community. From fighting legislation that restricts where we can use the bathroom, where we can live, if businesses can refuse to serve us, and most recently, whether we can adopt children — we also know this: There is a lot more to do, and we need to show up and proudly proclaim our rights and our life.
So, start researching your Pride getaway here. Then pack your bags, let your flag fly high and let everyone know: We're here! We're queer! And we won't give up until our whole community has equal rights!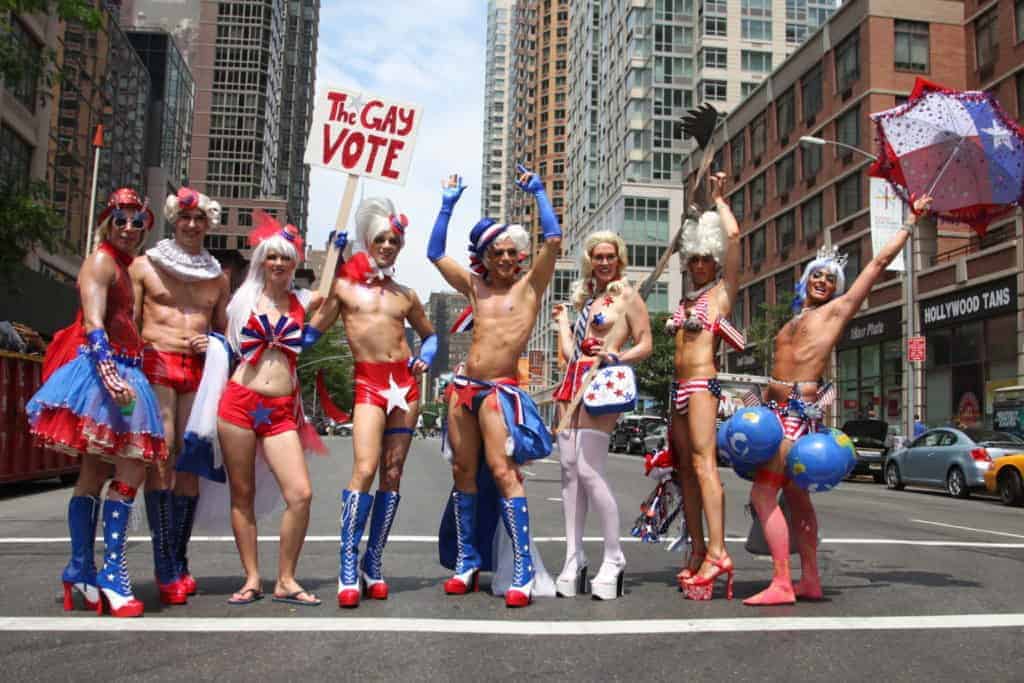 Pride Highlights:
Brooklyn Pride – June 9
As it does most things, the borough puts its own distinct spin on Pride. The more laid-back, neighborly vibe is a pleasant departure from the norm.
Key West Pride – June 6-10
Relaxed and tropical, Key West Pride is part-vacation, part-celebration, all amazing. Pro tip: head to The Gates Hotel Key West for a foam pool party on June 9 from 2-5 pm.
Rhode Island Pride – June 16
The country's smallest state proves that size isn't everything. Sometimes it's the smaller cities that have the bigger Prides. And this year you'll want to sashay your way to Providence with Drag Race stars Monét X Change and Laila McQueen headlining the illuminated parade through downtown.
San Francisco Pride – June 23-24
I recognize that San Francisco is an obvious choice but you really should experience Pride in a very gay city—one that gets even gayer at the end of June. It feels like the entire destination is in on Pride.

Pride All Over:
Quick tip: Some of the dates listed below are for the actual Pride parades, but LGBT events fill the calendar in the days and weeks before. These are listed by end date and not ranked in order of importance.
Asbury Park, NJ – June 3
Buffalo, NY – June 3
Cleveland, OH – June 3
El Paso, TX – June 3
Kansas City, KS – June 3
Provincetown, MA – June 3
Salt Lake City, UT – June 3
Santa Cruz, CA – June 3
Queens, NY – June 3
Cheyenne, WY – June 9
Indianapolis, IN – June 9
Yonkers, NY – June 9
Albuquerque, NM – June 7-9
Kalamazoo, MI – June 8-9
Spokane, WA – June 8-9
Albany, NY – June 10
Olympia, WA – June 10
Philadelphia, PA – June 10
Sacramento, CA – June 10
Birmingham, AL – June 1-10
Boston, MA – June 1-10
Pittsburgh, PA – June 1-10
Des Moines, IA – June 7-10
Milwaukee, WI – June 7-10
Washington, D.C. – June 7-10
Long Island, NY – June 8-10
New Orleans, LA – June 8-10
Detroit, MI – June 9-10
West Hollywood, CA (Los Angeles Pride) – June 9-10
Huntsville, AL – June 11
Baton Rouge, LA – June 16
Syracuse, NY – June 16
Wilton Manors, FL – June 16
Anchorage, AK – June 9-16
Boise, ID – June 15-16
Louisville, KY – June 15-16
Portland, OR – June 8-17
Fayetteville, AR – June 14-17
Bisbee, AZ – June 15-17
Columbus, OH – June 15-17
Baltimore, MD – June 16-17
Denver, CO – June 16-17
Bend, OR – June 23
Cincinnati, OH – June 23
Flagstaff, AZ – June 23
Harlem Pride– June 23

Houston, TX – June 23
Chicago, Illinois – June 24
Minneapolis, MN – June 24
New York City, NY – June 24
Seattle, WA – June 24
Orange County, CA – June 17-24
Santa Ana, CA – June 17-24
Augusta, GA – June 21-24
Oklahoma City, OK – June 22-24
Nashville, TN – June 23-24
St. Louis, MO – June 23-24
St. Petersburg, FL – June 22-24
Biloxi, MS – June 30
Lexington, KY – June 30
San Antonio, TX – June 30
Santa Fe, NM – June 30
Norfolk, VA – June 21-30
Omaha, NE – June 29-30
Wichita, KS – June 29-30
Related Article
Photos by Flickr user Thomas Hobbs used under Creative Commons and courtesy of New York Pride