San Francisco is gayer than a bareback orgy with a drag-show accompaniment on a normal day. But, on the last Sunday in September every year, the city takes it to the gayest extreme with Folsom Street Fair — the world's largest leather event!
This fair is all about embracing your wild side and being true to your desires, without fear of judgment. It's a loving slap in the face (with consent, of course!) to societal norms and conventions, encouraging everyone to express themselves freely.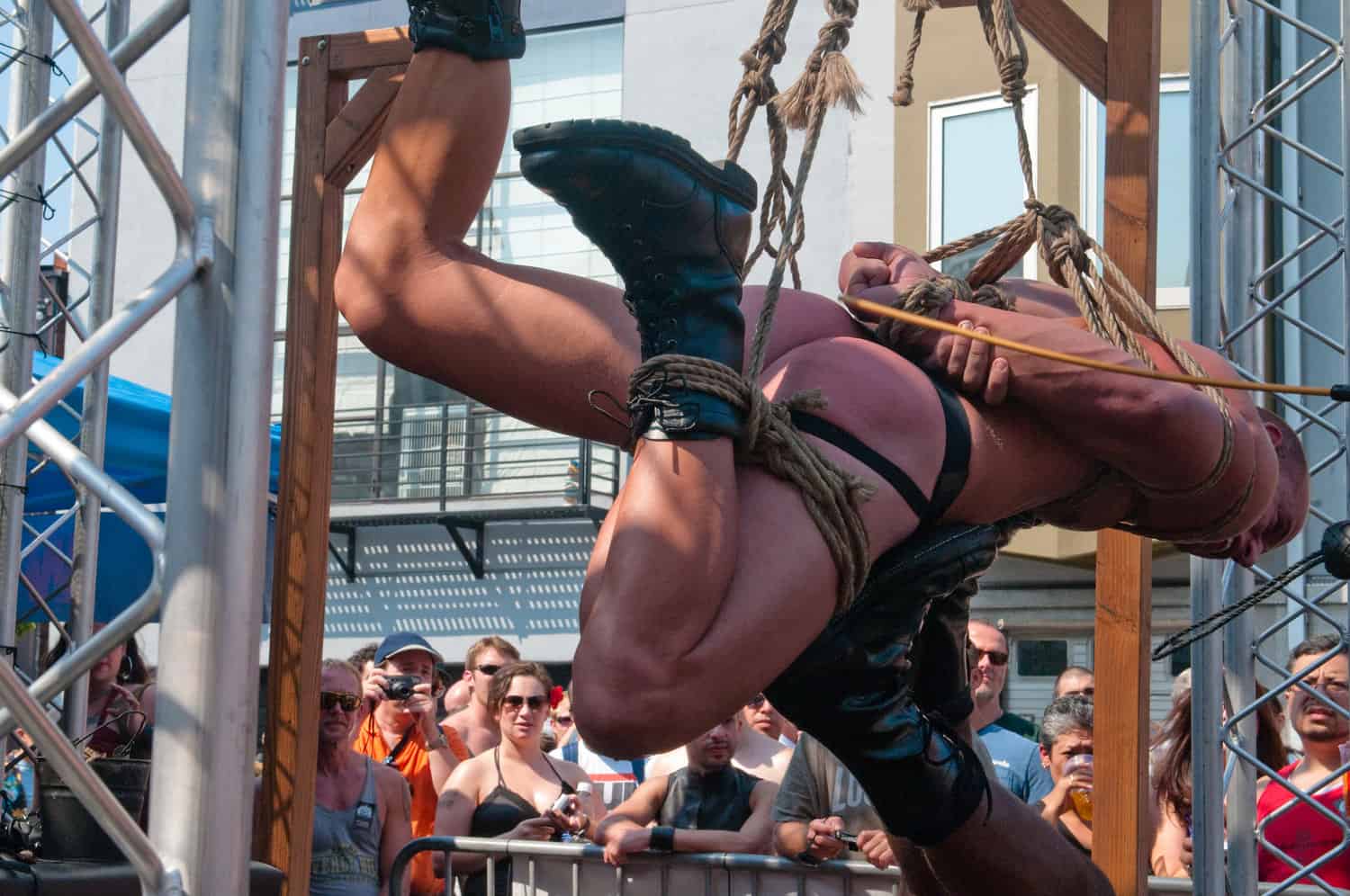 History of Folsom Street Fair
The Folsom Street Fair, dating back to 1984 (hey, Daddy), was a celebration of the kink and leather community during the AIDS epidemic's social stigma. It also served as a political statement against the perception of South of Market (SoMa) as an empty slum in need of urban renewal. The fair, named after SoMa's Folsom Street, the heart of San Francisco's leather scene, is now celebrating its 40th birthday with over 400,000 attendees expected to gather to fly their freak flags.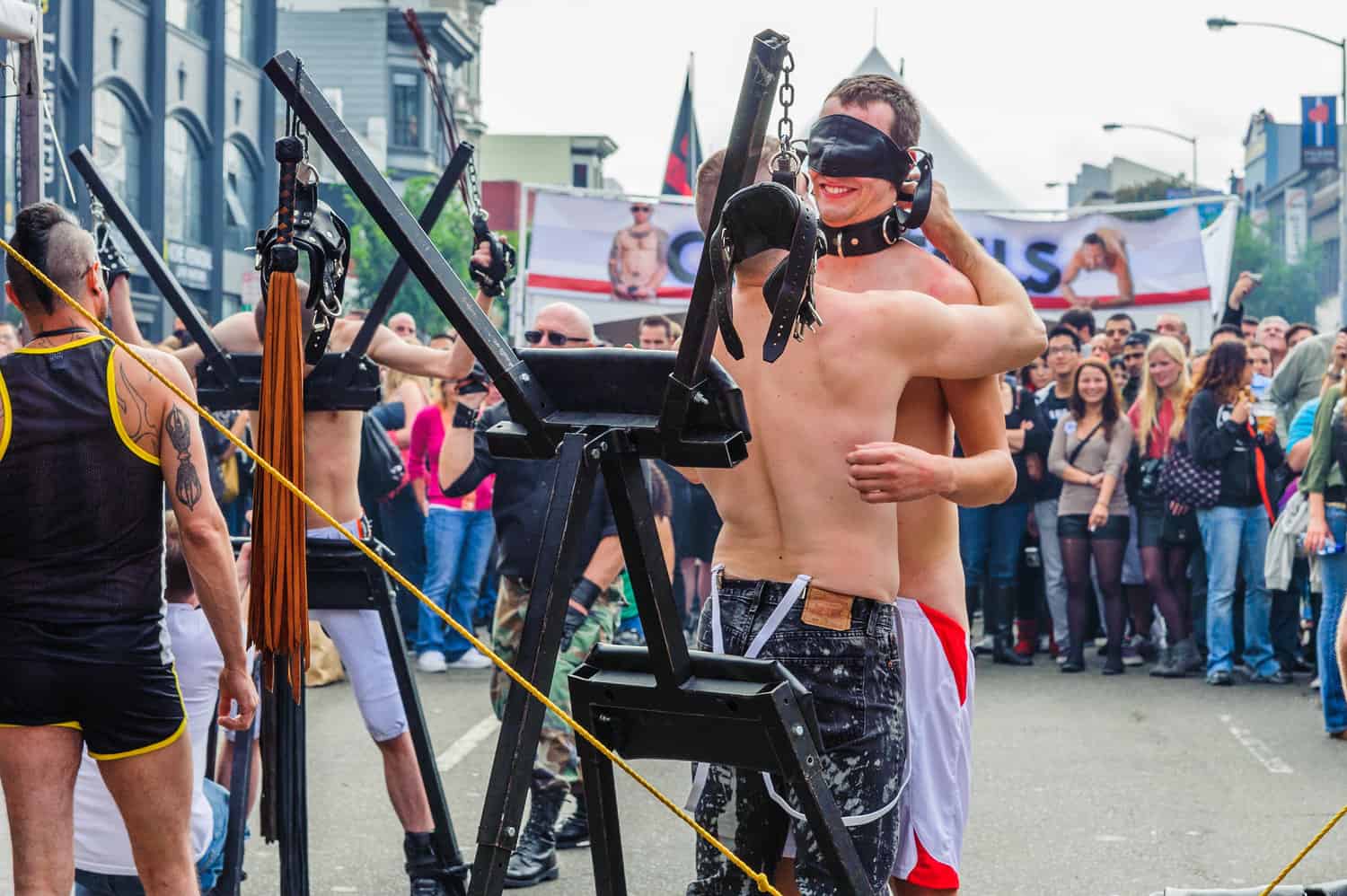 The Basics
When: The Folsom Street Fair is on Sunday, September 24, 2023. It's an all-day, all-out fete, starting at 11 a.m. and ending at 6 p.m.
Where: Folsom Street in San Francisco's SoMa neighborhood is its original home, but now spans 13 city blocks, from 8th to 13th streets. So, there's plenty of room to roam and explore.
What: The fair is a celebration of sexual liberation. Think play stations, erotic artists, gear and toy vendors, live music, dance areas and skin aplenty. This is not the block party of your childhood.
Who: This is attended by people of all genders and sexual orientations. And if there's one situation where the "Not for Children" warning is spot on, it's the Folsom Street Fair. The organizers, Folsom Street Events, suggest not bringing anyone under the age of 18.
How (…to dress): Attendees often dress in their best, with latex, leather, rubber, and other fetish clothing. Expect lots of nudity — it's legal in San Francisco during permanent street fairs.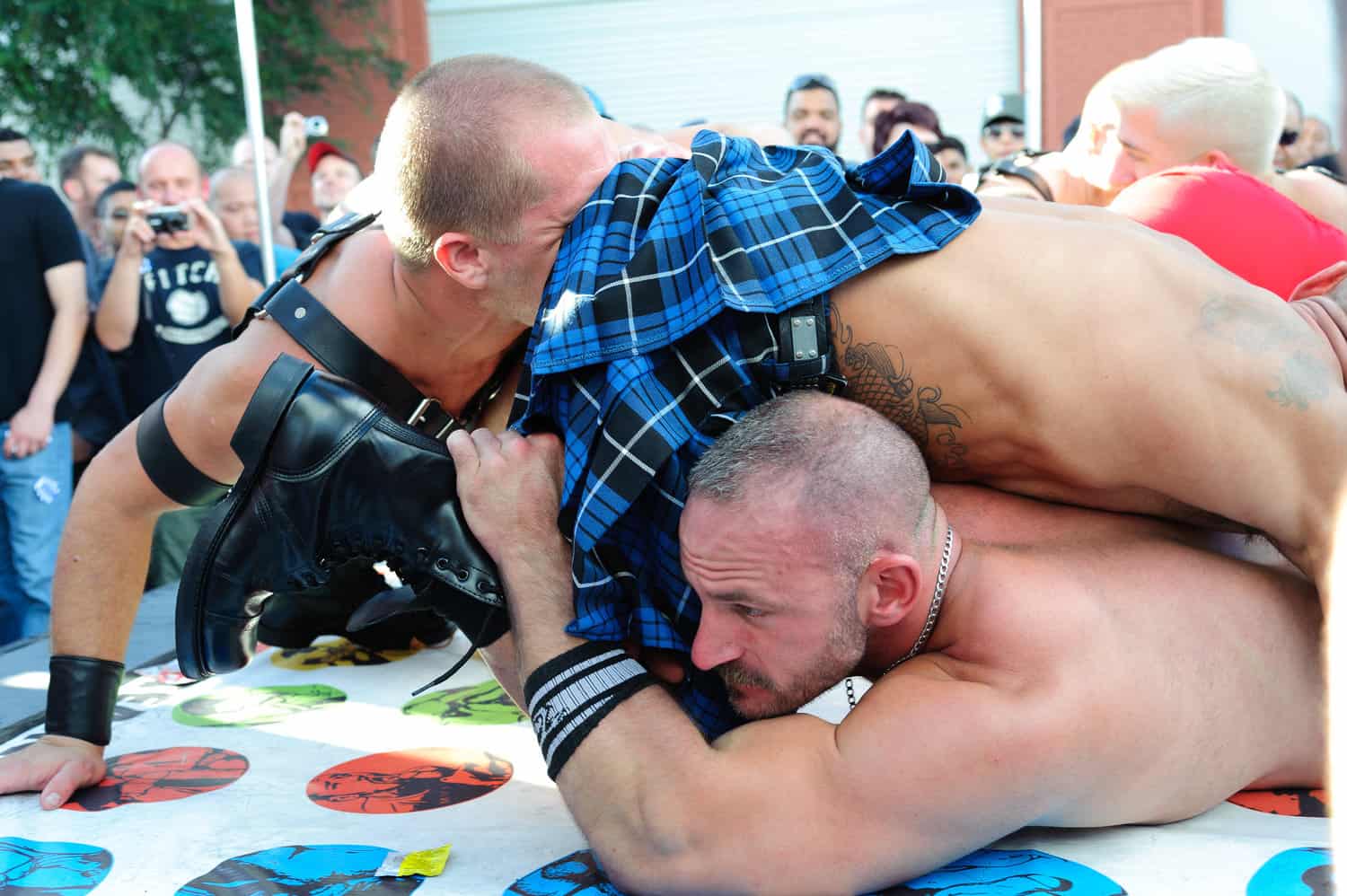 The Highlights
Get ready to explore some exciting BDSM activities at the public play stations, like learning to throw a flogger. You won't want to miss the captivating performances at the erotic artists' stage, where you'll witness the full range of expression in leather and BDSM.
In addition to the kink scenes, the fair is also home to live music stages, with local and international bands and DJs pumping out tunes all day long. You'll also find hundreds of vendor booths selling a wide range of products, from leather gear (you knew that was coming, right?) to artisan crafts, to a variety of food and drink to keep you fueled for the day. There's even a cannabis lounge — recreational use of cannabis is legal in California.
And don't forget about the people-watching! Folsom Street Fair is known for its wild and creative outfits or lack thereof. Costumes are encouraged, but not required. The main thing is to respect everyone's boundaries and communicate clearly about your comfort levels. After all, consent is the sexiest thing you can wear to the fair!
Last but definitely not least, remember that the Folsom Street Fair is a charity event. Even though the fair is not ticketed, they encourage donations upon entry. So, while you're getting your kink on, you're also giving back to the community. Now isn't that just the cherry on top of this leather-clad sundae?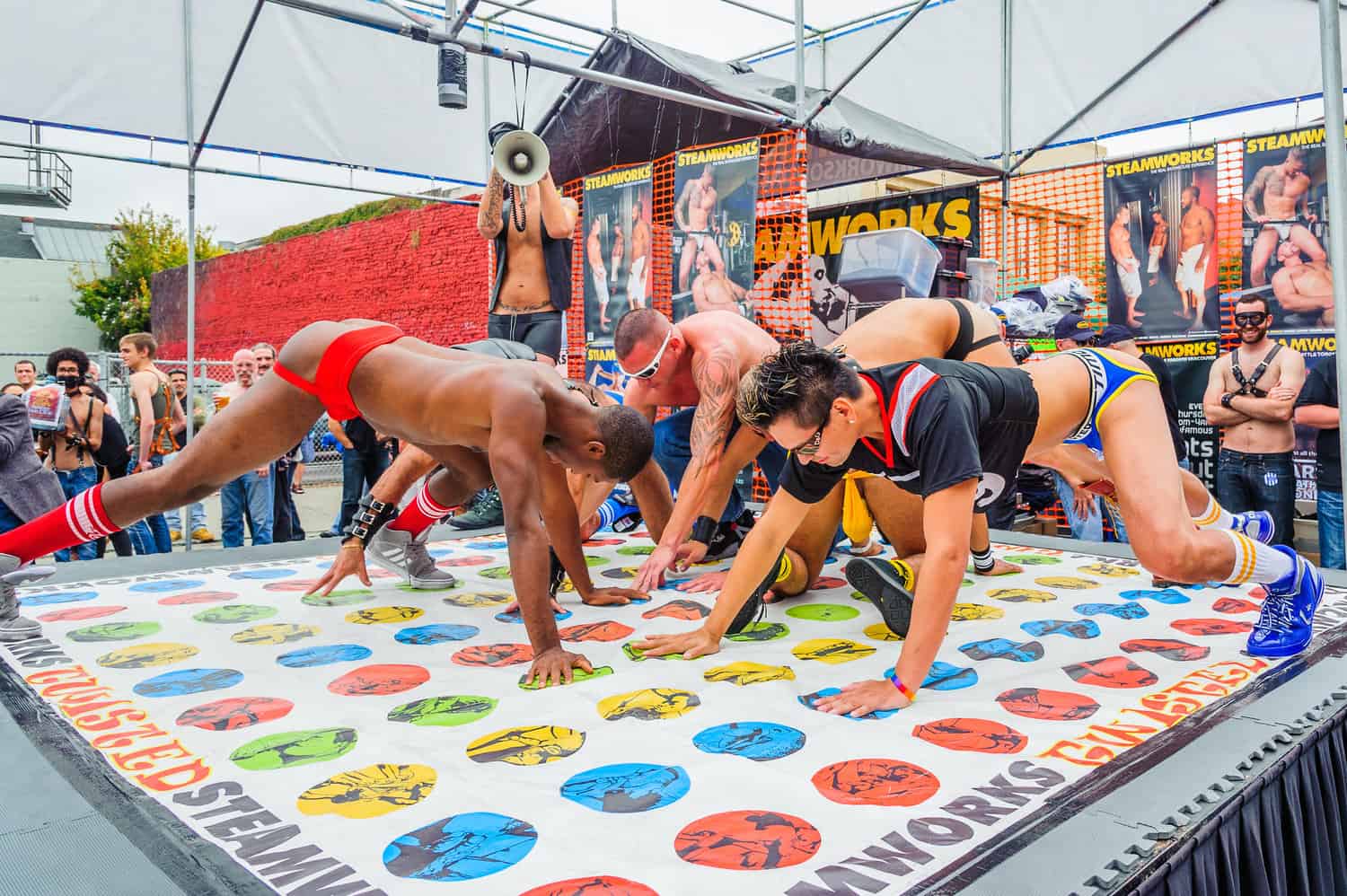 Folsom Street Fair Community
When you step onto Folsom Street on the day of the fair, you're stepping into a world where kink isn't just accepted — it's celebrated with a big sparkly bow on top!
Folsom Street is committed to cultivating a safe, open, and inclusive environment for the kink, leather, and alternative sexuality communities while centering equity for BIPOC and LGBTQA2I+ people. To do that, there are 8 different community stages situated throughout the festival. Here's the rundown:
Stud & Oaklash Drag Stage – Shows by STUD Collective and Oaklash.
Playground Stage – Performances geared for women, trans, and nonbinary folks, hosted by Alotta Boutté.
DJ & Gogo Stage – Fawkstales presents a stage with hot and heavy beats and performances.
Rope Stage – Twisted Windows and KinkPOC Bay Area showcase rope demos and performance art.
Folsom Street Live! – A stage dedicated to whips, chains, and live rock and roll.
The Eagle Stage – The Eagle Bar hosts a stage with sensual dancers and cold beer.
Wrestle Stage – A new community stage with real live wrestling.
BDSM Demos – Society of Janus hosts BDSM demonstrations.

Do's and Don'ts of Folsom Street Fair
Do participate in the fun. Come with an open mind and you'll discover new things, along with people who are more than happy to explore with you.
Do wear comfy shoes. The fair spans 13 city blocks; you'll be doing a lot of walking.
Do bring plenty of water and sunscreen. You're going to be out in the sun all day in large crowds, so you want to prepare for the conditions. Stay hydrated!
Do make it a vacation. Just when many of us are bidding farewell to summer and pulling out our jackets and coats, San Francisco heats up. Hold on to that summertime feeling just a little longer with a few extra days off to explore the City by the Bay.
Don't bring your kids. This isn't a family-friendly event, so plan on getting a babysitter for the day.
Don't touch without asking for consent. While it's a day of fun and frivolity, respect and consent rule this roost. Respect each other's boundaries and engage in safe practices.
Don't talk to artists when they're in the middle of performing. You'll see a wide range of shows, and they need to concentrate on what they're doing. In many cases, you can catch them at a booth or public play area after they're done, which is a great time to ask any questions you have. Just make sure to check and see if they are okay with sharing information.

Wrapping Up Your Adventure
So there you have it, folks! If you're free and willing — and very open to leather — this weekend is calling. With proper planning, dressing appropriately, participating in the fun, and staying safe, you're guaranteed to have the best time of your life. So, pack your sense of adventure, lather on that sunscreen, and embrace the unexpected at the ultimate leather event this year!
Photos by Flickr user JBetac used under the Creative Commons Attribution license and courtesy of San Francisco Travel Association