Editor's Note: This post was originally published in August 2019 and has been updated for accuracy and comprehensiveness.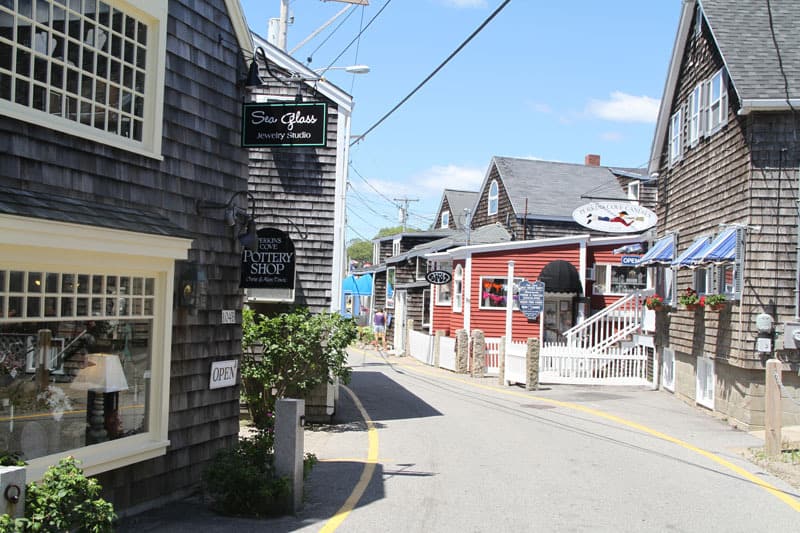 The Names Project AIDS Memorial Quilt. Ogunquit has its own chapter, and panels from the quilt are displayed Memorial Day weekend each year.
No smoking in restaurants and bars. And no restaurant chains!
Hurricane free since 2005.
The completely phonetic name. Despite confusion over whether it's algonquin, algonquit, ugunquit or whatever, it's pronounced just like it looks – Oh – gun – quit.
No tolls (kinda). If you take the Maine Turnpike to Bar Harbor, you have have to pay some hefty tolls — Ogunquit's Exit 7 is just before the first toll. Score!
Walk Everywhere. Once you've avoided that toll, park your car and forget about it.
The Ogunquit Police Department is very gay-friendly, and genuinely helpful if you have a problem.
Interested in small-town politics? Ogunquit's Channel 3 shows every meeting of the Board of Selectmen and Planning Boards.
The accent. Listen to native Mainers talk about their cah and summah.
Shot boys at MaineStreet, and the Jello's tasty too.
It's easy to make a friend.  Locals and tourists alike are friendly and low-attitude.
Dancing queens will get lots of ammunition from DJ's AGA and Ken at MaineStreet.
The Mr. Ogunquit Contest is a celebration of male virtue every Labor Day weekend. God bless the Speedo!
The sun deck at Yellow Monkey: a popular hangout that you can hang out at even if you're not staying.
Ogunquit Beach. So long, so white, so sandy and so beautiful — it's the real sunbathing destination.
Ogunquit Lifeguards. Damn. (Fun Fact: Bette Davis (yes, that Bette Davis) Was Ogunquit's first female lifeguard in the late 1920's.)
Beach Volleyball. The net's already there, so get up off your towel and start up a game.
Free tennis courts on Agamenticus Road.
Beautiful sunrises over Ogunquit Beach.
The salt air will put you in a good mood, so take the dog for a walk! (Pro Tip: Dogs are allowed on the beach October 1 to March 30.)
Nights are cool, no matter how hot the day was.
The chiminea at Rose Cove Cafe draws a crowd, and the build your own sundaes aren't bad either.
For more serious reading, Annie's Bookstore in Wells is a pretty good bookstore.
Beach roses bloom all over town, and let us know that spring has arrived.
Get your senses aroused at The Dolphin Den which is full of flowers and gnomes.
The Sparhawk Resort has the best flower beds, and each flower is labeled. Bring a notepad and you can plan your own garden.
The Marginal Way, Ogunquit's beautiful footpath along the cliffs, starts at The Sparhawk. (Pro Tip:  Have your picture taken at the lighthouse halfway down the Marginal Way.)
Perkins Cove, a cove so cute you would swear you were stuck in an episode of Murder, She Wrote.
The muffins at the Greenery Cafe is one of the tastiest treats on all of Route 1A.
Village Food Market has everything, and you can get one of their gift baskets shipped wherever you are.
Of course everyone comes to Ogunquit for the Lobster, which is plentiful and reasonably priced.
Art and Soul on Shore Road is an adorable store with only the coolest jewelry, art, and home decorations.
Casual dress is the norm in Ogunquit. Spoiled Rotten's shirts are popular all over town.
Norman West paintings are everywhere. If you see a great painting of Ogunquit beach or Marginal Way, he probably painted it.
Michael Palmer, a well-known artist, still summers here. (Pro Tip: Works by both artists and many more can be seen at The Barn Gallery, as well as at the Van Ward Gallery, one of the best art galleries in the Northeast.)
Manchester Airport (MHT) has made it so easy to get here.
Southwest Airlines has made it relatively cheap.
There's a new train station in Wells, just minutes away. The Downeaster, from Boston, stops there daily.
First run movies play all summer long at the Leavitt Theater, a great, old-fashioned summer movie house.
Parts of the movie Empire Falls were filmed in Ogunquit.  That's right, Paul Newman has been to Ogunquit Beach!
The leaves change color in autumn. (Pro Tip: The leaves are usually just past peak by Halloween.)
Beautiful views abound on Mount Agamenticus, a mountain most people don't notice because they're too busy looking at the Atlantic Ocean.
Things slow down in the Winter, but Christmas by the Sea bring a few visitors.
New Year's Eve can been quite festive.
Birdwatchers paradise. Piping plovers are an endangered species of birds, specially protected in the dunes at the beach.  They've established a foothold here.
Workaholics will find numerous Wi-Fi hotspots all over town.
The Ogunquit Playhouse has something to love every year.
Sally Struthers calls Ogunquit home.
Maine Doesn't Discriminate.  Gays and lesbians in Maine have legal recourse to stand up to anyone denying them services, housing or a job based on their sexual orientation.
Please Note
This list originally appeared as part of a series titled "101 Things to Love About Ogunquit" on Gay Ogunquit. While we love a good list, we pared down their list to 50 things we love about Ogunquit. Is this the perfect list? No, but it is a good starting point. Enjoy!
P.S. You can find more about Ogunquit on Twitter and Instagram and our very own Gay Ogunquit Travel Guide.
Photos provided by Visit Maine