It takes less than a day for passes to Coachella Valley Music and Arts Festival to sell out. The annual music festival at the Empire Polo Club in Indio has grown from an independent experiment to the Goliath of festivals, drawing more than 150 musicians, dozens of celebrities, and hundreds of thousands of fans to Greater Palm Springs each spring.
But even without a coveted wristband, you can still partake in the festivities: Head to one of the parties taking over Palm Springs! No camping required.
Find your poolside headquarters by checking out special Coachella-weekend events at Palm Springs' hip hotels, like the Instagram-bait Saguaro painted like a LGBTQ+ Pride flag or the Ace Hotel & Swim Club, a mid-century-boho hangout with a pool full of floaties. Arrive Hotel hosts regular events like new moon yoga and dive-in movies alongside special Coachella bashes, and the pool at the Hilton Palm Springs transforms into a Vegas-style day club during the music festival, complete with DJs pulled straight from the Coachella roster and legions of fist-pumping fans. Weekend one at Hilton kicks off with international pop star & LGBTQ+ icon Kim Petras alongside ethereal indie pop goddess Caroline Polachek, both taking their talents to the decks with special Day Club DJ sets.
If celebrity-spotting is your sport of choice, an array of invite-only bashes presents the best opportunity, along with the annual Neon Carnival, a late-night soiree that keeps the party going into the wee house for VIPs and lucky invitees.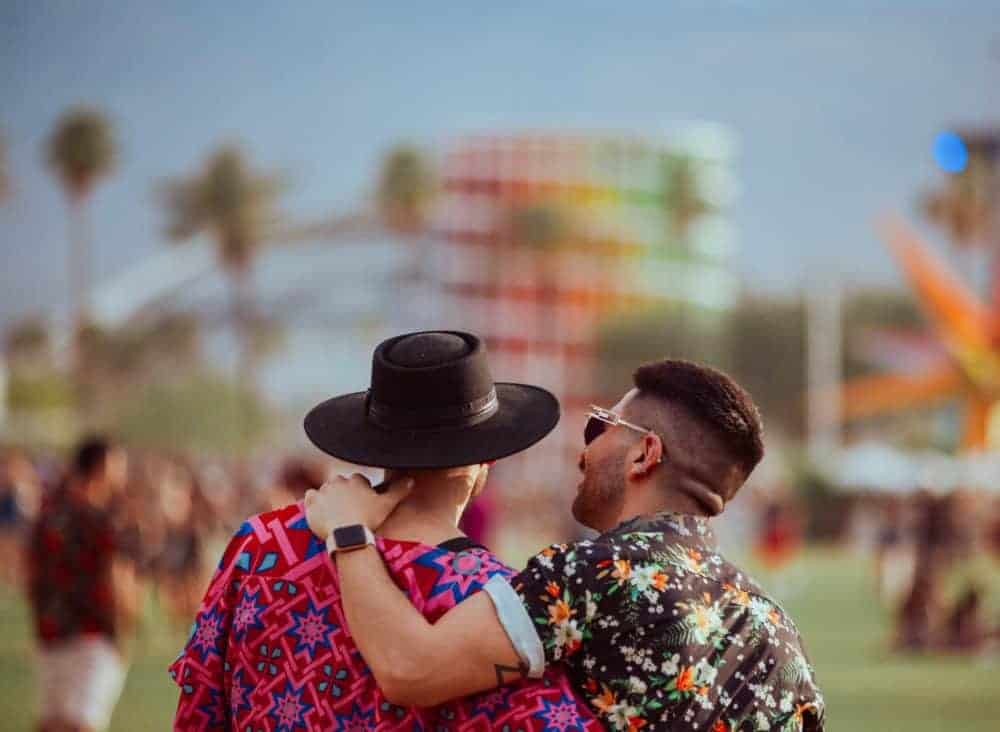 And if you venture about 25 miles south of Palm Springs, you can catch Los Angeles' most notable gay party A Club Called Rhonda, who is teaming up with Framework to take over Thermal Airport for the beloved Queen of The Desert party. Framework will transform the venue into an after-dark desert oasis, with world class lighting provided by fellow Yuma tent collaborator, SJ Lighting. Also debuting on-site will be the first ever walk-in Framework store, complete with brand new Spring line.
Finally, don't despair if you're rolling without a bunch of exclusive invites. You never know who will have an extra pass or a plus-1, or where you might end up once the weekend kicks off. And who knows, maybe it will be at Palm Springs renowned male-only clothing-optional resorts.