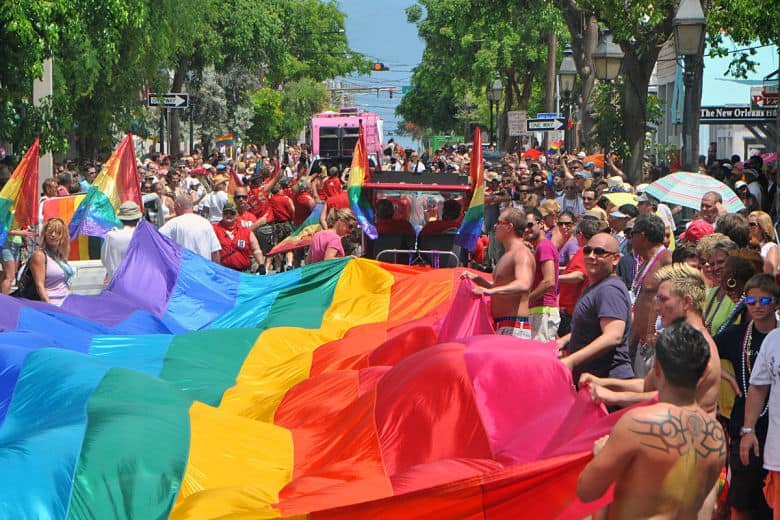 Pageants, a cocktail competition and a parade featuring a segment of a 1.25-mile-long rainbow flag are among the attractions for visitors to Key West Pride 2017. The annual festivities, set for Wednesday through Sunday, June 7-11, celebrate diversity and equality in the southernmost city, a perennial favorite vacation destination for LGBT visitors.
The celebration also offers visitors a chance to experience Key West's "One Human Family" atmosphere of inclusion and recognition that all people are created equal.

The 2017 schedule features pool parties, nightly drag shows and aquatic adventures including snorkeling, kayaking and sunset sails. Activities also include curator-led tours of an exhibit chronicling legendary playwright Tennessee Williams' decades on the island, a pride-themed street fair on famed Duval Street, a one-of-a-kind trolley tour documenting the LGBT community's impact on Key West history and culture, a burlesque show with an LGBT flair and a lively brunch served with a drag show on the side.
The highlight of 2017 Pride is the parade along Duval Street. The all-welcome procession is to feature a 100-foot section of Key West's famed 1.25-mile-long sea-to-sea rainbow flag, created in 2003 by the late Gilbert Baker. The parade is slated to begin at 5 p.m. Sunday, June 11, and proceed up Duval Street from the Gulf of Mexico to the Atlantic Ocean.
Photos by Key West Pride/ Key West Gay Business Guild used under the Creative Commons Attribution license