Austin keeps it real (weird)
Though Austin is the capital city, it does not reflect the commonly held Texas stereotypes. This southwest city is quirky, progressive, and yes, remarkably gay-friendly. Austin residents pride themselves on being different, as the popular "Keep Austin Weird" slogan touts. Different. Weird. Sounds like we're dancing around the all-encompassing "queer." That's right, homos and lesbos. You're charged to keep Austin queer.
If you've heard anything about Austin, you probably know it works all day and all night to be the live music capital of the world. It's hard to argue with that. With diverse music coming from every corner, the city exudes a rhythm that draws art and music lovers and inspires everyone to express their individuality. Here, left-brained and right-brained types truly coexist. It's a college town, with several universities contributing to the strong tech industry, an industry that has earned Austin the nickname "The Silicon Hills of the Southwest" (not to be confused with a drag queens silicone hills). So keep your eyes open: You might find a guitar-wielding Ph.D. student to fall in love with. At least for the weekend.
Anytime is a good time to visit Austin, but some events might help you decide when to book your trip. Music, film, and technology up-and-comers from all over the country gather for the annual SXSW (South by Southwest) festival in March. For the music purists, the Austin City Limits Festival in late September offers three days of great lineups. Hippie Hollow Park on Lake Travis holds the designation of the only park in Texas where people can legally tan their nooks and crannies. The two Splash Weekends, over Memorial Day and Labor Day weekends, are not to be missed. Pride in September is growing more popular and exciting each year. And of course, 6th Street and the hikes, bikes, and lakes keep the fun going. Fun is pretty much mandatory. Check any pre-vacation funk at the border, and it probably won't be there when you leave.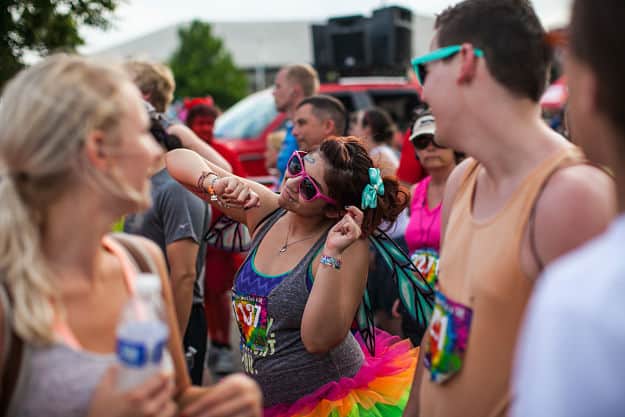 Austin's gay scene is less centralized than you might expect for a big city because the heteros largely embrace their gay and lesbian neighbors (not literally, unfortunately). So if you're looking for boys and girls out and about, you aren't restricted to a gay neighborhood. Everyone mixes and mingles without much need or want for division, perfect for experiencing the diverse nightlife options. If you want to increase your density of faggotry, head downtown to the trendy Warehouse District. Most of the bars there are within walking distance of each other, but you won't find giant clubs. Think smaller and little more intimate to get the true feel of the city.
Austin is boisterous, counterculture, and vibrant. There's so much weird and queer to experience, you'll wish you had more time, and it's the kind of place that requires a day of rest after the trip. The verdict: Do mess with Texas.
Photos courtesy of Andy Mahr for the Austin Convention & Visitors Bureau and the Keep Austin Weird Festival