Grab your hanky and favorite piece (pieces) of leather since the season for donning a harness among hundreds of other hunky men clad in their best gear is upon us.
Don't worry if you don't know the Hanky Code (left from right or your blue from green from yellow from red,) these events are made for the hardest-core to the beginner. Some even welcome new-comers to the scene as most in the community are willing to educate and spread awareness without judgment.
Check here for the hottest BDSM events across the country, just remember to bring an open mind.
Sin City gets a little more sinful with cigar studs, bikers, leathermen, and bears taking over the Alexis Park Resort. While the majority of the weekend is centered around the resort, there is little doubt that you won't find a few lingering armbands or captain hats on the strip.
Memorial Day weekend is the culmination of all global contests and puts a (proverbial) crown on the festivities. The Congress Hotel on Michigan Avenue is the epicenter of all things leather with the Leather Mart for browsing new pieces and men. A massive victory party and other events around Chicago are a perfect way to show your leather pride.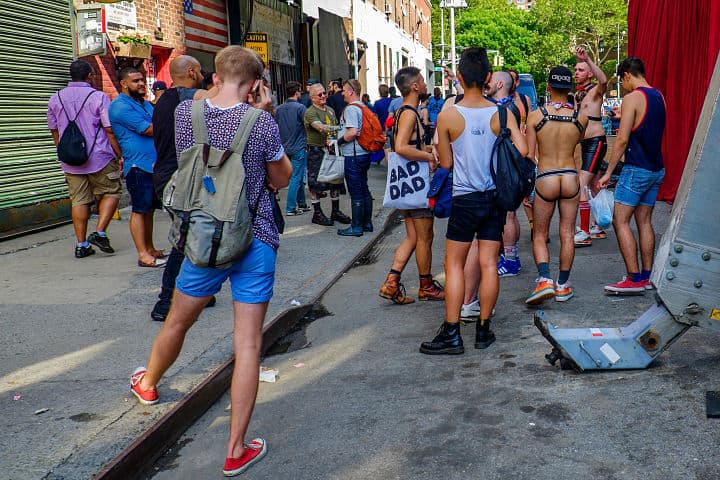 Just like it's counterpart on the West Coast, this outdoor fair brings throngs of spectators and revelers to the street and pulls back the curtain on an otherwise hidden subset. With obvious rules and guidelines for public displays, NYC has never been this racy, so make sure you don't break the law.
Hot-lanta sure does heat up even more over the Summer with Pirates of the Bearibbean, their themed event celebrating, what else, Bears! Pool parties, vendors, and opportunities for lots of adult libations take the cake with Atlanta's premier bear weekend.
The land of 10,000 lakes crowns its 2018 Minnesota Leather Sir and Ms. Minnesota Leather just in time for Spring weather to creep up to the upper Midwest. The leather and kink communities come out to play in the inclusive weekend and promote visibility, activism, and education through leather.
Photos by JoeSwickFoto, Everett Allen, Elijah Sarkesian and courtesy of IML