All this month, we're taking you on a road trip. Bid your city and your stresses adieu. Grab some friends, jump in the car and take the scenic route with us. Find brilliant little stops, surprises tucked away, and tips to make the road trip experience complete. Do you already have a favorite road trip that you took? Let us know!
Hard to believe it but fall is here! Hot and steamy summer nights make way for colorful days and cozy evenings.
Fall follows summer, meaning beach memories and tan lines remain fresh, but you're ready for vineyard tours, bonfires, and foliage drives with your special someone. Now's the perfect time to plan a long weekend or week — you deserve it! — exploring a gay-friendly city and its surrounding Technicolor countryside towns.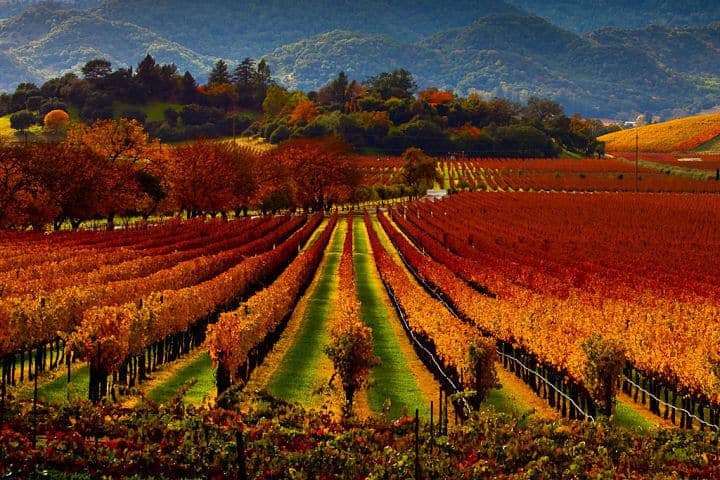 Destination:
NorCal — the area north of San Francisco around Napa and Sonoma Counties — Westward Ho!
Directions:
From any point in San Francisco, get yourself over the Golden Gate Bridge North to US-101. Connect to CA-121 via CA-37 which will land you in the heart of Napa.
The Itinerary:
Although San Francisco serves up some stunning views, vibrant nightlight and fare from every corner of Earth, it's always nice to get out of town and experience the countryside. Just across the Golden Gate Bridge to the North lies some of best wineries that could turn anyone into an oenophile.
You'll know you've made it to the right area once the billboards turn into cellar door signs boasting the delicious vintages and various homemade delicacies and cheeses.
If bubbles are what you're looking for, head to Domaine Carneros where you'll not only find delicious sparkling but a Mediterranean-style villa that might have been plucked out of Southern France. Not only will $20 buy a refreshing flight, but you can sample some local cheeses that pair best the the Taittinger family winery.
After the sips, head to the smaller artist colony of Guerneville in Sonoma. Tucked away in Russian River Valley, you'll find a small town that oozes creativity and soul. Any one of the bed and breakfasts or cabins would be just fine, but R3 (Russian River Resort) is a little more family oriented with pool parties on the weekend and nightly dance parties in the nightclub.
For a nosh, Betty Spaghetti's is the gay eatery, but we might always recommend the super-authentic Mexican food truck parked at River Road and Mill Street.
Once headed back to the city, head down US-1 for one of the most scenic routes we've experienced. Driving through coastal towns will offer up rocky outcroppings and views of the Pacific as far the eye can see. Bodega Bay is the center of all things 'aviary' with a humble Hitchcock flare.
Before finishing this road trip back across the bridge, stop off at Point Reyes, part of the National Park Service, where you might feel like the only person on earth as you gaze out to the ocean below perfectly ensconced in fluttering grass.
RELATED LINKS:
Skip the Chips and Dip for These Healthiest Road Trip Snacks
Find Healthy Food on Your Road Trip (There's an App for That)
Drive Out of Your Comfort Zone: If Dolly Can do It, So Can We!
Hit the Road, Jack: Road Trip Through Midwest
Drive Out of Your Comfort Zone: Road Trip Through the Mid-Atlantic
Hit the Road, Jack: Making a Run from the Border to the Desert
Hit the Road, Jack: California Colors
Drive Out of Your Comfort Zone: Road Trip Through New England
Photo by Flickr user Malcolm Carlaw used under the Creative Commons Attribution license