All this month, we're taking you on a road trip. Bid your city and your stresses adieu. Grab some friends, jump in the car and take the scenic route with us. Find brilliant little stops, surprises tucked away, and tips to make the road trip experience complete. Do you already have a favorite road trip that you took? Let us know!
Hard to believe it but fall is here! Hot and steamy summer nights make way for colorful days and cozy evenings.
Fall follows summer, meaning beach memories and tan lines remain fresh, but you're ready for vineyard tours, bonfires, and foliage drives with your special someone. Now's the perfect time to plan a long weekend or week — you deserve it! — exploring a gay-friendly city and its surrounding Technicolor countryside towns.

Destination:
Southern California, specifically Palm Springs. And let's face it, Palm Spring is HOT! But, as they say, it's a dry heat. (And with minimal humidity, you really never have a bad hair day. Score!)
Directions:
With a few different Palm Springs road trip routes to get from San Diego to the any one of the desert cities in the Palm Springs area, the path you choose depends on what you want to see. The longest of the 3 sends us through Los Angeles which might be scenic from the onset with a trip up the 5, heading inland to CA-91 connecting to I-215 and CA-60 taking you into Palm Springs.
A more direct route would be I-15 to I-215 and then connecting the same way, with the more wooded route through the mountain after turning onto CA-79 at Temecula and through CA-74 to Palm Desert and the rest of the cities.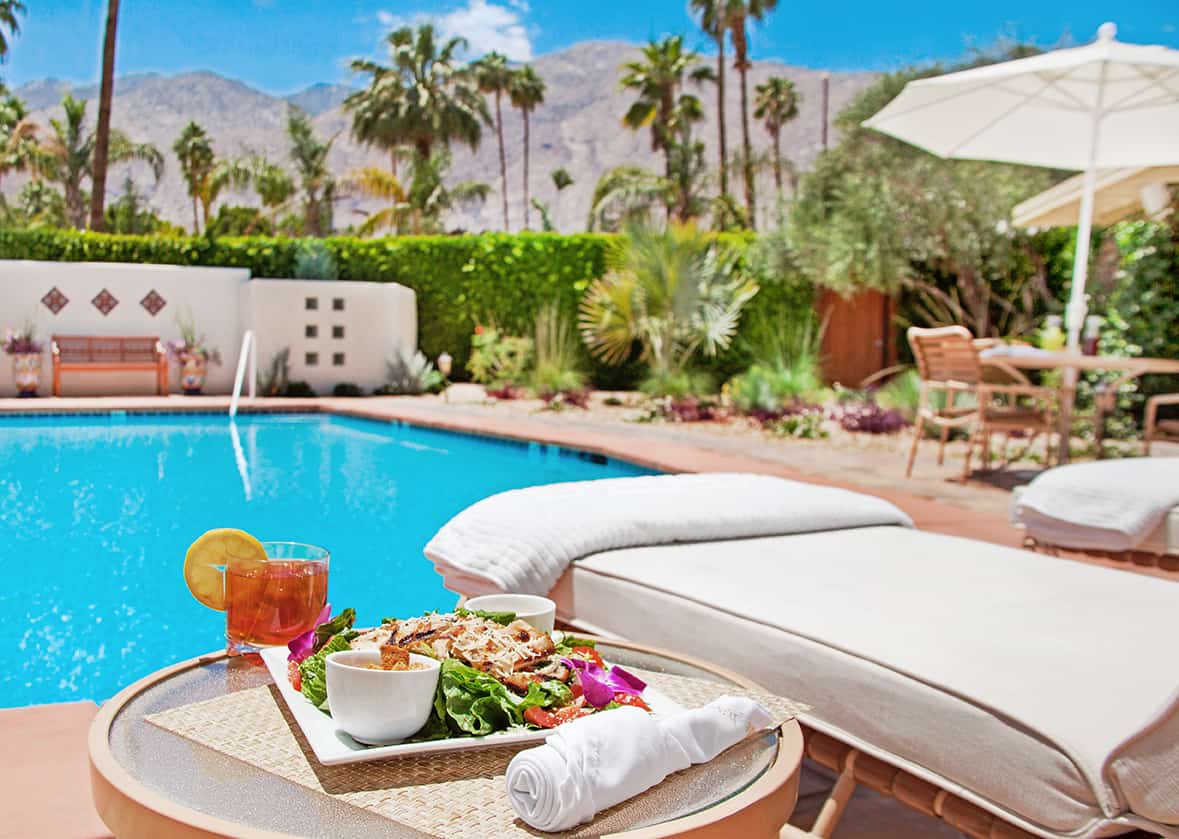 Palm Springs Road Trip Itinerary:
We wouldn't normally recommend to get out of a town like San Diego since this border city offers the perfect balance of work/life, but we're actually doing it. Head east to Palm Springs for some desert sensibility and near-perfect weather for showing off those new swim trunks you got this summer!
Spending a mere weekend in the city will have you exploring the mid-century modern architecture and numerous art galleries for inspiration to take home. A fun and campy day activity that is totally on our lists is to flashback into old Hollywood glam by cruising some of the homes of celebs from yester-year: Bob Hope, Dinah Shore and Sonny Bono are on our lists.
The majority of the gay-friendly and clothing optional resorts are centered around Ramon Road or S. Palm Canyon Drive but if you're looking to earn some points from any of the major hotel chains, Hilton, Hyatt and even Hard Rock all have properties. Most of the time, some of the friendly resorts allow pool access for a day fee so you won't miss much.
Once the sun sets, the boys start to come out with a vibrant nightlife. Chill, Oscar's, Quadz, and Blackbook are just the tip of the (melting) iceberg that cater to boys and girls. One of the more popular watering holes is Hunters that features high-energy DJs.
While lying by the pool all day is enough reason to go Palm springs, if for some reason you want to see something different, we recommend you pull yourself away from the sun and head out of town via CA-74. Follow this into the mountains to Idyllwild, a small quaint alpine village that is a far departure from the sand of the lower altitudes.
RELATED LINKS:
Skip the Chips and Dip for These Healthiest Road Trip Snacks
Find Healthy Food on Your Road Trip (There's an App for That)
Drive Out of Your Comfort Zone: If Dolly Can do It, So Can We!
Hit the Road, Jack: Road Trip Through Midwest
Drive Out of Your Comfort Zone: Road Trip Through the Mid-Atlantic
Hit the Road, Jack: California Colors
Drive Out of Your Comfort Zone: Road Trip Through New England
Drive Out of Your Comfort Zone: Road Trip Through Northern California
Photo by Flickr user Eva Rinaldi used under the Creative Commons Attribution license
Note: Our Palm Springs road trip was sponsored by the Palm Springs Bureau of Tourism with some activities and meals partially covered. Rest assured the views and opinions expressed in this post are 100% our own and we would never sacrifice our integrity for a sponsorship.