Hey there, pumpkin! Fall is right around the corner, and it's time to fully embrace those cozy vibes and dive headfirst into all the seasonal fun. One of the absolute best ways to soak up the season is by checking out a fall festival. Sure, "fall festival" probably conjures up America's farmland, but, if you look closely enough, fall festivals are in the cities too.
So, if you're a queer man who loves to travel and has a soft spot for fall festivities, let's take a tour of some of the best urban fall festivals and find out what each city has to offer!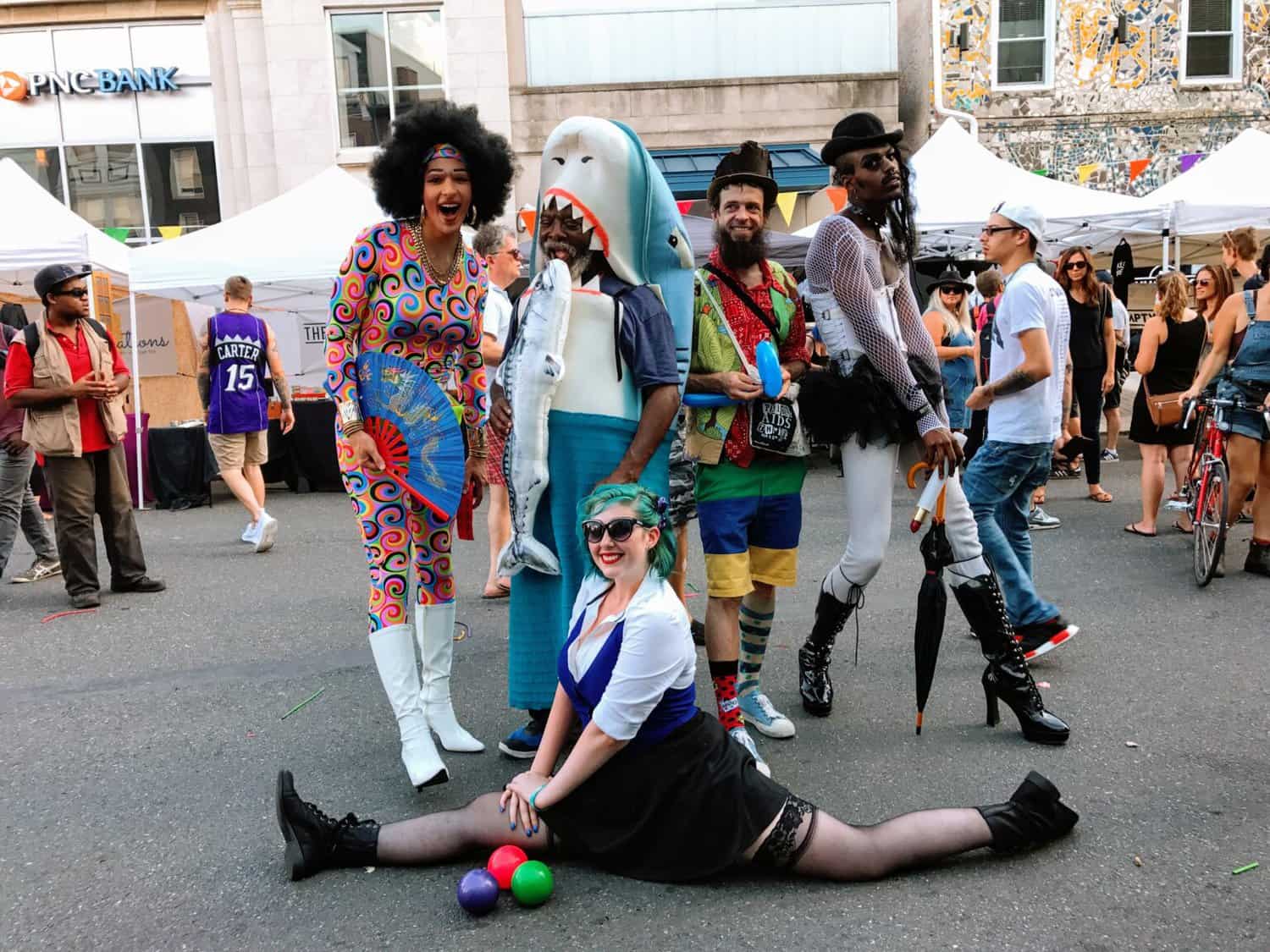 Philadelphia
Philly AIDS Thrift Fall Fest and Block Party
September 30
Philly host a quirky fall block party right outside Philly AIDS Thrift off the famous South Street! Out and proud DJ Robert Drake from WXPN spins sick tunes while you enjoy carnival vibes. Think moon bounce, games, food trucks, and a pie-eating contest. Plus, it's the perfect chance to snag a Halloween costume! Philly AIDS Thrift is the ultimate Halloween destination with spooky, sexy, and outlandish costumes.

San Francisco
Castro Street Fair
October 1
The Castro Street Fair celebrates the San Francisco community and its diversity with a full day of entertainment. People browse the crafts and artwork, eat delicious food and generally enjoy a gay ol' time, all for a good cause. Founded by Harvey Milk, the fair marks its 49th year on October 1.

Chicago
Taste of Northalsted
October 7
So here's the deal: Taste of Northalsted isn't a festival. Taste of Northalsted is a food and drink crawl. But let me tell you, Northalsted (also known as Boystown) is the place to be for LGBTQ+ festivities in Chicago. It's the oldest officially recognized gay neighborhood in the US and it hosts the biggest street festival in the Midwest — Market Days. In Northalsted, you'll find tons of LGBTQ-owned businesses and amazing dining options. And guess what? For just $25 on October 7th, you can get all the tasty autumnal highlights from the restaurants and bars on the crawl. It's like a perfect fall treat!

Brooklyn
Harvest Festival at Brooklyn Bridge Park
October 21
Brooklyn, which probably isn't the first place that comes to mind when you think "harvest," has a fall festival of its own. The annual Harvest Festival at Brooklyn Bridge Park celebrates the change from summer to fall. It's totally family-friendly — actually, families are encouraged to come! The food menu is all about locally-grown veggies, and there's gonna be live music, potato sack races, and loads of other cool stuff. Don't miss the drag queen story hour for the kiddos (and the kids-at-heart)! Plus, you get to enjoy all of this with the awesome backdrop of Lower Manhattan's skyline and the iconic Brooklyn Bridge.
Los Angeles
Farmers Market Fall Festival
October 21–22
When you think Los Angeles, you probably think palm trees and sunshine, not pumpkins and hayrides, right? Well, you won't believe what's happening at The Original Farmers Market. They totally rocked a Pride celebration with NSYNC's Lance Bass in June, and now they're ready to blow your mind with an epic Farmers Market Fall Festival. Get ready for all the fall vibes and awesomeness with a pumpkin patch, farm animals, fall-themed games, and live music. And as if that wasn't already cool, the hawt gays from the nearby LA Fitness gym have a tendency to show up here after their workout. Consider it a classic country-style harvest party with a So-Cal twist.
Well, there you have it, gays! Five fall festivals in five different cities that offer unique experiences for queer travelers. Whether you're into pumpkins, apples, or sweaty gym bunnies, there's a festival out there that's perfect for you. So grab your cozy sweater, your favorite hot beverage, and your sense of adventure, and go explore the magic of fall in the city. And who knows, you might just make some unforgettable memories and meet some hot men along the way. Happy fall, y'all!