When you think of the gay community, the first month that pops into your head is probably June — Pride Month. But, guess what? October is also a time for some important celebrations: LGBTQ+ History Month.
The month is all about shining a spotlight on and celebrating the queer past. When the observance first started back in 1994, it was a call to action for supporting the gay rights movement. But now, LGBTQ+ History Month has become this amazing national effort to bring the remarkable figures from the LGBTQ+ community into the limelight, thanks to Equality Forum.
When we dive into their stories, we uncover valuable insights into the strides made toward equality and the hurdles that remain. And the places where LGBTQ+ history happened? They're vital to the story!
So, let's celebrate the vibrant tapestry of LGBTQ+ history by exploring some of these must-see sites for your next vacation.
LGBTQ+ Landmarks: A Travel Guide for Celebrating Gay History Month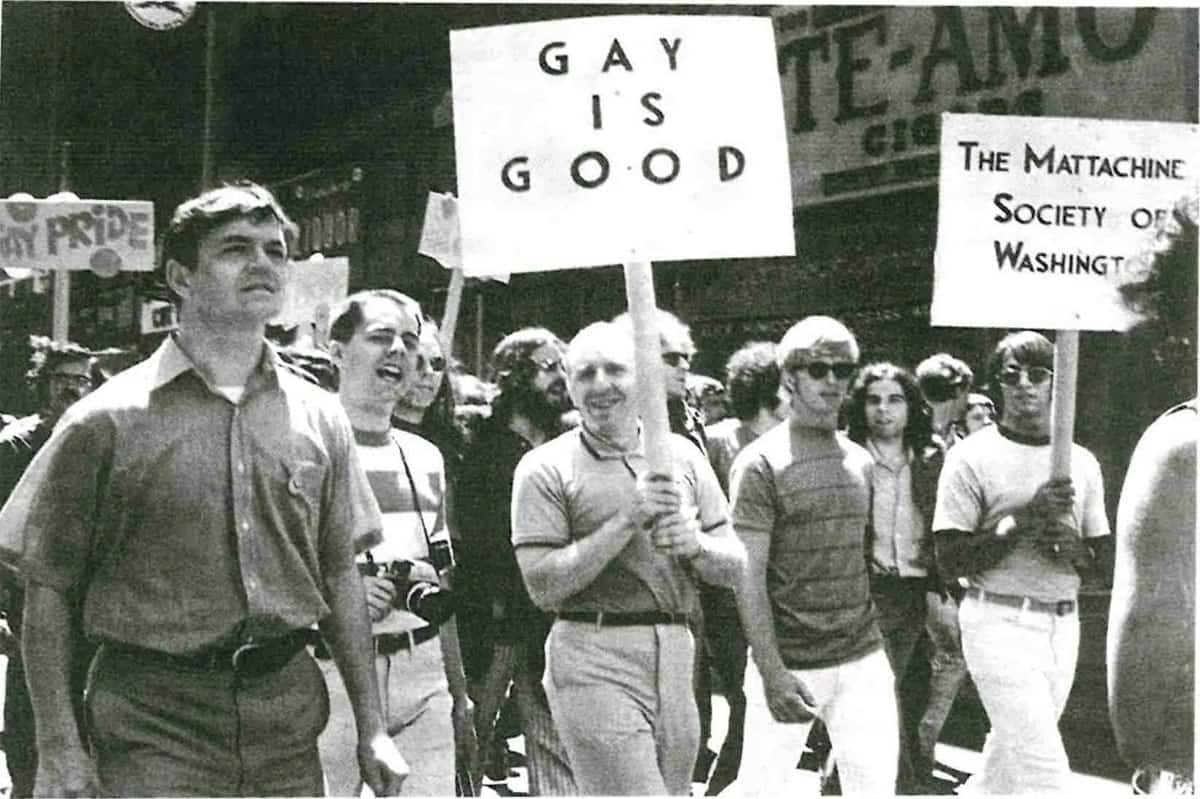 Dr. Franklin E. Kameny Residence
Washington, DC
This Washington, DC two-story, red brick Colonial Revival property was once the home and office of Dr. Franklin ("Frank") E. Kameny, a key figure in the pre-Stonewall gay rights movement. It also served as a headquarters for gay civil rights organizing that eventually led to overturning the American Psychiatric Association's definition of homosexuality as a mental illness. It provided a safe haven for visiting gay and lesbian activists.
Why Visit: The Dr. Franklin E. Kameny house is off-limits, you can't go in, it's a private residence so be respectful. But picture this — you're cruising down the street, and there it is, the spot where the rallying cry "Gay is Good" was coined.
Address: 5020 Cathedral Avenue, NW, Washington, DC 20016
Nearby: Head over to the National Museum of American History. They are literally cataloging LGBTQ+ history. Their collection spans centuries and has all kinds of cool stuff — from protest and politics to medicine and psychology, love and marriage, sports and entertainment, and more. Oh, and they even have Frank's protest posters!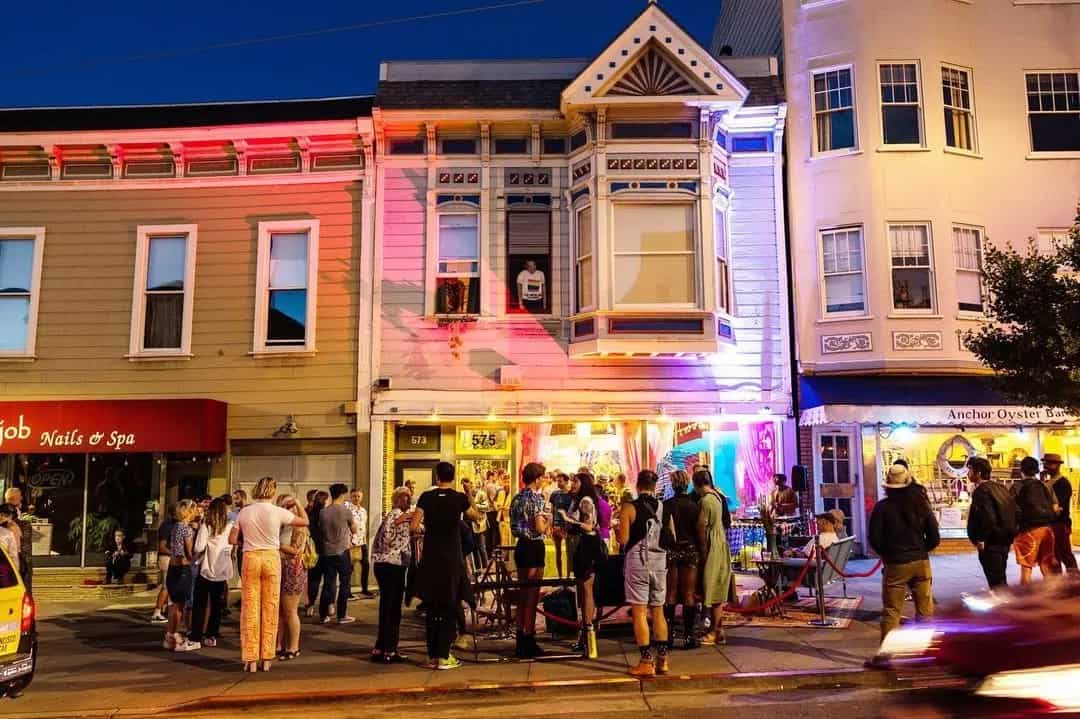 Castro Camera
San Francisco, CA
Castro Camera wasn't just a spot to develop your film. It was Harvey Milk's home and campaign HQ during his political runs. In 1977, Milk made history as California's first openly gay elected official (and the third in the country!). His win showcased the power of the gay community in politics and solidified The Castro as a safe haven for queers. Plus, Milk used his shop to kick off the legendary Castro Street Fair, which still thrives today!
Why Visit: No other building in San Francisco is so closely associated with Harvey Milk, his political career, and his efforts toward establishing gay rights. Milk's legacy remains and is marked in the space with two plaques and a mural showing Milk in a window.
Address: 575 Castro Street, San Francisco, CA 94114
Nearby: In the Castro, check out the GLBT Historical Society Museum. It's the first-ever museum dedicated to LGBTQ+ history and culture in the USA. While there, you can even see a piece of the original 1978 rainbow Gay Pride flag created by Gilbert Baker. And don't miss the SoMa Leather and LGBTQ Cultural District, celebrating the history, culture, and contributions of the leather community.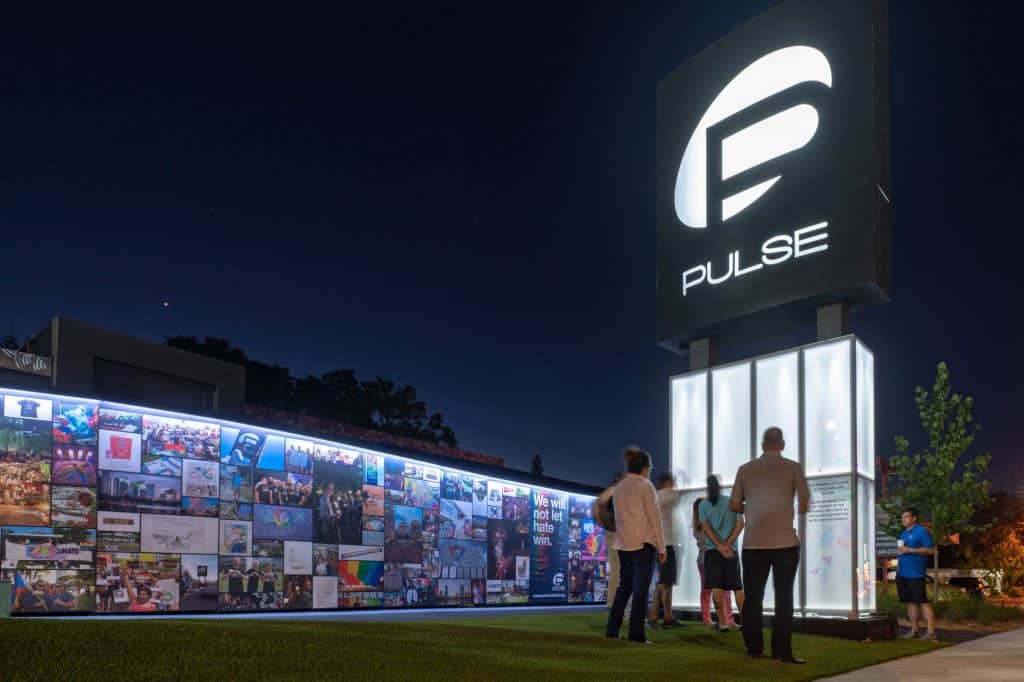 Pulse Interim Memorial
Orlando, FL
The Pulse Interim Memorial is a heartbreaking yet hopeful tribute to the victims and survivors of one of the worst mass shootings in U.S. history. Located on the site of the Pulse nightclub, the interim memorial was established to honor the 49 people who were tragically taken from us on June 12, 2016. The site features a soothing soundscape, interactive exhibits, and a mural of vibrant, colorful tributes to the victims.
Why Visit: The memorial is not just a place for reflection and remembrance, but also a rallying point for the fight for love, acceptance, and LGBTQ+ rights, making it an essential visit for those wishing to honor those lost and stand in solidarity with the LGBTQ+ community.
Address: 1912 S Orange Avenue, Orlando, FL 32806
Nearby: When you're in Orlando, consider visiting the Orange County Regional History Center. This museum has a special exhibit called "One Orlando Collection" dedicated to preserving the memory of the Pulse tragedy and the community's response.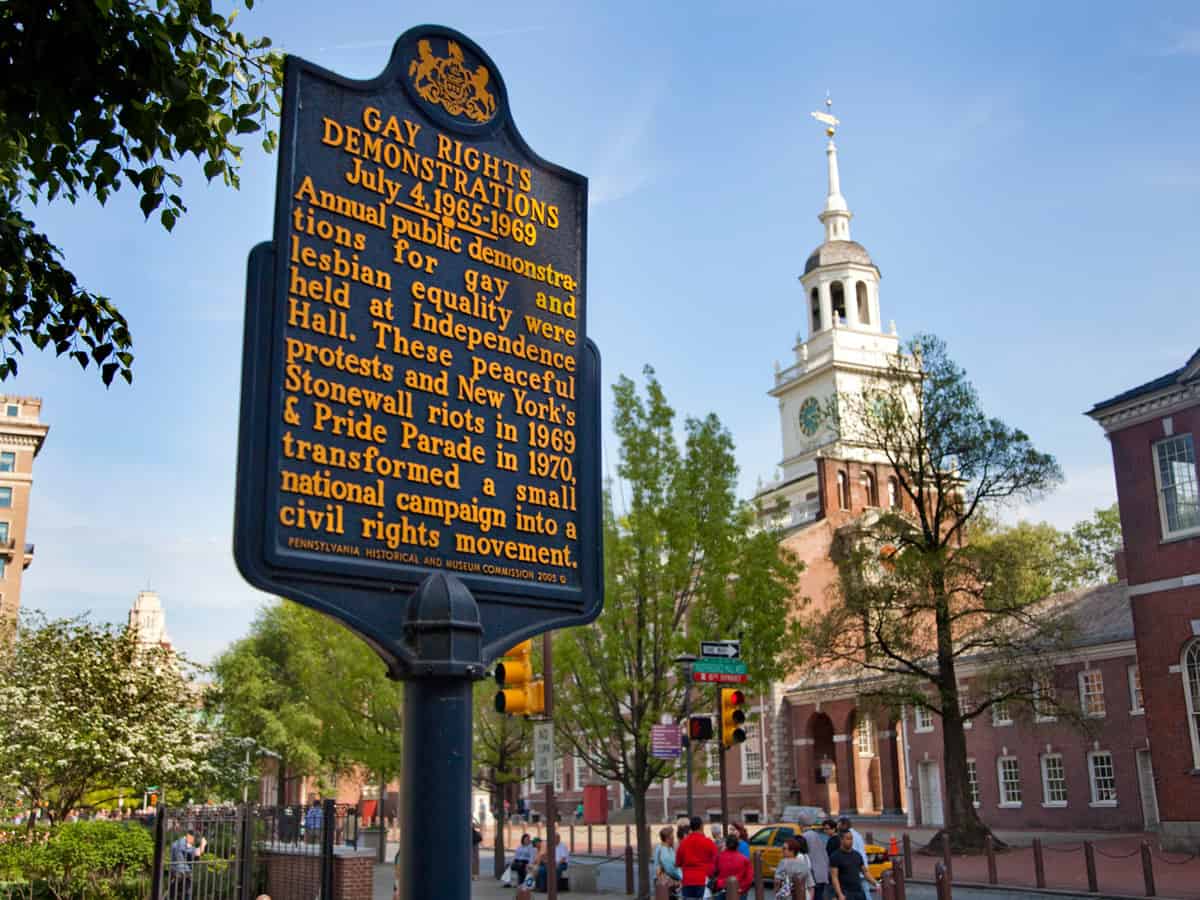 Independence National Historical Park
Philadelphia, PA
Not only is Independence Hall where our country was formed by a bunch of guys in wigs, it's also the site of the the first major organized demonstrations for gay rights. From 1965 to 1969, the Annual Reminder protests were held at this National Historic Landmark — five years before Stonewall. Led by activists like Barbara Gittings and Frank Kameny, they shed light on the discrimination faced by gay and lesbian citizens by reminding Americans that not all had the full rights of "life, liberty, and the pursuit of happiness" as stated in the Declaration of Independence.
Why Visit: In Philly, see where it all started. Tour the building, Instagram the historic marker commemorating the demonstrations and then check out the cracked Bell across the street.
Address: 520 Chestnut Street, Philadelphia, PA 19106
Nearby: Close by is Giovanni's Room, once the oldest LGBT bookstore in the country. Philly AIDS Thrift took over the space and continues to serve the community with queer literature. Take a walk to the Point Breeze neighborhood and check out the "We the Youth" mural — the only Keith Haring public mural remaining intact and on its original site.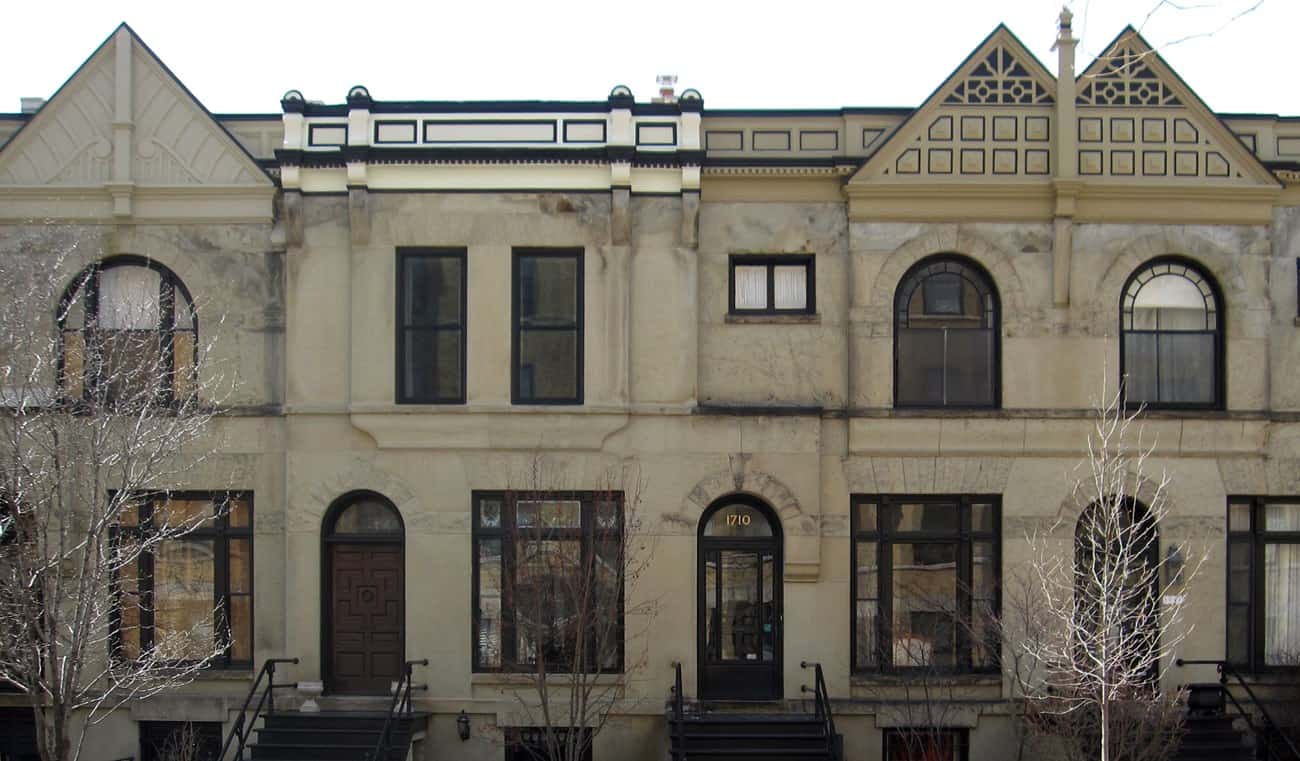 Henry Gerber House
Chicago, IL
Visitors can stop outside this private residence where Henry Gerber, the "Grandfather of the American Gay Movement," used to live. Here, in 1924, Gerber founded the Society for Human Rights, considered the first official gay rights organization in the U.S. Originally from Germany, Gerber sought refuge in this bohemian area of Chicago and formed his own group to advocate for the rights of the local gay community. Although the society was short-lived, facing police raids and scrutiny, it's credited with igniting a spark that paved the way for future LGBT activism.
Why Visit: To get a glimpse of where the first seeds of the LGBT rights movement were sown on American soil. And also, because who doesn't love a blend of history and residential Chicago architecture?
Address: 1710 North Crilly Court, Chicago, IL 60614
Nearby: Take a stroll through Boystown, one of the first recognized gay neighborhoods in the U.S., for Chicago's Legacy Walk. This outdoor display pays tribute to LGBTQ+ history and people. Located along North Halsted Street, it's the world's only outdoor museum walk dedicated to celebrating LGBTQ+ history.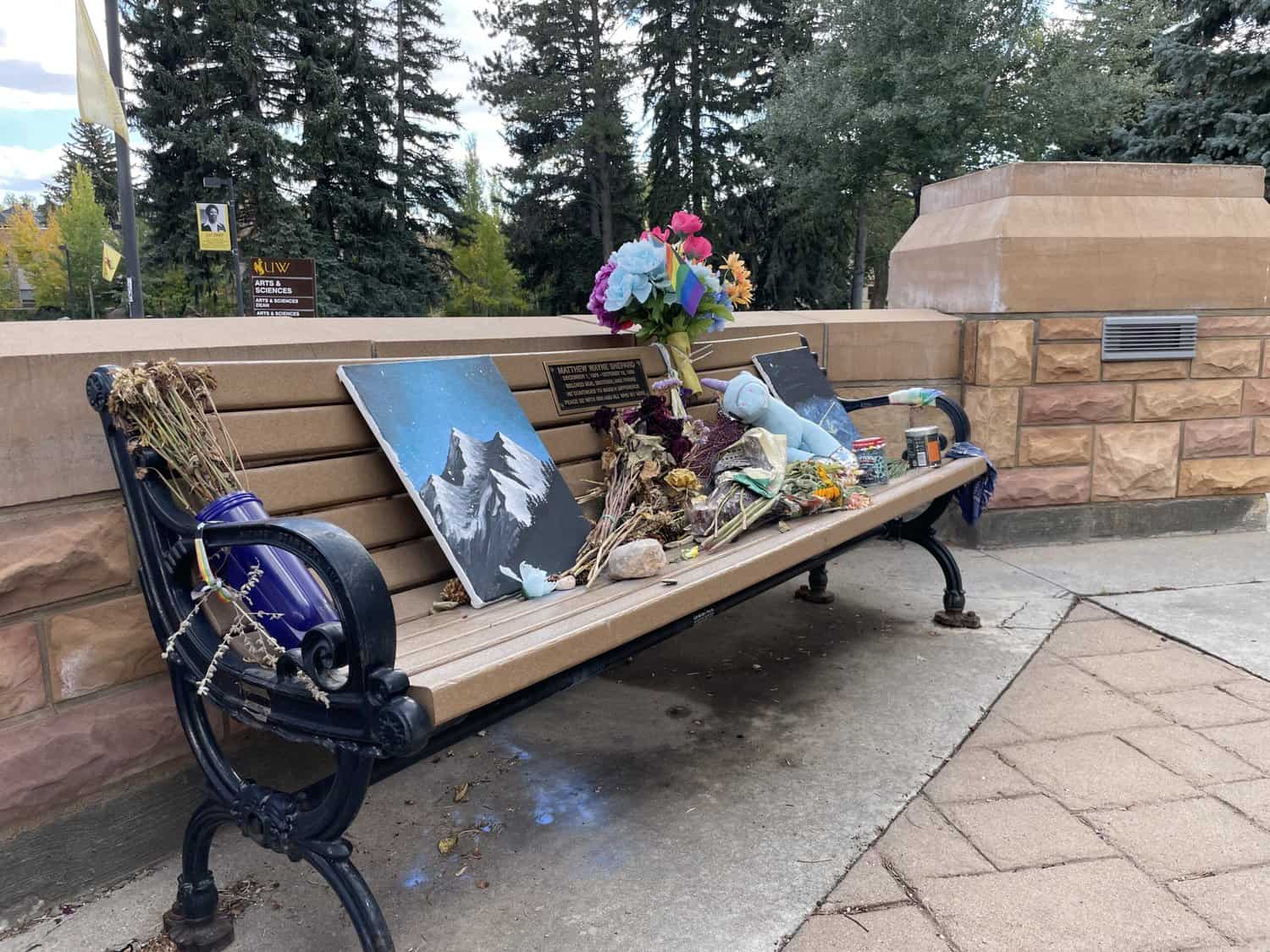 Matthew Shepard Memorial Bench
Laramie, WY
In the quiet town of Laramie, Wyoming, you'll find a poignant tribute to Matthew Shepard, a 21-year-old University of Wyoming student who was brutally attacked and left for dead in an anti-gay hate crime in 1998. Though his young life was taken before he could reach his full potential, Matthew Shepard will forever be remembered as a catalyst for truly historic changes in our nation's laws. Back then, hate crime laws only covered race, color, religion, and national origin. No mention of sexuality or sexual orientation. Shepard's death was evidence of the physical danger many LGBTQ+ persons faced and made it crystal clear that hate crime legislation was desperately needed. It took a solid eleven years, but in 2009, Congress finally passed the Matthew Shepard and James Byrd Jr. Hate Crimes Prevention Act and President Barack Obama signed it into law.
Why Visit: This memorial is not just a tribute to Matthew, but also a reminder of the ongoing struggle for LGBTQ+ rights and equality. It's a place that invites you to pause and ponder, to honor Matthew's memory, and to reaffirm your commitment to stand against hate in all its forms.
Address: 1000 E University Avenue, Laramie, WY 82071
Nearby: While there, walk around the University of Wyoming campus, where Matthew studied. The university is home to the Shepard Symposium on Social Justice, an annual event dedicated to discussions on diversity, equality, and social justice.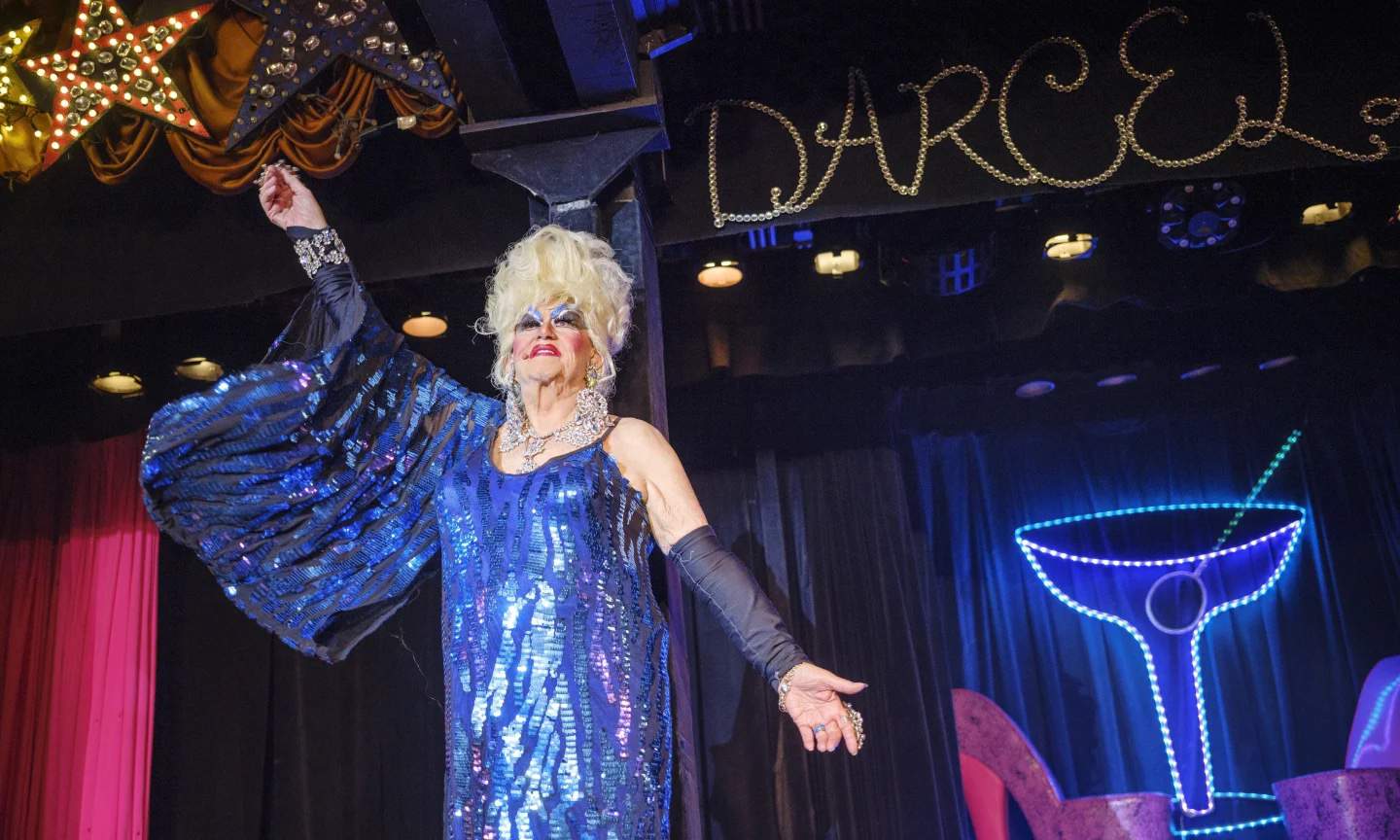 Darcelle XV Showplace
Portland, OR
Darcelle XV Showplace, a fabulous drag revue club in Portland, is Oregon's first LGBTQ+ site on the National Register of Historic Places. Since 1967, this flamboyant establishment has symbolized acceptance and revelry, even predating the transformative Stonewall riots. They still proudly host the longest-running drag show west of the Mississippi! Over the years, Darcelle XV Showplace has welcomed, educated, and rallied straight allies while celebrating drag culture. Their influence is widely considered as contributing to a cultural shift in accepting gay rights and drag performances.
Why Visit: Although owner Walter Cole (Darcelle XV) passed away in March 2023 at age of 92, her spirit lives on. So, come for the infectious energy, dazzling costumes, and the chance to say "Thank You," because without them we may not have "RuPaul's Drag Race."
Address: 208 NW 3rd Avenue, Portland, OR 97209
Nearby: After the show, make sure to check out the nearby Voodoo Doughnut for some unique and mouth-watering treats. Voodoo gives back to the community through a percentage of certain sales going to nonprofit organizations. Recently, the Human Rights Campaign and the It Gets Better Project were recipients.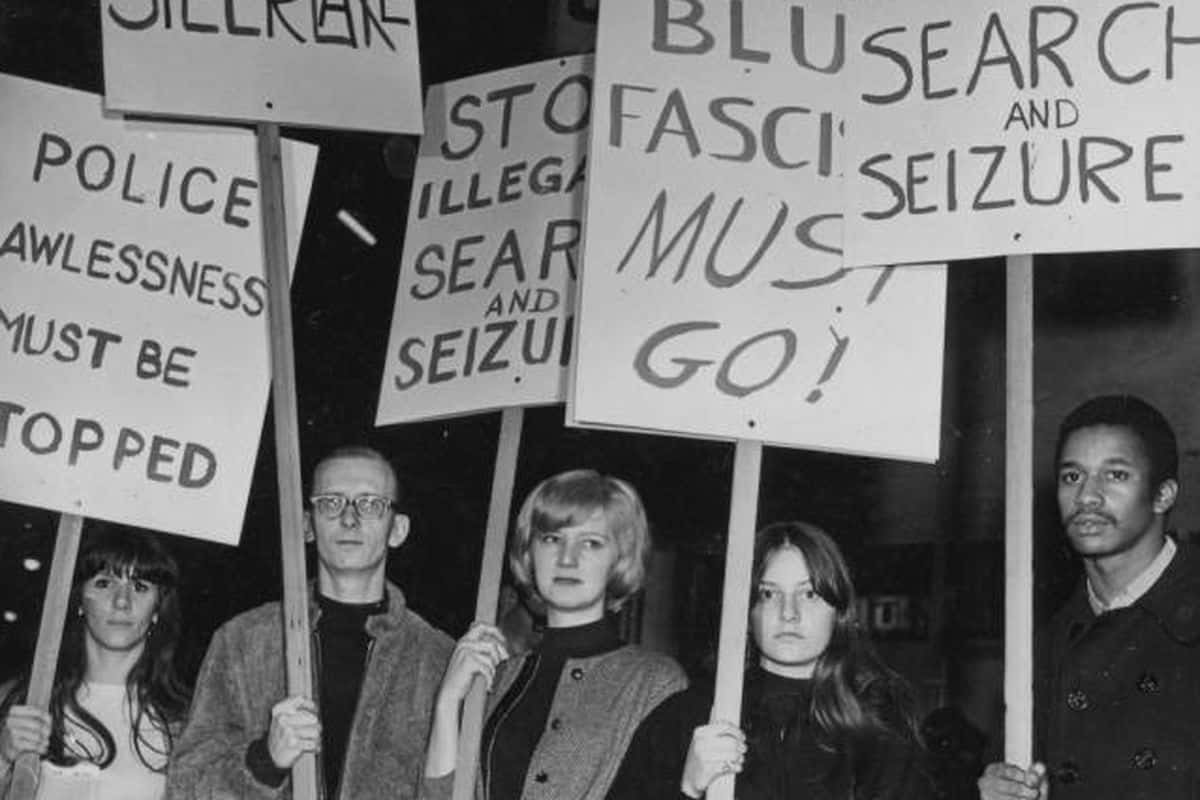 The Black Cat Tavern
Los Angeles, California
The Black Cat Tavern witnessed a significant protest on February 11, 1967, two years before the Stonewall riots. Background: The LAPD raided the tavern on New Year's Eve, arresting patrons for "lewd conduct" simply for exchanging a midnight kiss. Inspired by the Black Civil Rights Movement, the LGBTQ+ community invited Angelenos of all stripes to come and protest police brutality as a whole rather than specifically against gay individuals. It drew nearly 600 people. This led to the founding of the Personal Rights in Defense and Education (PRIDE) organization — which ultimately became The Advocate. Today, The Black Cat gastropub pays homage to the original bar with photographs from the 1967 demonstrations and the original signage.
Why Visit: Head to Los Angeles to soak up a piece of important LGBTQ+ history while enjoying a delightful meal, of course! It also serves as a reminder that even small acts of defiance can lead to significant change and progress.
Address: 3909 Sunset Boulevard, Los Angeles, CA 90029
Nearby: Enjoy a leisurely stroll along the Great Wall of Los Angeles. This half-mile-long mural showcases the rich history of California, featuring important figures and events from diverse communities that have often been overlooked. Look for LGBTQ+ history icons, including the Daughters of Bilitis, the Mattachine Society, and Ginsberg & The Beats.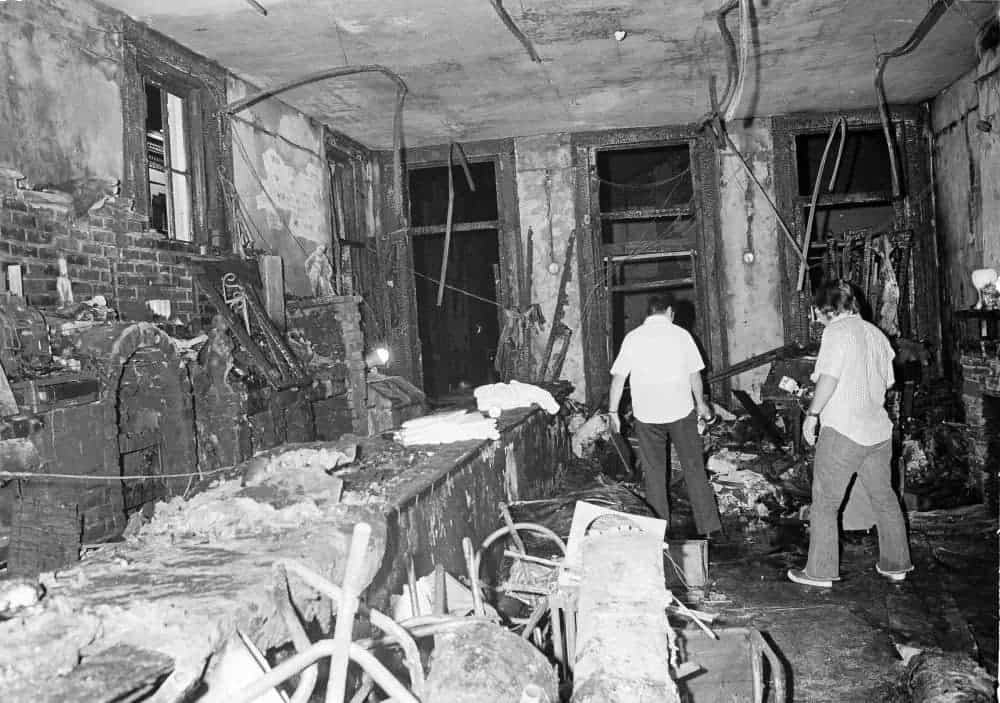 Up Stairs Lounge
New Orleans, LA
The Up Stairs Lounge tragedy, a notoriously unsolved arson fire, happened at a gay bar on the funky fringes of New Orleans French Quarter in '73. It was a devastating intentional fire that claimed 32 lives, making it the deadliest assault on the community at the time. But now, the 2016 Pulse massacre holds the grim title of being the deadliest attack on LGBTQ+ folks in the U.S. Back then, the cops didn't really give the investigation much priority and kinda brushed off witnesses, showing the deep-rooted biases of that era. This super important, though incredibly tragic, moment in LGBTQ+ history had a profound impact beyond just the lives lost. It's actually considered to have sparked the whole LGBTQ+ rights movement in New Orleans — where today, it's estimated over 5% of the population identifies as LGBTQ.
Why Visit: Today, you'll find a plaque marking the location, reminding us of the lives lost and struggles faced by the LGBTQ+ community. But instead of feeling powerless, let's honor our ancestors and make things right for those mistreated. Let's offer symbolic restitution to those denied respect, dignity, equal rights, or equal treatment they deserved.
Address: 604 Iberville Street, New Orleans, LA 70130
Nearby: After paying your respects, visit Café Lafitte in Exile, the oldest continuously operating gay bar in the US. It was not called a "gay bar" back in the 1930's when it opened, but it was LGBTQ+ friendly. Some say you might even see the ghosts of famous writers like Truman Capote and Tennessee Williams, who frequented the bar.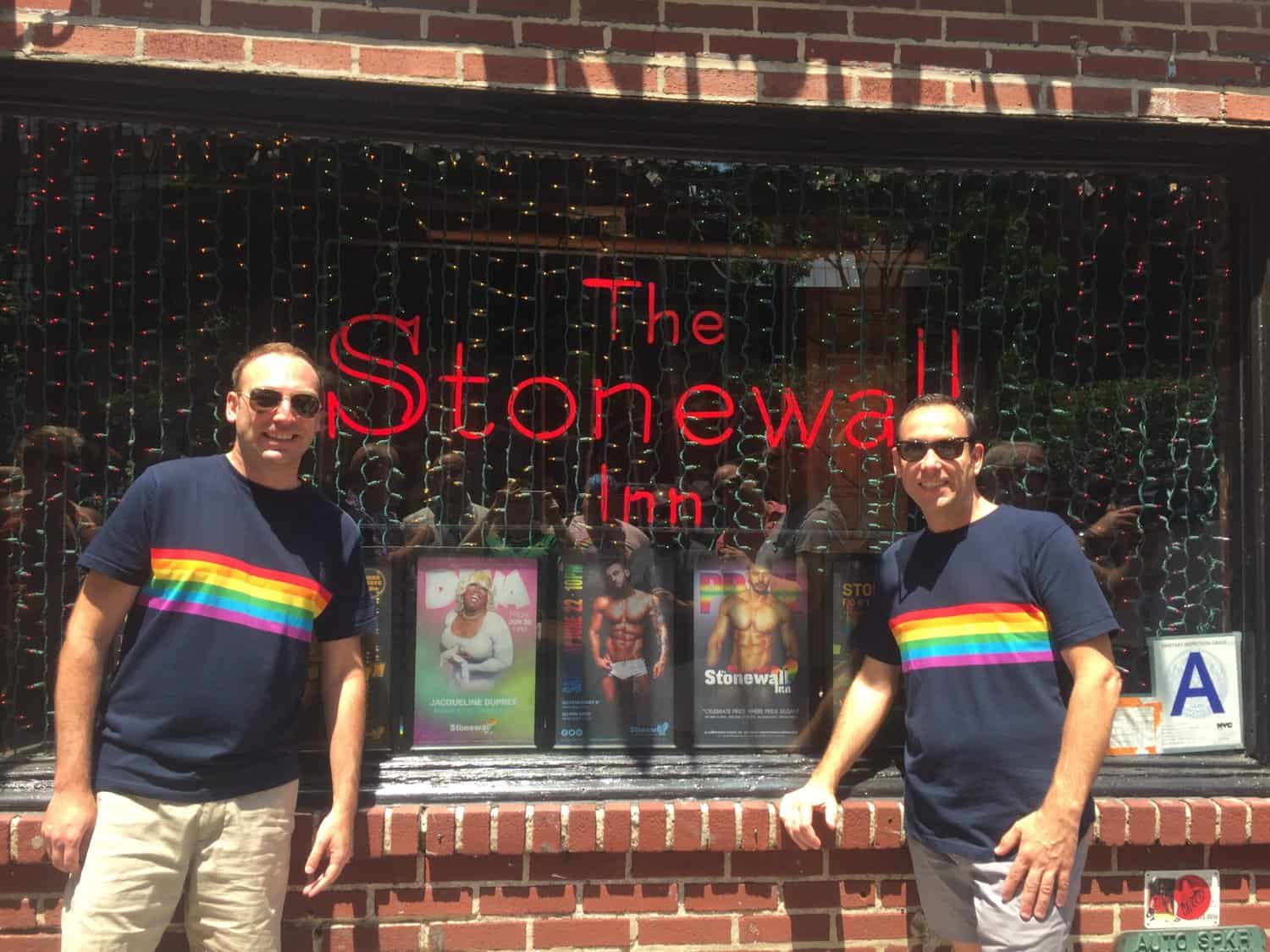 Stonewall National Monument
New York City, NY
The Stonewall Inn, home to the 1969 Stonewall Riots, is considered the catalyst of the gay liberation movement. Today, it serves as both a New York City gay bar and a national hub for the LGBTQ community. The building and surrounding area — including the Gay Liberation Monument across the street in Christopher Park — comprise the Stonewall National Monument, the first national park dedicated to LGBTQ history.
Why Visit: The bar's walls are filled with tales of resilience and rebellion. Picture yourself sipping on a cocktail, mingling with other gays, all while soaking up some serious history. Plus, the energy is infectious!
Address: 38-64 Christopher Street, New York, NY 10014
Nearby: In Greenwich Village, you can visit Julius', the oldest continually running gay bar in NYC. Nearby is The Center, where ACT UP strategized to bring attention to AIDS during the height of the epidemic. Also close by is the outdoor NYC AIDS Memorial, on the former St. Vincent's Hospital campus, which housed the city's first AIDS ward.
In conclusion, LGBTQ+ History Month is a significant time to honor and embrace the rich heritage of the queer community. By exploring important sites, we gain valuable insights into the journey towards equality. Whether's Pride Month in June or LGBTQ+ History Month in October, let's celebrate LGBTQ+ history's vibrant tapestry and support the movement for a more inclusive and accepting world.