What better way to brighten up the holidays than to take a trip somewhere festive? Somewhere that thrives during Christmas and has the kind of atmosphere and things to do that help get you in the mood. These places really do exist!
5 Must-See Towns During the Holidays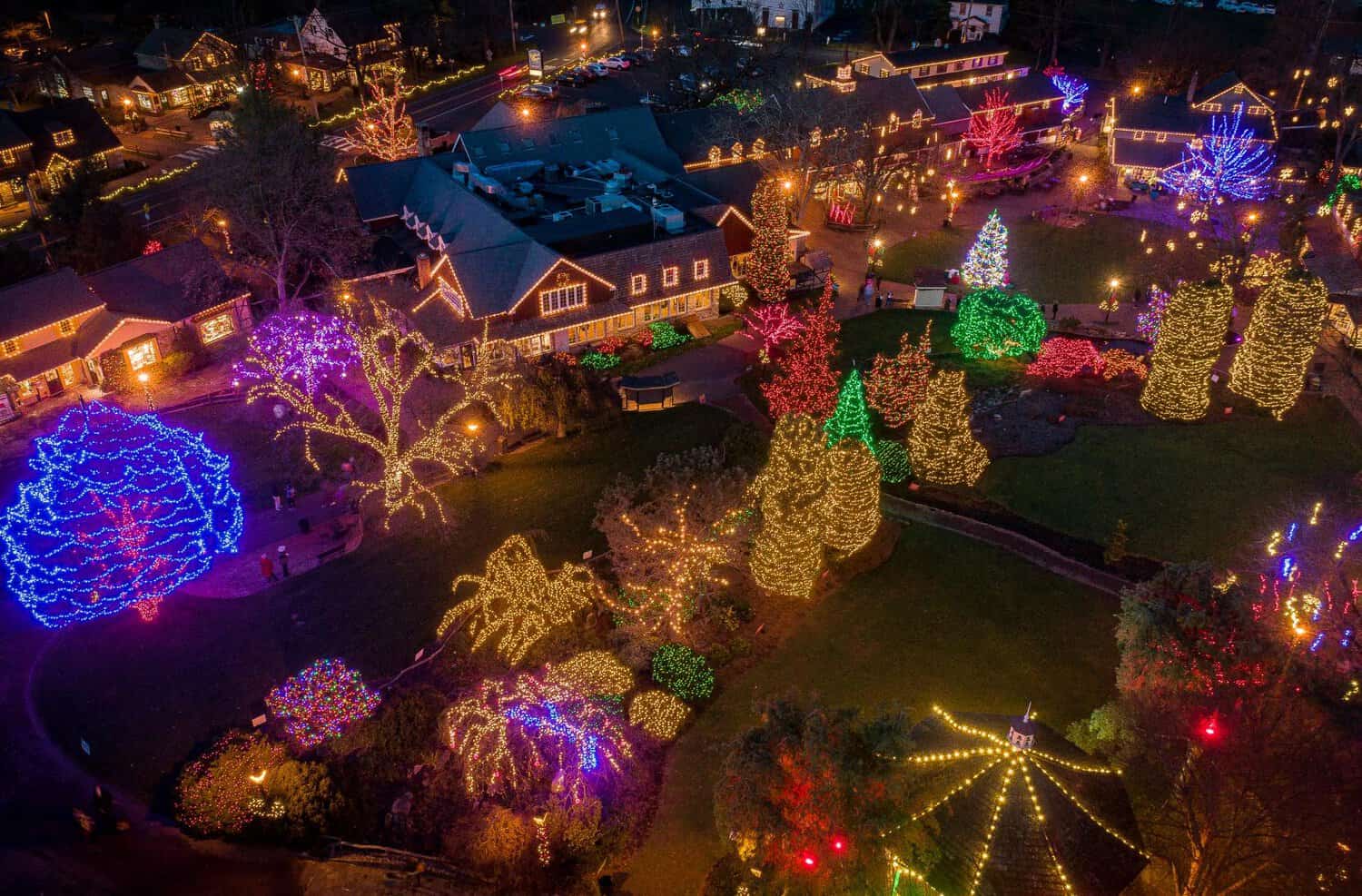 Festivities and a Famous Reenactment in New Hope PA
New Hope, PA is really starting to gain traction with visitors for all the right reasons. While it may not be a place for partying into the night, there is still a decent selection of bars, restaurants and gay and lesbian guesthouses. This Philadelphia suburb in Bucks County is a shoppers paradise with lots of art galleries, clothing boutiques and a couple of flea markets thrown in for good measure.
There is also a fantastic fresh food market (New Hope Ferry Market) but the market you should most want to visit toward the end of year is Christmas Market at Peddler's Village. You can expect a food festival along the street with music and entertainers which really adds to the Christmas vibe in New Hope.
But then there's the legendary crossing of the Delaware River…
Back in 1776, George Washington led his troops across icy waters of the Delaware River in an attack that would take the colonial forces by surprise. This was a pivotal moment during the American Revolution and a reenactment is held in New Hope every year to commemorate this event. Just so you know, this reenactment is due to take place on 11th December 2022 and should be one of the highlights of a trip to this beautiful town during the holidays.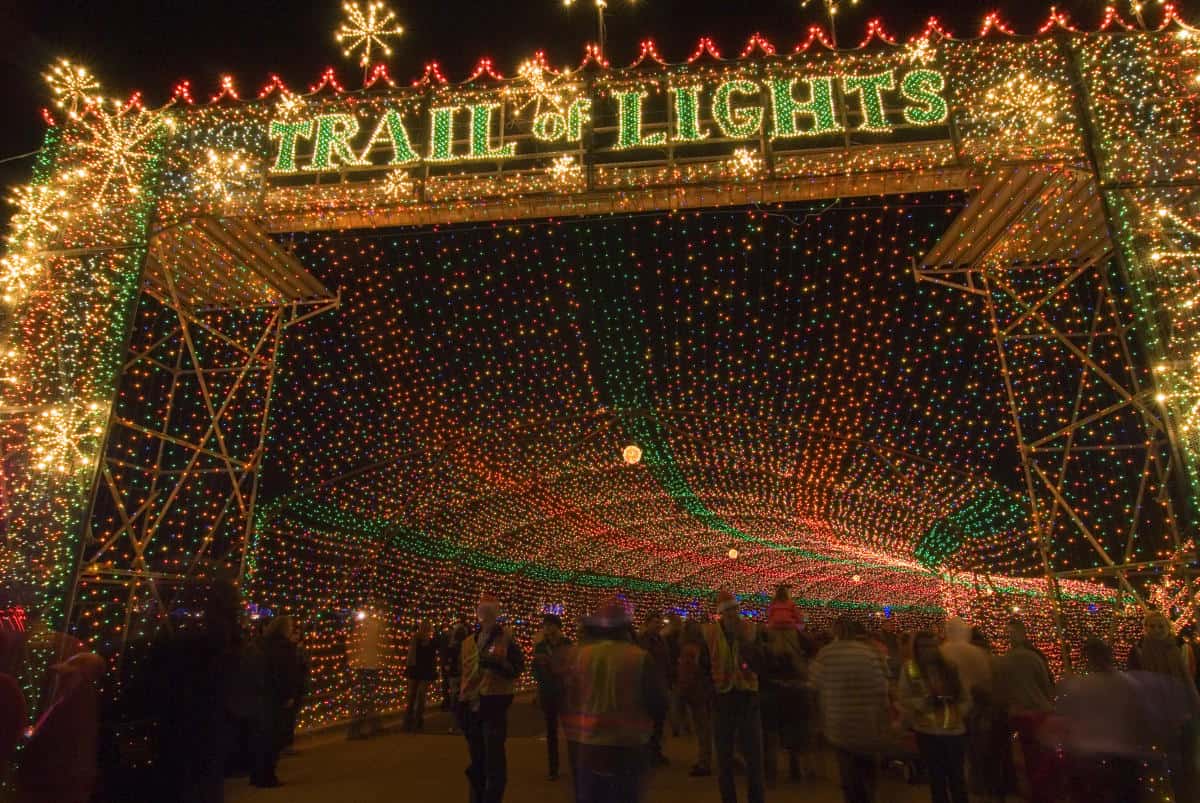 Lights Galore in Weird and Quirky Austin
This quirky nature of Austin and reputation for being different is probably best evidenced in the "Keep Austin Weird" slogan which it seems to have adopted in recent times. The Southwest city is also a hive of activity during the Christmas holidays with events, shows and festive lights at every turn.
For instance, you might head to the rooftop at the headquarters for Whole Foods where a seasonal ice skating rink is opened up to the public. You can grab food and drinks before going up to the rink and even though it might be 80 degrees outside, a winter coat and vibrant atmosphere should warm you up. A Christmas Carol singalong also takes place in front of the state Capitol Building and 2nd District has a holiday walk with all kinds of window exhibitions, pop-up shows and entertainment to get the Christmas juices flowing!
Meanwhile, the festive vibes take over Zilker Park which features over one mile of festive sculptures, lights, music and food trailers! As you might expect, this is an especially popular attraction and all before a mention of the 150-foot Christmas tree at the center. For more lights and festivities, you might wander down to Mozart's Coffee Roasters which is just as well-known for the 150,000 lights decorating the storefront as it is the sublime coffee and hot chocolate.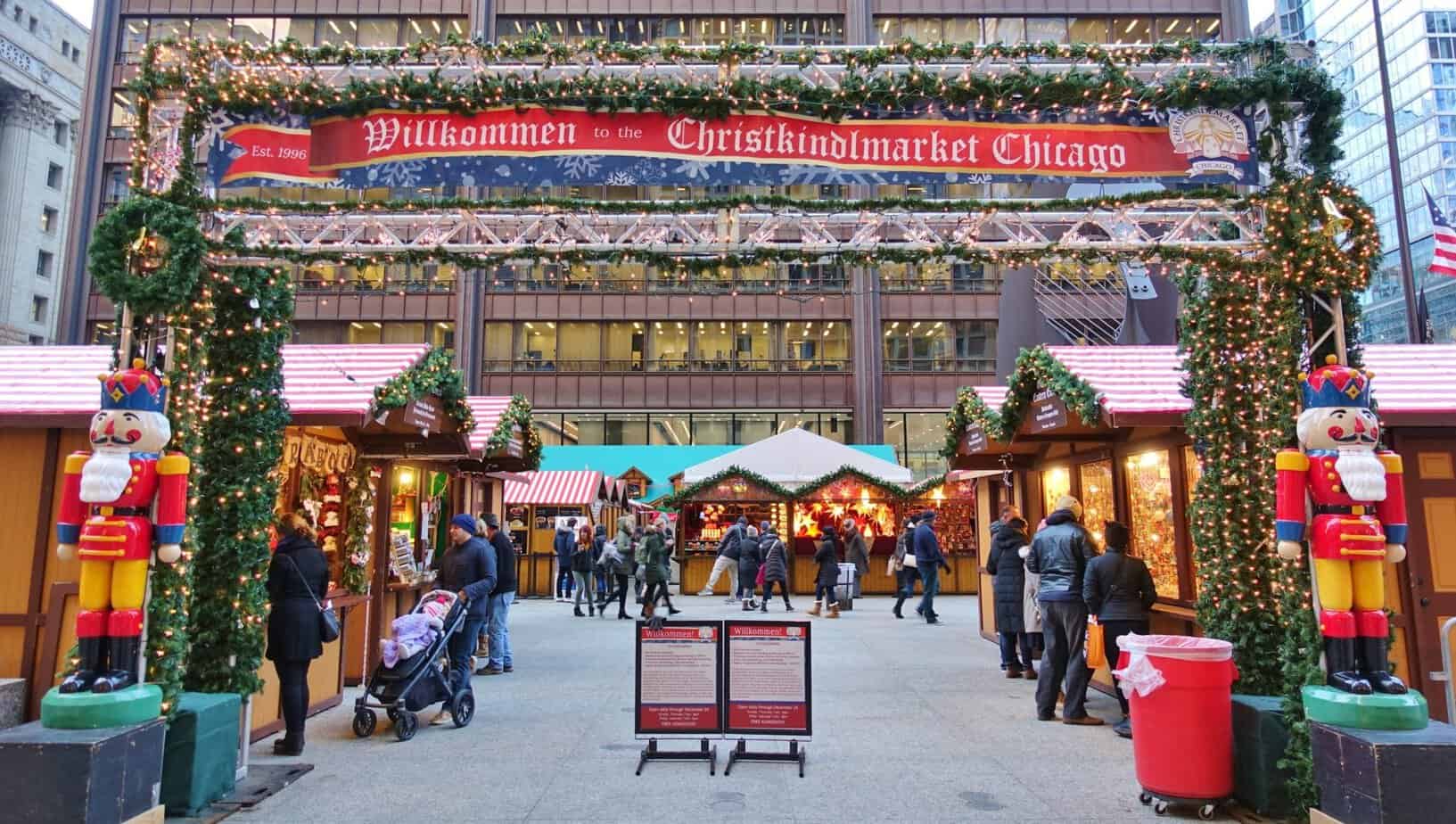 Christkindle Market in the Lively Heart of Chicago
Many events kick-off the festive period in Chicago and the city is home to one of the best Christmas markets you are likely to find. It sometimes seems like every inch of the city is decked out with lights and while the temperature really drops at this time of year, the frosty weather only adds to the occasion.
Christkindlmarket is split between Wrigleyville and Daley Plaza from November 18th until New Years Eve. You will find lots of crafts at the market but the food is certainly the highlight. Each stall is marked with the name of a town in Germany from where the food and crafts originated. Just imagine being wrapped in a warm coat with a glass of mulled wine and pretzel in hand beneath the twinkling lights. It's a beautiful experience and not to be missed.
For more things to do, you can also go outdoor ice skating at the McCormick Tribune rink from 18th November onward which is free to enter. Maggie Daley Park also hosts a traditional skating rink and Zoolights at Lincoln Park features many seasonal experiences beneath the glow of literally millions of lights! You surely know all about the shopping in Chicago too, for the city has a long lineup of malls and big box department stores that cater to all the big brand names.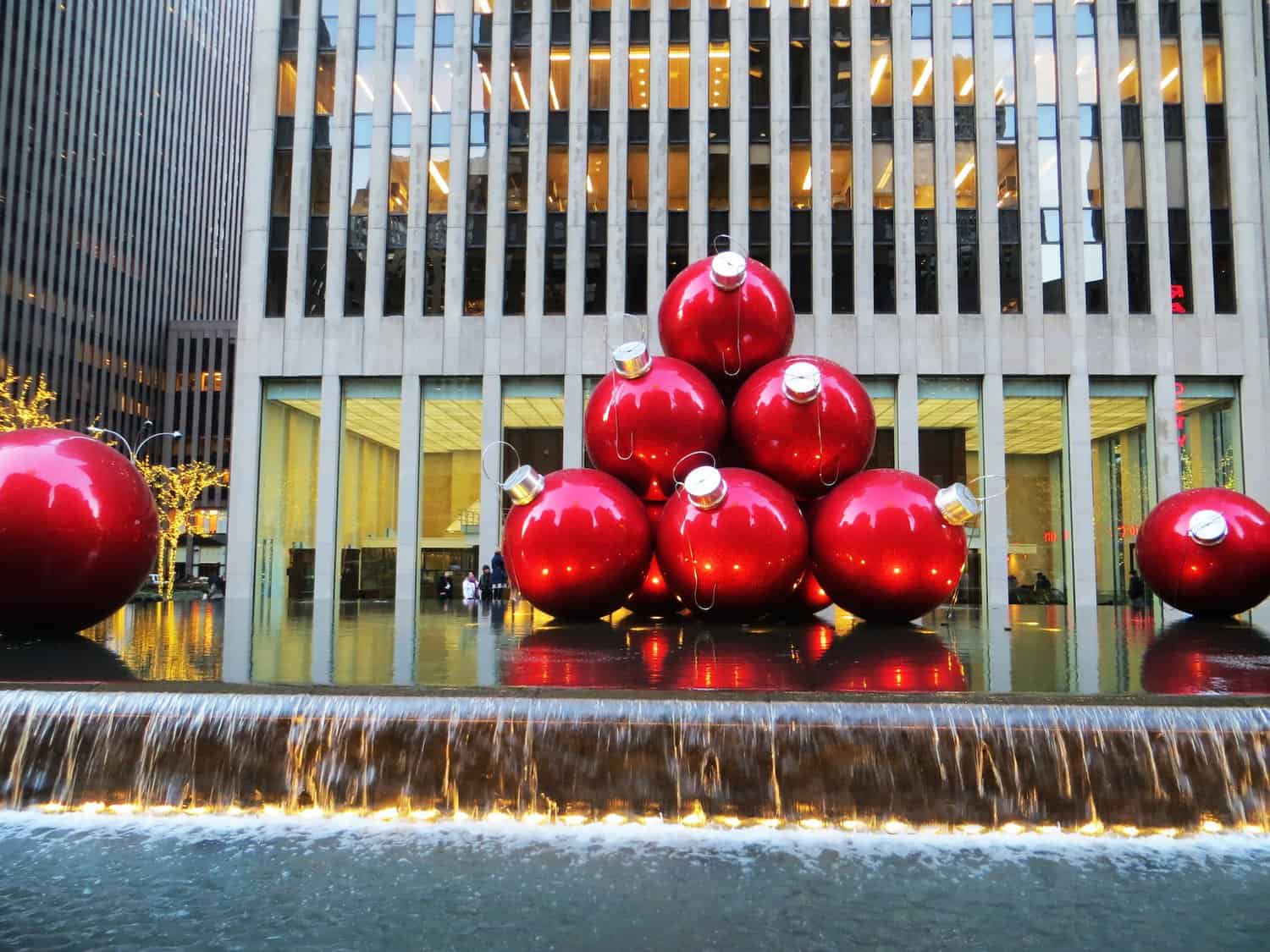 The Rockafeller, Broadway and Ice Skating in New York
It's the obvious choice for many at this time of year for good reason. Few cities in the world do Christmas like New York City and it comes alive during the holidays with some of the best and biggest light displays you can imagine. For instance, the lighting the Christmas Tree at the Rockefeller Center is a tradition since 1933 and a mesmerizing Swarovski Star sits right on top of this spectacular sight. It's the perfect photo opportunity and a good example of the dazzling lights which extend throughout the city. The major department stores in Manhattan also love to get in on the act with amazing window displays and these are especially impressive as you come down Saks Avenue.
I'm sure you already know about the world class shopping in New York but there is also something different to be found this time of year as you can find an outstanding Christmas Market at Bryant Park which features more than 150 food and craft stalls. These are mostly inspired by European festive markets and a great way to sample some mulled wine and bratwurst hot dogs.
There's also lots to do and the Wollman Ice Rink in Central Park is just one of many that you can find around the city. But no trip to New York is complete without a show on Broadway and "A Christmas Carol" is a superb show that tends to get the crowd singing along to all the most popular festive songs.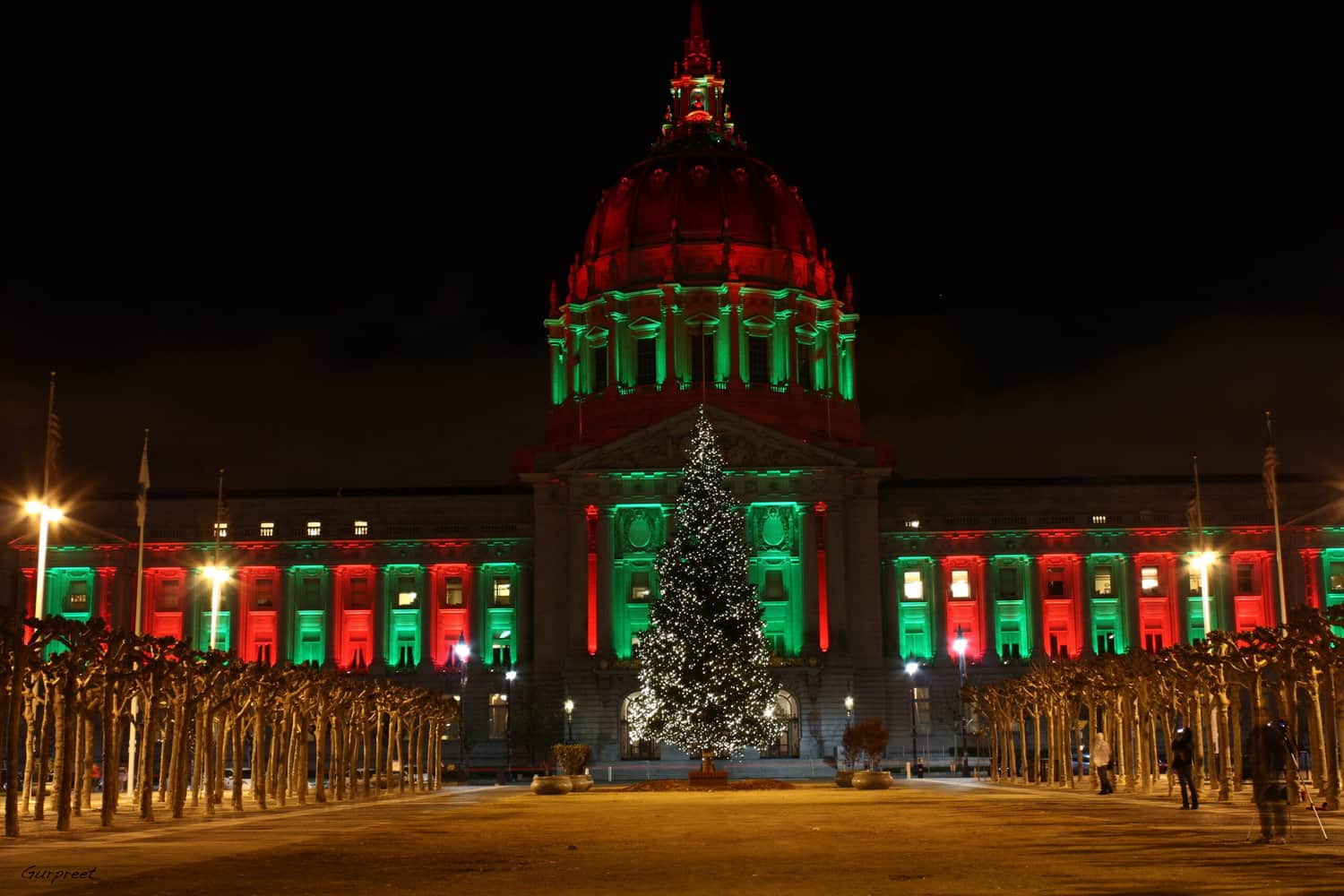 More Lights and a 70 Year Old Tradition in San Francisco
It's known as the gayest city in America and a night out in Soma, Tenderloin or Polk Street is a reminder of why. But aside from the obvious thrills, San Francisco is such a fun place to explore around Christmas time and the range of places to stay and eat make this an excellent choice for a festive getaway.
Union Square is the center of all the action in San Fran and the festive season is no different. A giant Christmas tree goes up with lights in the plaza and the ice skating rink is usually filled with music, Santa suits and festive cheer. Just down the street, all the big stores are decorated with tinsel and lights and even the infamous cable car that goes up and down is dressed up in wreaths.
Are you familiar with the Nutcracker?
This was the iconic ballet by Tchaikovsky that first debuted in the opera house in San Francison. Almost 70 years later, this incredible show is still a Christmas tradition for many and the opera house is transformed into a winter wonderland for the occasion. And in case you might be wondering, yes you can actually enjoy some nutcrackers with a glass of bubbly before or during the show!
About The Author
Derek Cullen is a travel writer and adventure tour leader from Dublin, Ireland. On his blog No Hanging Around he shares his adventures, including across the United States. Derek may be best known for his solo bicycle ride across the African continent in 2014. Depending on the time of year he is either leading overland tours through Africa or travelling around the world in on search of new experiences.