Recently we wrote about the creepiest places in the US. And if that didn't leave a chill down your spine then buckle up fellow ghost hunters, because we're about to embark on a chilling journey across the country, uncovering America's spookiest ghost towns.
If you're as curious as a cat and braver than a lion, then you're in for a spooky treat! Imagine strolling through deserted, cobblestone streets, your footsteps echoing the stories of those who once called these ghost towns home. Delve into forgotten saloons, peek into eerie, dust-covered homes, and feel the uncanny chill as you uncover the secrets that lie hidden in the ruins.
So grab your bestie, keep your courage close, and hit these phantom-filled towns worthy of a spot on your next road trip itinerary.
Pack Your Bags and Dust Off Your Ghost Detector: America's Spookiest Ghost Towns Await!
Salem, MA
Founded in 1626, Salem, Massachusetts is a city steeped in history and intrigue. Most famously, it became the epicenter of the infamous 1692 witch trials, where mass hysteria led to the execution of 20 people and the imprisonment of many more, an event that still haunts the town to this day.
Why You Need To Go:
With its cobweb-laden alleyways and eerie silence, Salem — roughly 30 minutes north of Boston — feels like you've stepped into a chilling time capsule, where the air whispers tales of the witches who once walked these streets.
The town's spooky charm is intensified by attractions like The Witch House, the only structure with direct ties to the witch trials of 1692, and the Salem Witch Trials Memorial, a somber reminder of the hysteria that once gripped this place. It's also the filming location of the beloved Halloween movie Hocus Pocus. Today, modern witches are said to call the city home today.
Be Sure to Check Out:
The Hawthorne Hotel
First on your checklist should be the Hawthorne Hotel. This historic spot, built in 1925, isn't just famous for its stunning architecture and old-world charm, but it's also renowned for its paranormal activity. From flickering lights to ghost sightings, you're in for a thrilling encounter. The hotel even featured on the TV show "Bewitched," so you know it's got some serious spooky credentials.
The Peabody Essex Museum
After your ghostly adventures, head over to the Peabody Essex Museum. Not as spooky, but it's a treasure trove of art and culture with a collection that spans centuries and continents. It's one of the oldest and fastest-growing art museums in the country. Soak up some history, and who knows, you might still feel a few chills as you wander the ancient artifacts.
Make it Gay:
Tammie Brown Halloween Spooktacular
Don't dare to miss the Tammie Brown Halloween Spooktacular on October 29 at Cinema Salem! It's your chance to meet the true queen of Halloween, Tammie Brown herself from RuPaul's Drag Race. She'll be serving up an evening full of spooktacular fun, unforgettable performances, and her own unique brand of humor. Equipped with a bewitching voice, enchanting songs, and a sprinkle of that classic Tammie charm, it's undeniably the perfect way to get in the witchy spirit.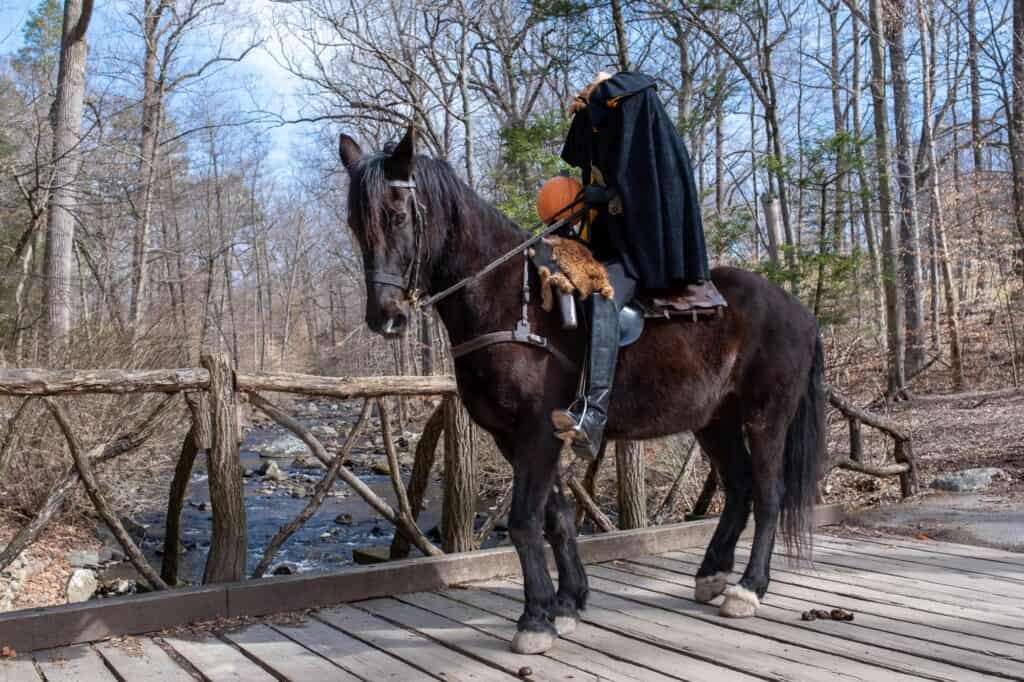 Sleepy Hollow, NY
Sleepy Hollow, New York, has a history that's as rich and dreamy as its spooky name suggests. Best known as the setting for Washington Irving's legendary short story "The Legend of Sleepy Hollow," this quaint Hudson River town has been charming and chilling visitors with its tales of the Headless Horseman since the early 19th century.
Why You Need To Go:
Sleepy Hollow — about 30 miles north of New York City — is not just a place, it's an experience that blends history, mystery, and a dash of eeriness. Walking its historic streets, you'll feel as though you've stepped into Irving's classic story, complete with the thrill of the potential Headless Horseman encounter!
Be Sure to Check Out:
Philipsburg Manor
Take a stroll over to Philipsburg Manor, where you'll be thrown back into the early 18th century. This historic site, once a thriving farming, milling, and trading center, is now a hot spot for interactive tours that'll give you the feel of colonial life. But watch out! According to local lore, the manor is haunted by the ghost of its former owner. Ready to take a trip back in time?
Sleepy Hollow Cemetery
No trip to Sleepy Hollow is complete without visiting the Sleepy Hollow Cemetery. Don't worry, it's not as scary as it sounds, well… mostly. With famous graves, including Washington Irving himself, and stunning Gothic monuments, it's equal parts historical tour and spooky adventure. Just remember, if you hear the distant sound of hooves, you might want to pick up the pace!
Make it Gay:
LOFT LGBTQ+ Community Center
Make a stop at the LOFT LGBTQ+ Community Center, a beacon of love, acceptance, and community right in the heart of Westchester County. From support services, educational lectures, to social events, there's something for everyone at LOFT. It's more than a center; it's a vibrant, welcoming space where you can be your authentic self, meet like-minded people, and maybe even join in on some LGBTQ+ history-making.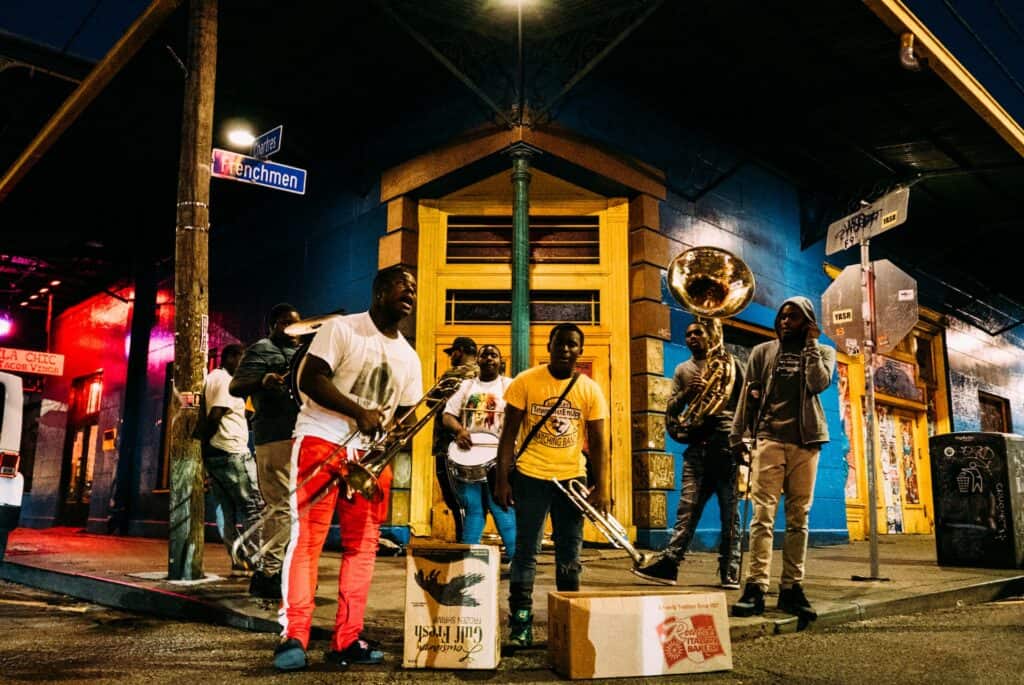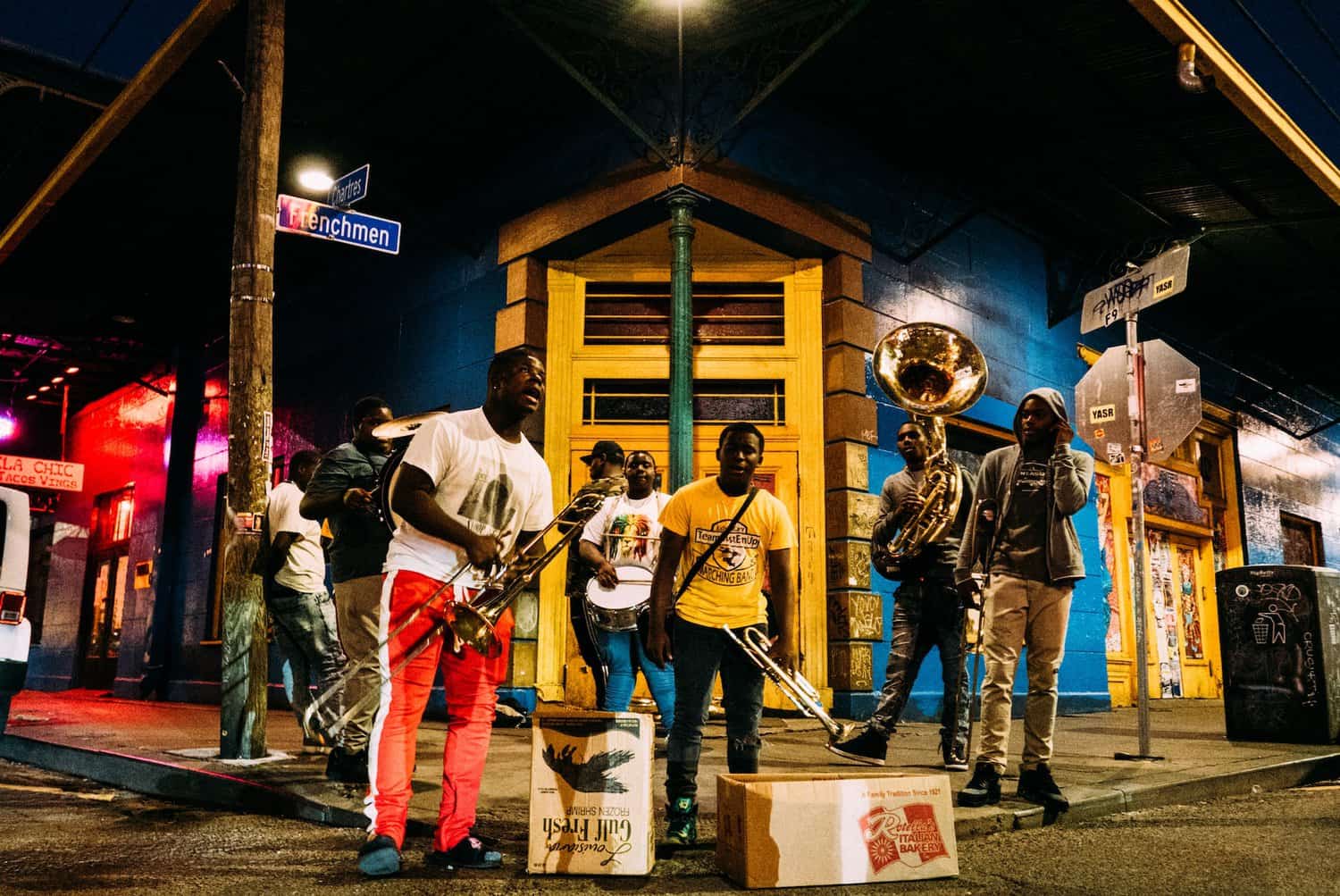 New Orleans, LA
Founded in 1718 by French colonists, New Orleans, is famous for its vibrant live-music scene and spicy, singular cuisine reflecting its history as a melting pot of French, African, and American cultures. It's also known as one of America's most haunted and spookiest ghost towns.
Why You Need To Go:
New Orleans always keeps the party going, but the thrills take on a spookier note when you delve into its ghostly legends and eerie alleyways. Get your ghoul on as you explore the haunted history of The Big Easy, from the ghost-infested LaLaurie Mansion to the chilling tales of the city's famous above-ground cemeteries — it's a spine-tingling adventure you've got to experience at least once.
Be Sure to Check Out:
St. Louis Cemetery No. 1
Get ready for some real chills down your spine at the St. Louis Cemetery No. 1. Known as the final resting place of notorious voodoo queen Marie Laveau, this cemetery is filled with above-ground vaults, a signature sight of New Orleans due to the city's low water table. Keep your eyes peeled, because if legends are to be believed, Marie Laveau sometimes makes a ghostly appearance!
The Sultan's Palace
If you're still in the mood for some spookiness, let's head over to the Sultan's Palace. Officially known as the Gardette-LaPrete House, this place is steeped in tales of treachery, murder, and exotic music playing in the dead of night. Rumor has it, the ghost of the Sultan himself still throws lavish parties after dark. So, who knows, you might just get invited to a ghostly feast!
Make it Gay:
Café Lafitte in Exile
As the oldest continuously operating gay bar in the United States, Café Lafitte in Exile has seen its fair share of high-spirited fun. If you stop by for a visit, you just might encounter playwright Tennessee Williams sitting on his favorite stool or have author Truman Capote stop you for a conversation in the stairwell. So grab a drink, enjoy the friendly, lively atmosphere, and don't be too surprised if your bar stool neighbor ends up being a resident ghost just in for their nightly tipple!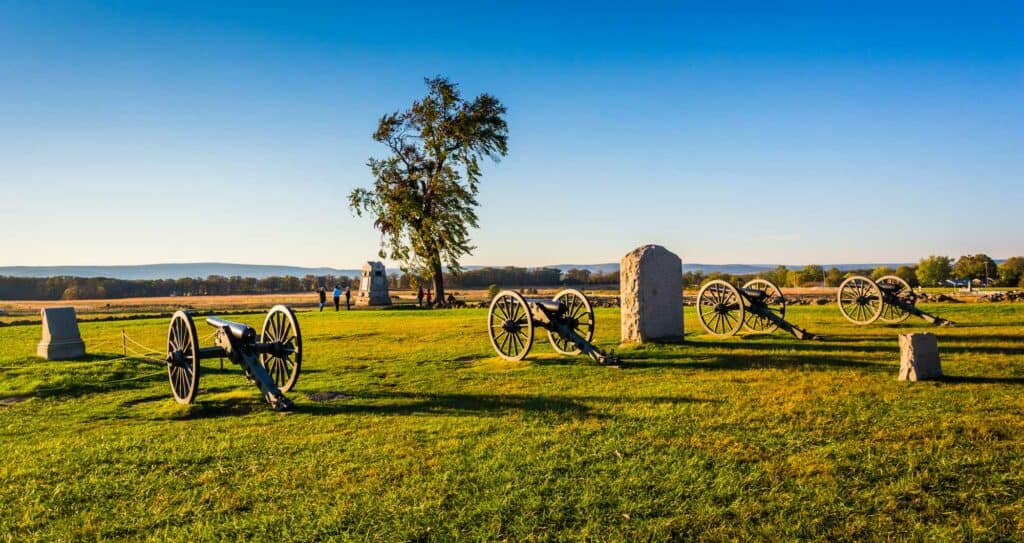 Gettysburg, PA
Gettysburg, PA is a town steeped in American history, widely recognized for the pivotal Civil War battle that took place there in 1863. This monumental event is forever ingrained in the town's identity, with the Gettysburg National Military Park serving as a testament to the heroes and the high cost of the battle.
Why You Need To Go:
Gettysburg, in central Pennsylvania, about 2.5 hours west of Philadelphia, throws a Halloween party like no other. The spirits of Civil War soldiers are said to join in the fun. Take a late-night ghost tour and you might just bump into a phantom regiment marching through the moonlit fields — now that's what I call a blast from the past!
Be Sure to Check Out:
The Jennie Wade House
Now, if you're in Gettysburg, you absolutely can't miss out on the Jennie Wade House. Why, you ask? Well, this house is where Jennie Wade, the only civilian killed during the Battle of Gettysburg, met her unfortunate end. Don't be too surprised if you hear some eerie noises or feel a cold chill running down your spine – Jennie's spirit is rumored to still be lingering around!
Gettysburg Museum of History
Next on our list is the Gettysburg Museum of History. This place is a gold mine for history buffs, packed to the brim with Civil War memorabilia and artifacts. But hold onto your hats, because it's not just Civil War history this museum delves into. They've got World Wars I and II items, plus JFK and Elvis era stuff. So get ready, you're in for a whirlwind tour of American history!
Make it Gay:
Hershey Highway
Ok. Ok. Pun aside, you should travel north about an hour to Hersheypark, or as it's called, "The sweetest place on earth." And let's be clear — when people say sweet, they're not just talking about the world-famous Hershey's chocolate. This amusement park is known for its friendly atmosphere and inclusive policies, making it a favorite among our LGBTQ+ friends. Remember, love is love, and there's no age limit on enjoying a good old-fashioned theme park! And a minimum you get to post on the 'gram that you rode the Hershey Highway.

Savannah, GA
Savannah is a sweet Southern belle of a city, known for its stunning architecture and tree-lined historic squares. You'll feel like you've stepped back in time in this charming, cobblestoned city, with its antebellum mansions, beautiful coastal landscapes, and a legendary food scene that'll make your taste buds do the happy dance. It's also one of America's spookiest ghost towns!
Why You Need To Go:
To meet some ghostly residents because Savannah is known as America's most haunted city! From the eerie Bonaventure Cemetery to the infamous Sorrel Weed House, you're in for spine-chilling tales and spectral encounters that will give you goosebumps!
Be Sure to Check Out:
The Mercer Williams House
Your first stop for a creepy adventure in Savannah has to be the Mercer Williams House. This might look like just another beautiful historic home, but trust me, it's got its secrets. This house is famously known as the setting for the murder mystery in the book "Midnight in the Garden of Good and Evil." And if that's not enough to make your skin crawl, it's also said to house the ghost of Jim Williams himself. So, if you're into spine-tingling mysteries and love ghost stories, this place is a must-visit!
Ghost Tours in Savannah
Next up, get ready to explore the dark side of Savannah with a variety of ghost tours that the city offers. These tours will take you through the haunted past of the city. From haunted pubs to ghost-infested mansions, you'll be in for a thrilling experience. Don't say we didn't warn you!
Make it Gay:
Club One
After a ghost-fueled adventure, why not add some sparkle to your Savannah trip at Club One? It's the perfect place to let your hair down and boogie to the beat! This iconic gay bar and nightclub is famed as the home of the legendary drag queen, The Lady Chablis. You may remember Ms. Chablis from the book and film "Midnight in the Garden of Good and Evil." With a vibrant atmosphere, dazzling drag shows, and a welcoming crowd, Club One is a fabulous spot to celebrate diversity and inclusion, Savannah-style!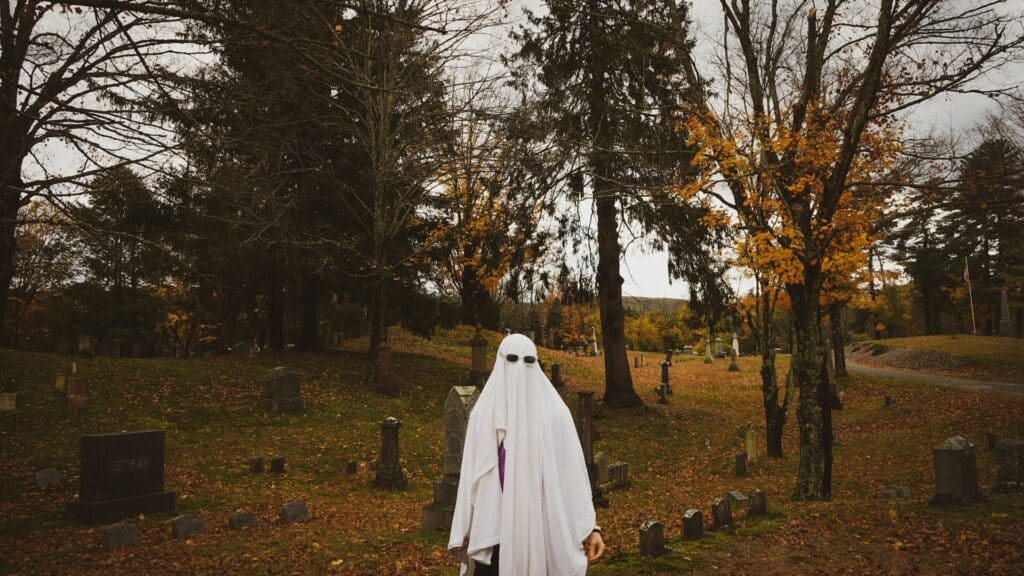 Wrapping Up Your Spooky and Sparkly Adventures
That's all, brave explorers! You've fearlessly ventured into America's spookiest ghost towns, and hopefully gathered some spooky stories for your next campfire gathering. So pack up your courage, dust off your exploration boots, and remember — the next boo-tiful adventure is just around the corner. Until then, stay spooky and keep hunting those ghosts!
RELATED ARTICLES:
Chills and Thrills: Discover the Creepiest Places in the United States
Scare your Pants Off This Weekend
Vamps, Tramps & Naked People: An LGBTQ+ Guide to Halloween Across America
Wanderlust Meets Halloween: Travel-Inspired Costume Ideas You'll Love!