It's officially spooky szn and you know the (mostly true) stereotype: Gay Christmas takes form in Halloween. With the 31st fast approaching, this can mean only one thing — it's party time! So, we pulled together the top LGBTQ+ Halloween events across the country to help you plan your next haunt.
Alright, get that costume all set and no matter how skimpy or politically driven your disguise is, just make sure you plan to show off your … spirit.
There are plenty of gay Halloween events from coast-to-coast, but here are a few to get you in the mood.
Note: These LGBTQ+ Halloween events are on the 31st unless otherwise noted.
Top 2023 LGBTQ+ Halloween Events Across the U.S.A.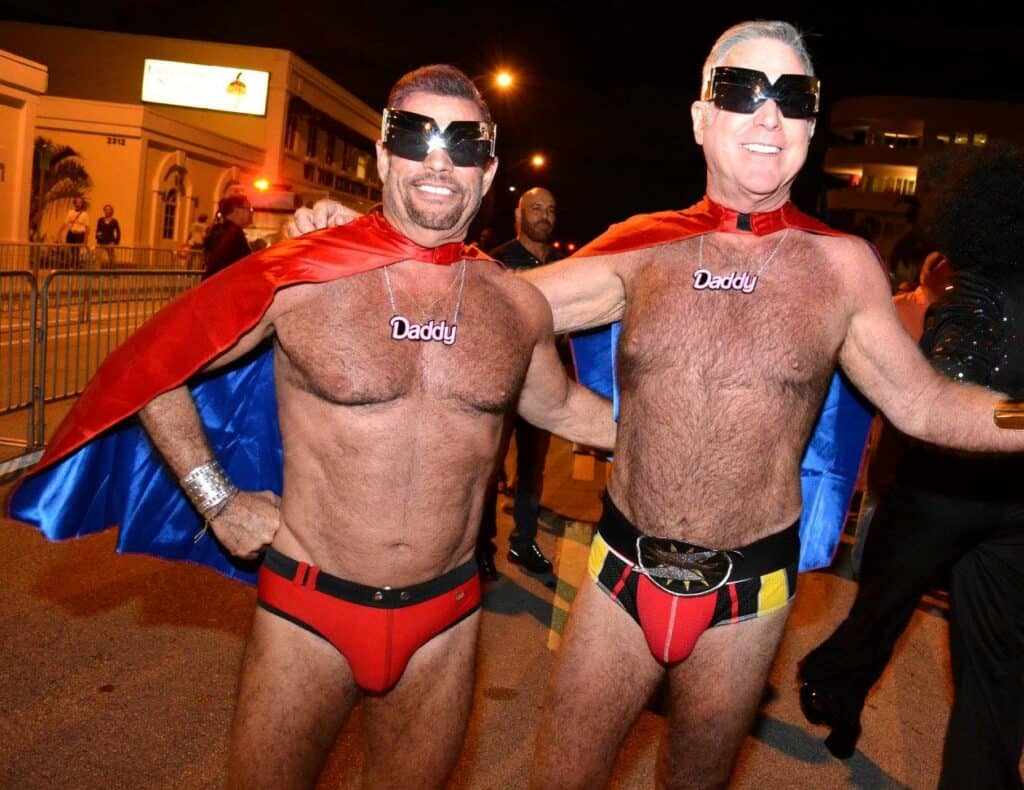 Fort Lauderdale
Even though nothing in Florida is scarier than its nightmarish politics, Fort Lauderdale does host a ghostly affair: Wicked Manors. Gays in Wilton Manors will see Wilton Drive close down for a queer masquerade ball. This year's theme "Little Drive of Horrors" is sure to feed you all night long. You may even end up chanting "Say Gay, Seymour!" all night.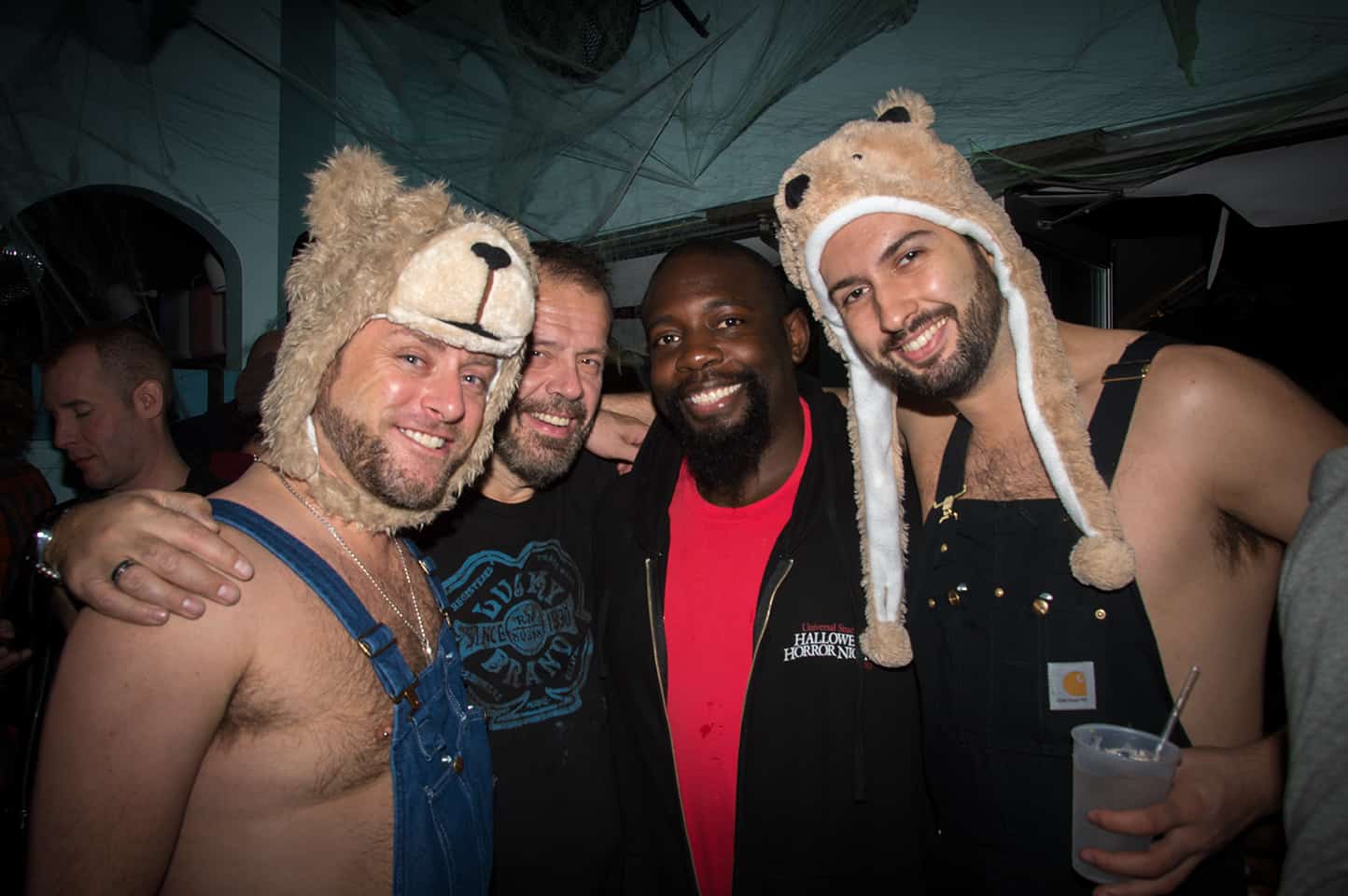 Provincetown
The tip of the cape is bear-y spooky for Halloween. With a full weekend schedule of spooky, sexy parties, street entertainment and events fit for every kind of zombie, angel, demon twink, daddy and bear — P-Town ends the season in true celebratory fashion with Spooky Bear.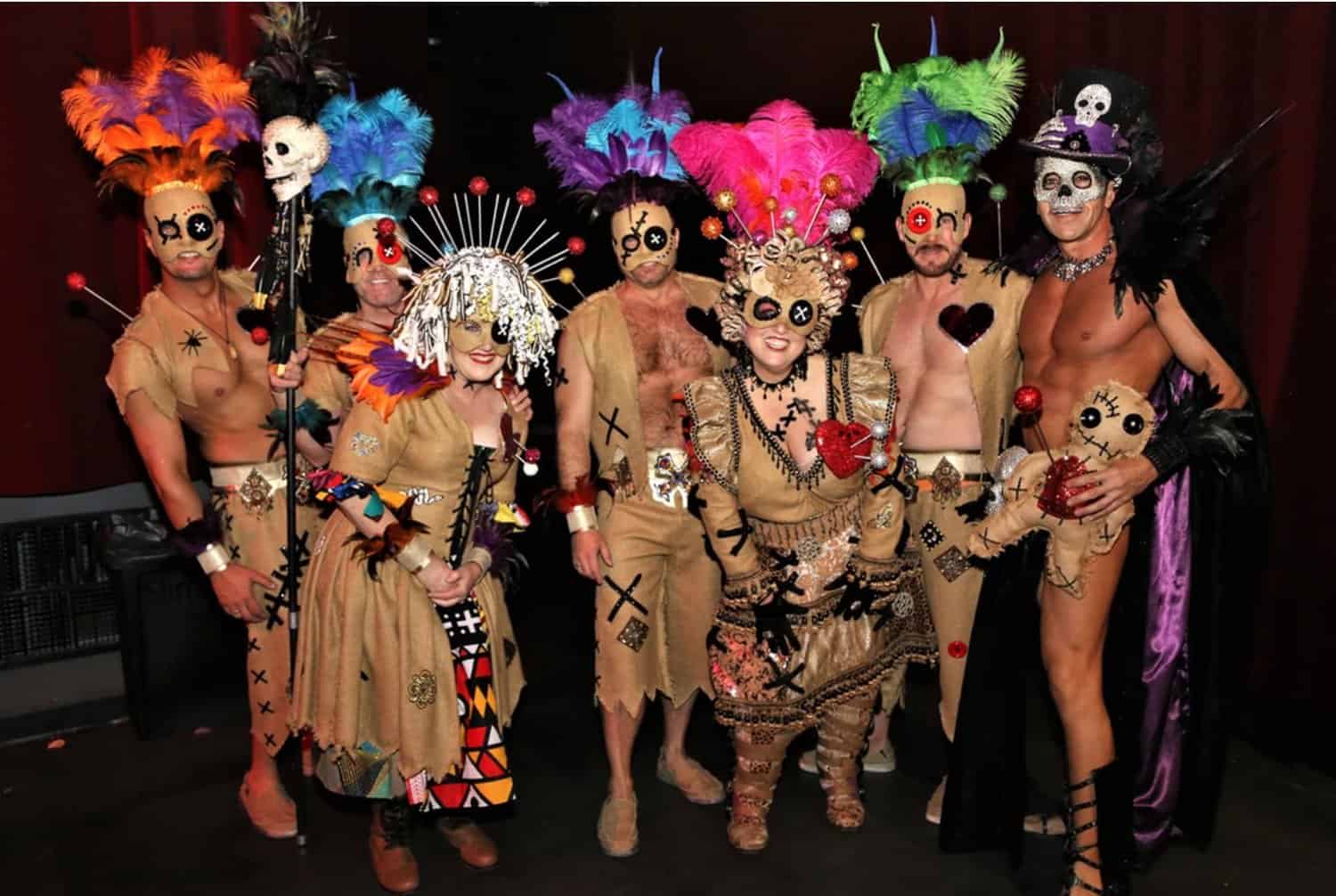 New Orleans
Halloween New Orleans is throwing an XL-sized party, with a full weekend of events celebrating 40 years of AIDS fundraising. This year's theme is all about XL, packed full of unforgettable experiences and endless possibilities that commemorate their past and celebrate their future. Also, New Orleans is kind of haunted; make sure you plan time to get spooked in the infamous NOLA cemeteries.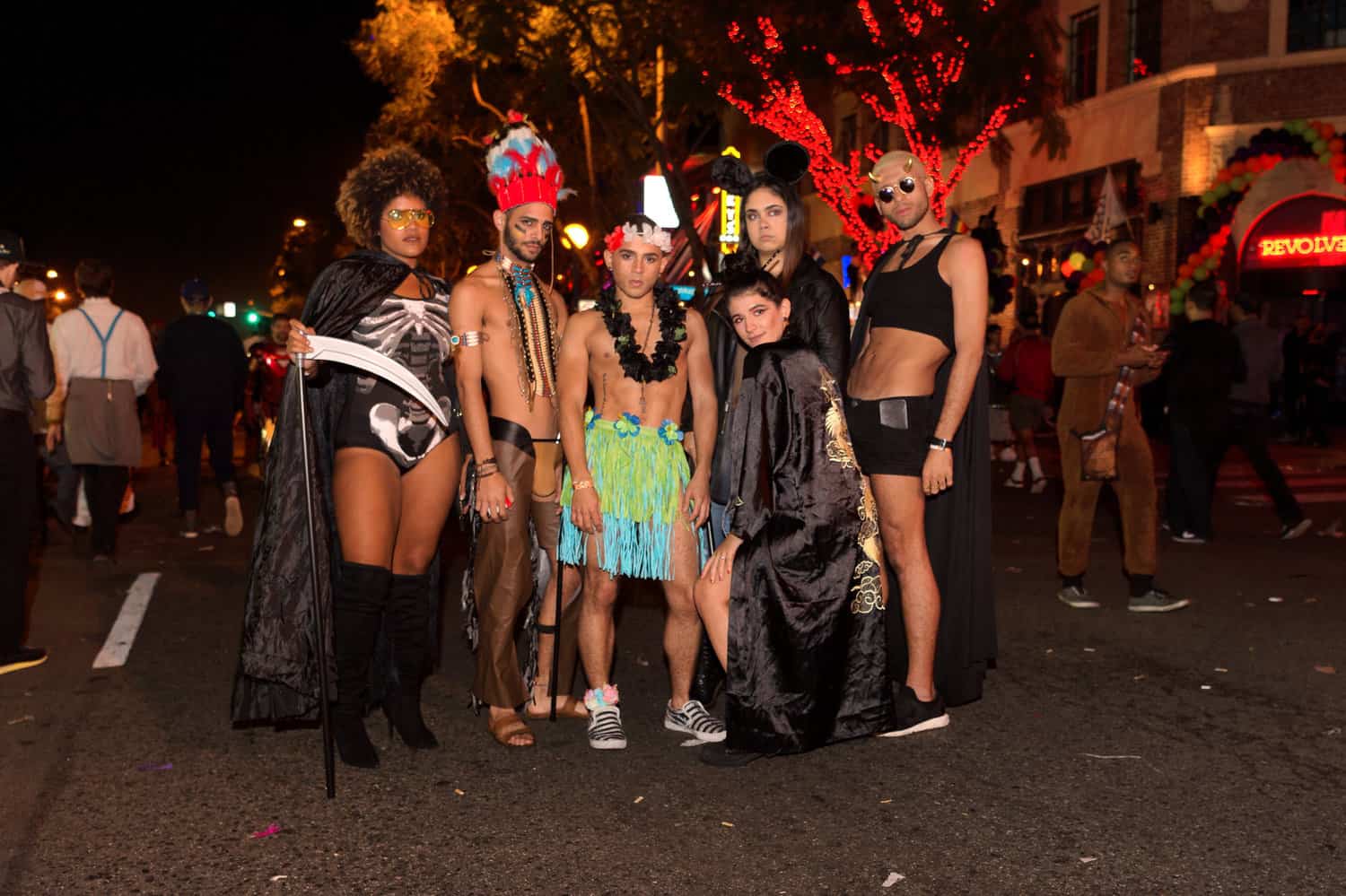 West Hollywood
The West Hollywood Halloween Costume Carnaval is the world's biggest Halloween street party, with half a million festival-goers. Santa Monica Boulevard turns into an outdoor celebration, complete with a Halloween Costume Contest and the crowning of an Honorary "Queen of the Carnaval." The wilder the costume, the better! The entire event is a colorful parade, with decorations adorning Santa Monica Boulevard. It runs from 6 to 11 p.m., and with plenty of gay bars in the area, after-parties are a given.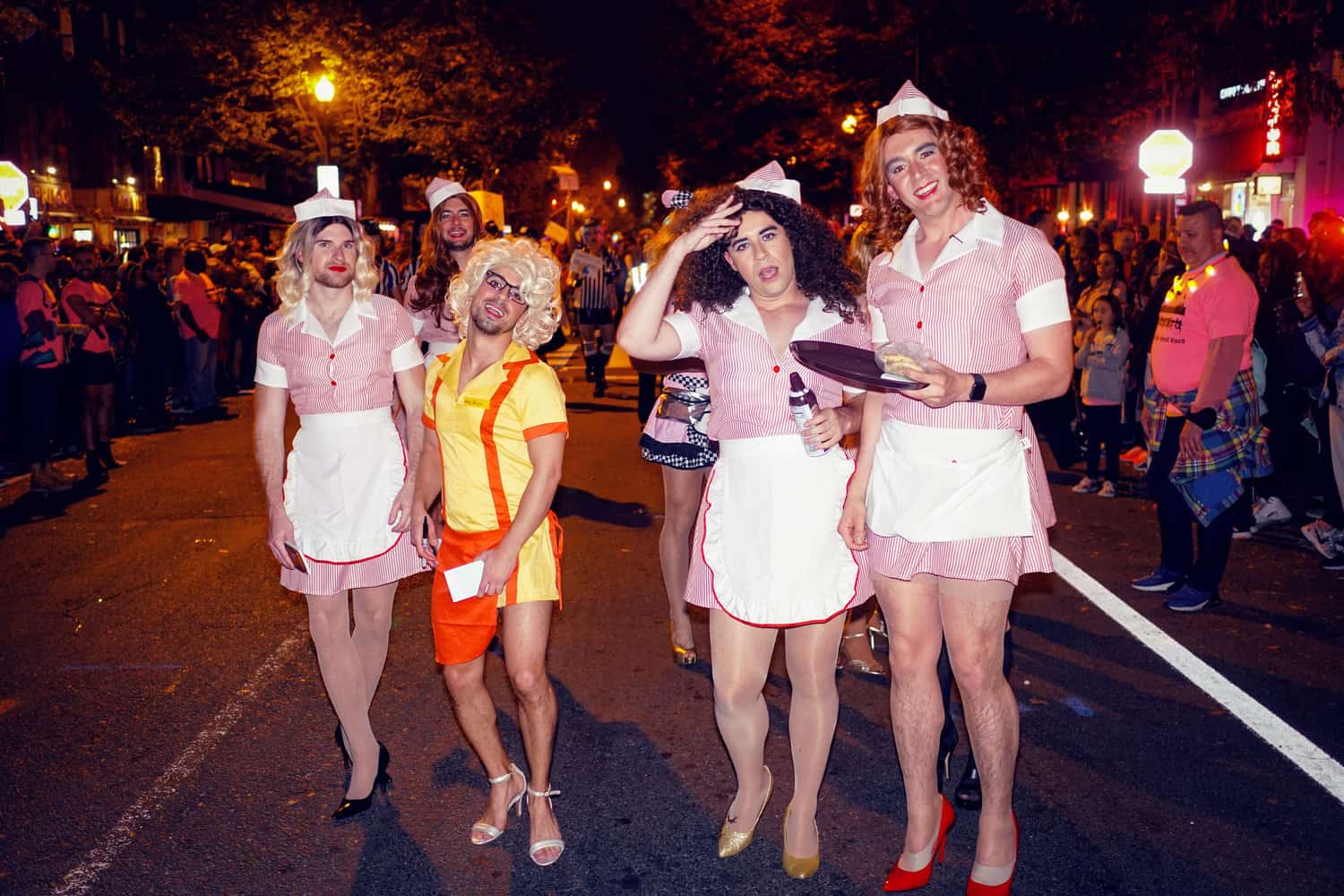 Washington D.C.
The DC High Heel Drag Queen Race is an annual event held in the nation's Capital on the Tuesday before Halloween (October 24th this year). Thousands of spectators flock to Dupont Circle to watch as 100 or so drag queens race down 17th Street. In costumes. And stilettos. Just as our forefathers intended.
As you can imagine, the running and the heels don't really mix, so expect a scene as the queens tumble with the flare you'd expect. Feel free to show your own colors with a Halloween-appropriate outfit, but don't be offended if someone mistakes you for one of the night's stars.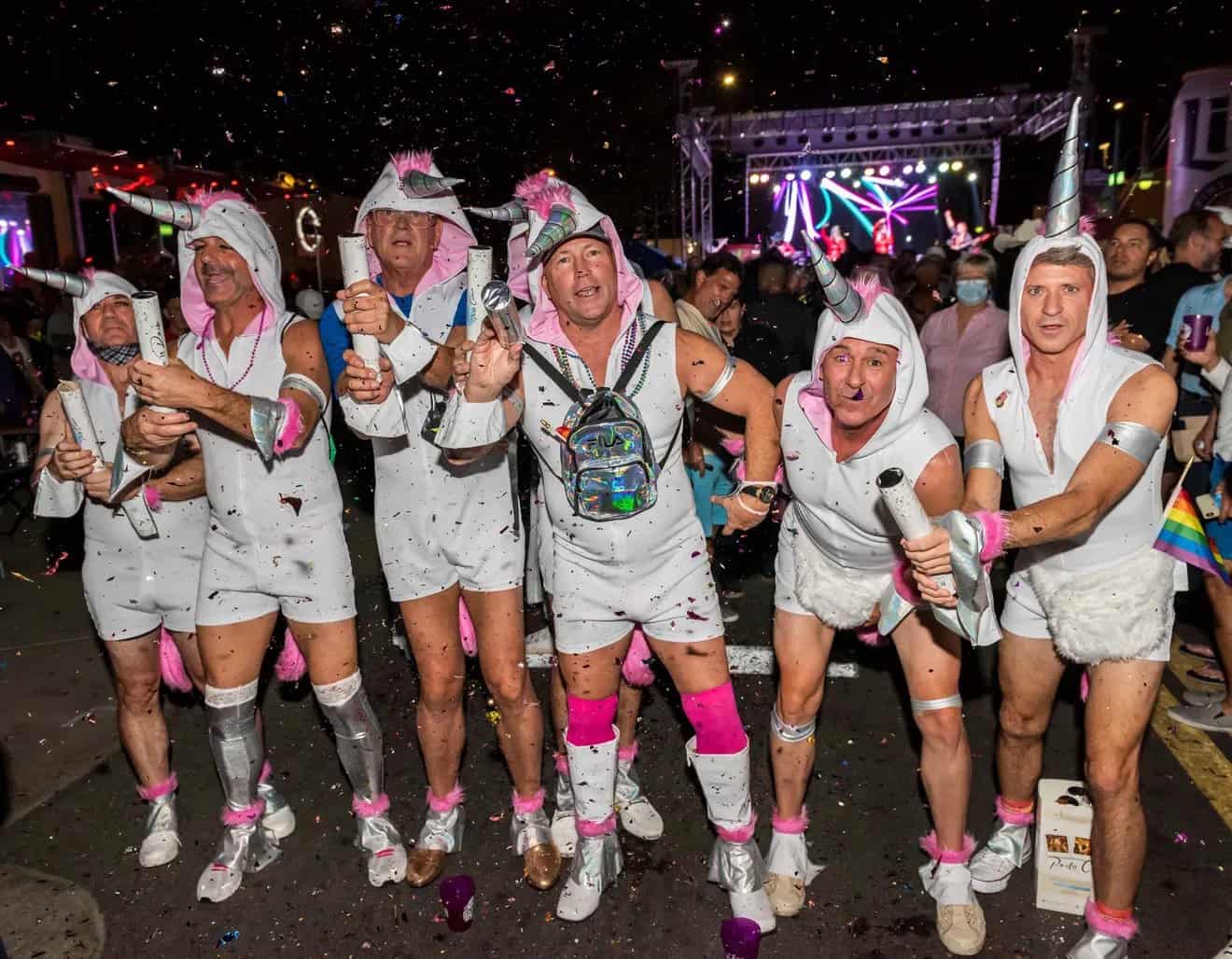 Palm Springs
If you think you have what it takes to take home a top prize, head to the desert for Halloween on Arenas Road on Sunday, October 29th. Costumed party-goers fill the Palm Springs street, competing for coveted prizes in categories ranging from the scariest to the most creative outfits. The vibe is electric, with pulse-pounding music filling the air. And even if you don't win one of the prizes (worth over $1,800), you can dance to the Pussycat Doll's Carmit all night long. Win-win.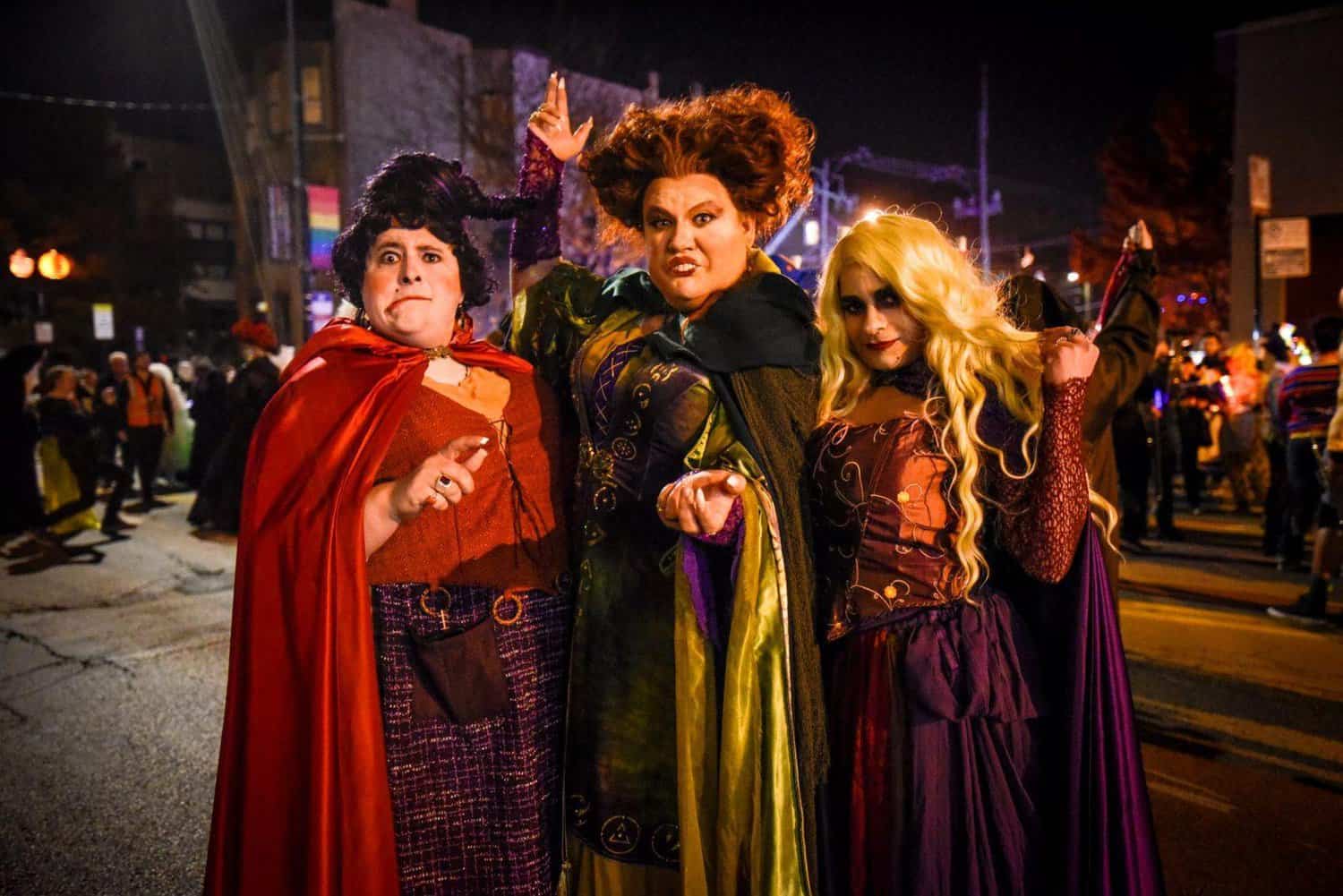 Chicago
Midwestern ghosts and ghouls will take over Boystown with the 26th Annual Haunted Halsted Halloween Parade & Costume Contest. The streets of Chicago come alive with an extravagant parade that showcases an imaginative array of costumes. The festive spirits run high, and the competition is fierce, with participants vying for cash prizes in categories such as the scariest, most original, and best drag. With any one of the bars along the strip hosting viewing parties, it's sure to be a festive event.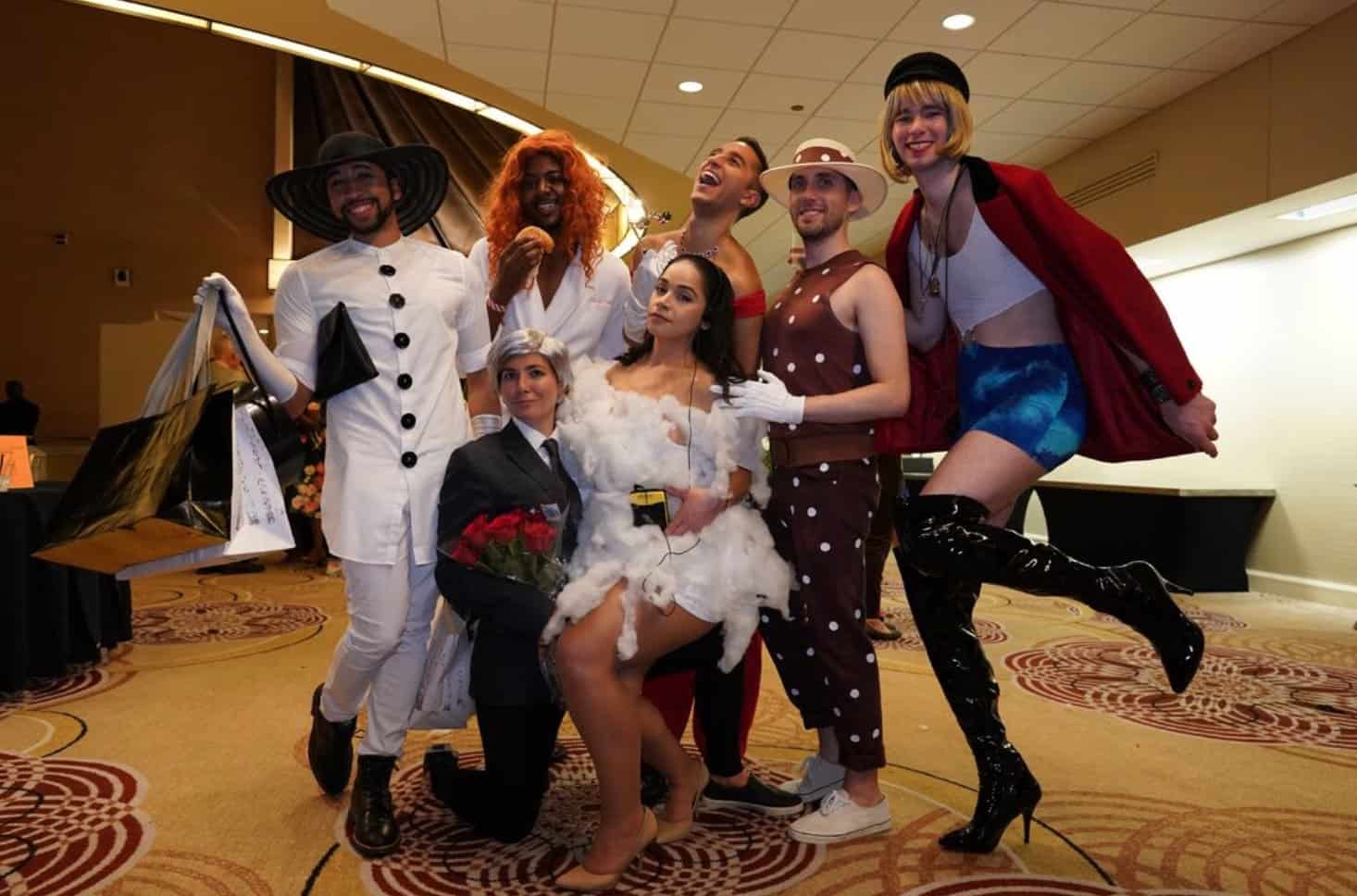 Philadelphia
Henri David Presents: Halloween the Ball is Philly's most vibrant and Instagram-worthy bash! Since 1968, Henri David, the queer jewelry maestro of Antique Row, has been hosting this magnificent ball. And let me tell you, while Henri's costume steals the show every year, his guests definitely give him a run for his money!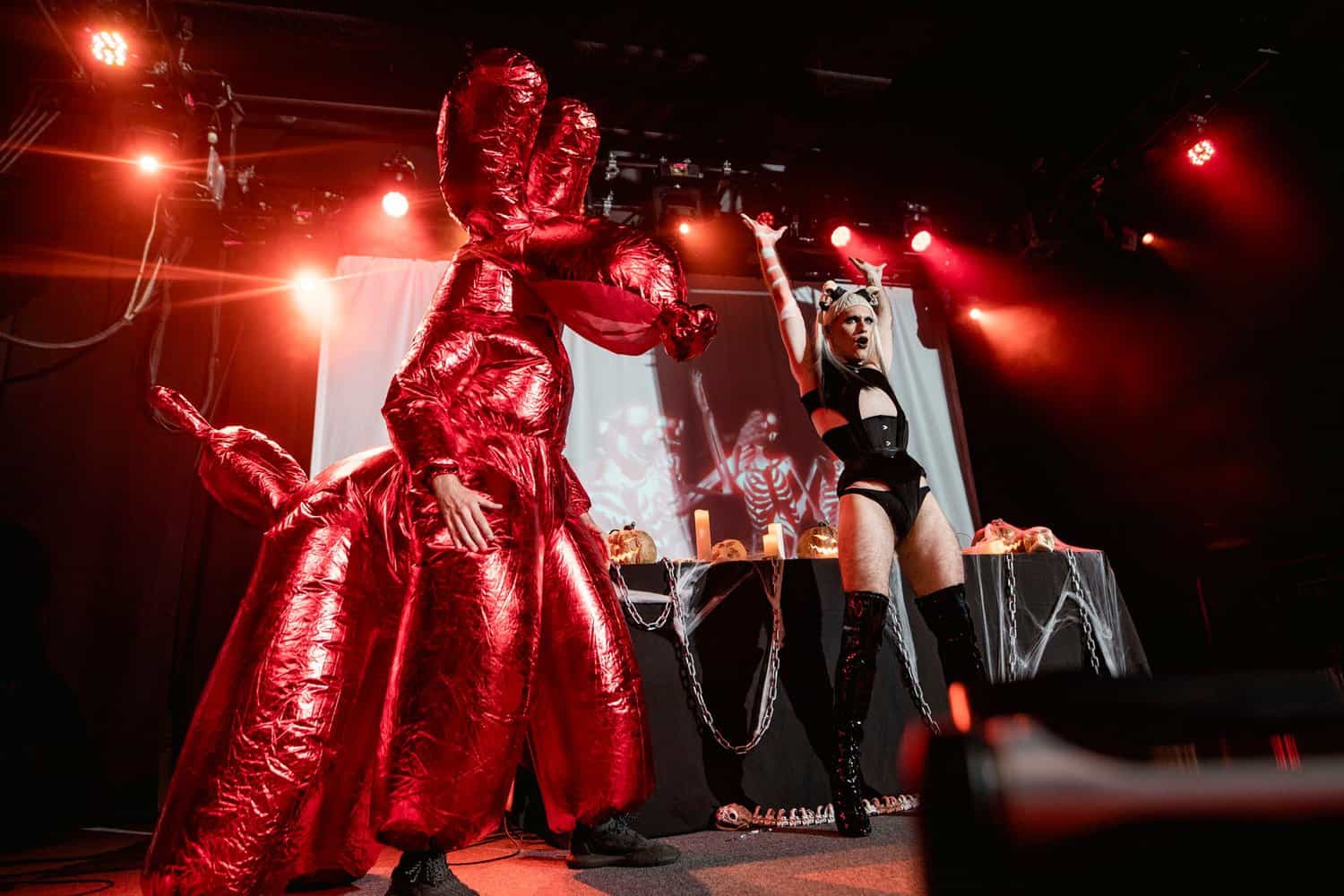 Boston
Gay Bash'd, a queer artist-ran collective that throws events all year long for genderqueer community and their allies is bringing back their annual Halloween Bash. This Boston bash boasts performances from some of the edgiest drag queens around, pairing shock value with phenomenal talent.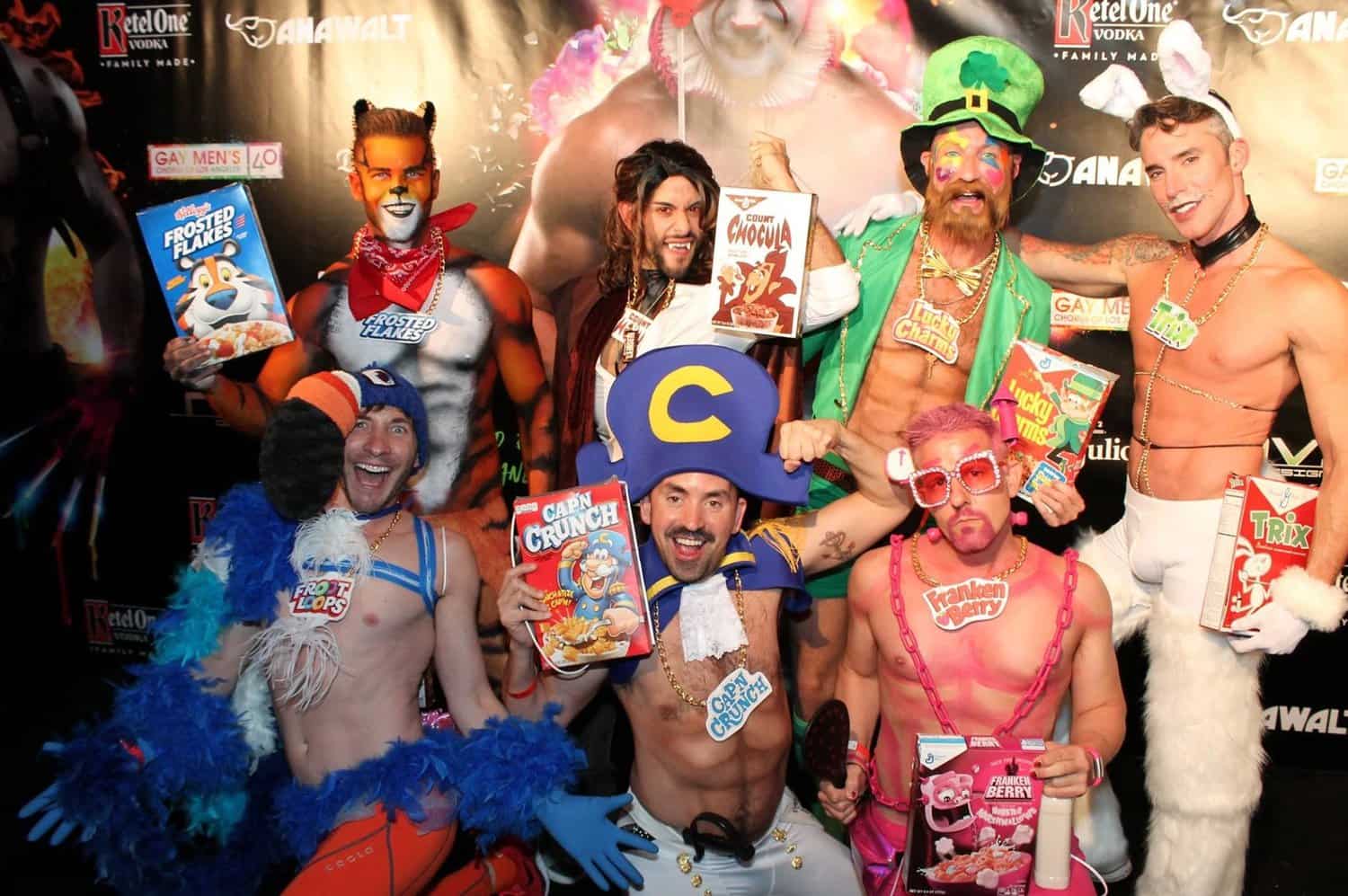 Los Angeles
Freddy Krueger and Jason Voorhees, infamous fictional killers, are horror icons and surprisingly big fans of sexy gay Halloween parties! They inspire Los Angeles' largest, loudest, and sexiest party: Fred & Jason's Halloweenie. As luck would have it, this year the event takes place on Friday the 13th.
After 11 years in DTLA, the party is returning to Hollywood. Sponsored by Kevin Huvane, this party has been fittingly referred to as the "Party with a Purpose" because it benefits Project Angel Food, providing meals to Angelinos with HIV/AIDS and other life-threatening illnesses.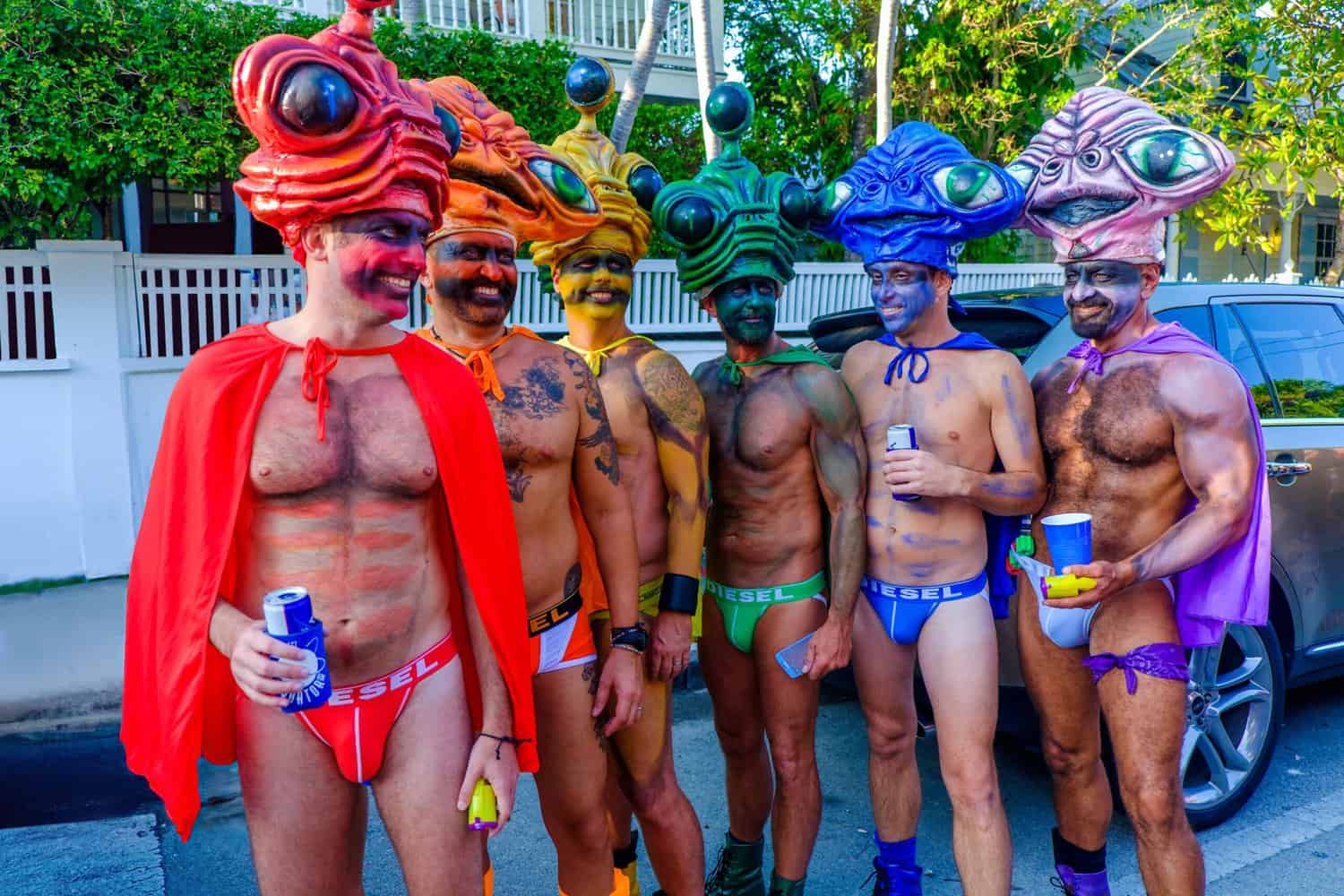 Key West
With a devil-may-care lifestyle that's just one drink away from hedonism, Key West offers a truly unique vacation experience all year long. But, Fantasy Fest, a 10-day, no-holds-barred Halloween party filled with costumes, body paint, drinking, dancing, life-loving and skin aplenty ups the ante.
This year's fest takes place October 20–29th, and while some of the events are family-friendly, many are geared toward adult gay men, like the Desire Male Fetish Party — likely named by a straight-shooter kind of guy — or the Tops or Bottoms underwear party where kinky costumes are required.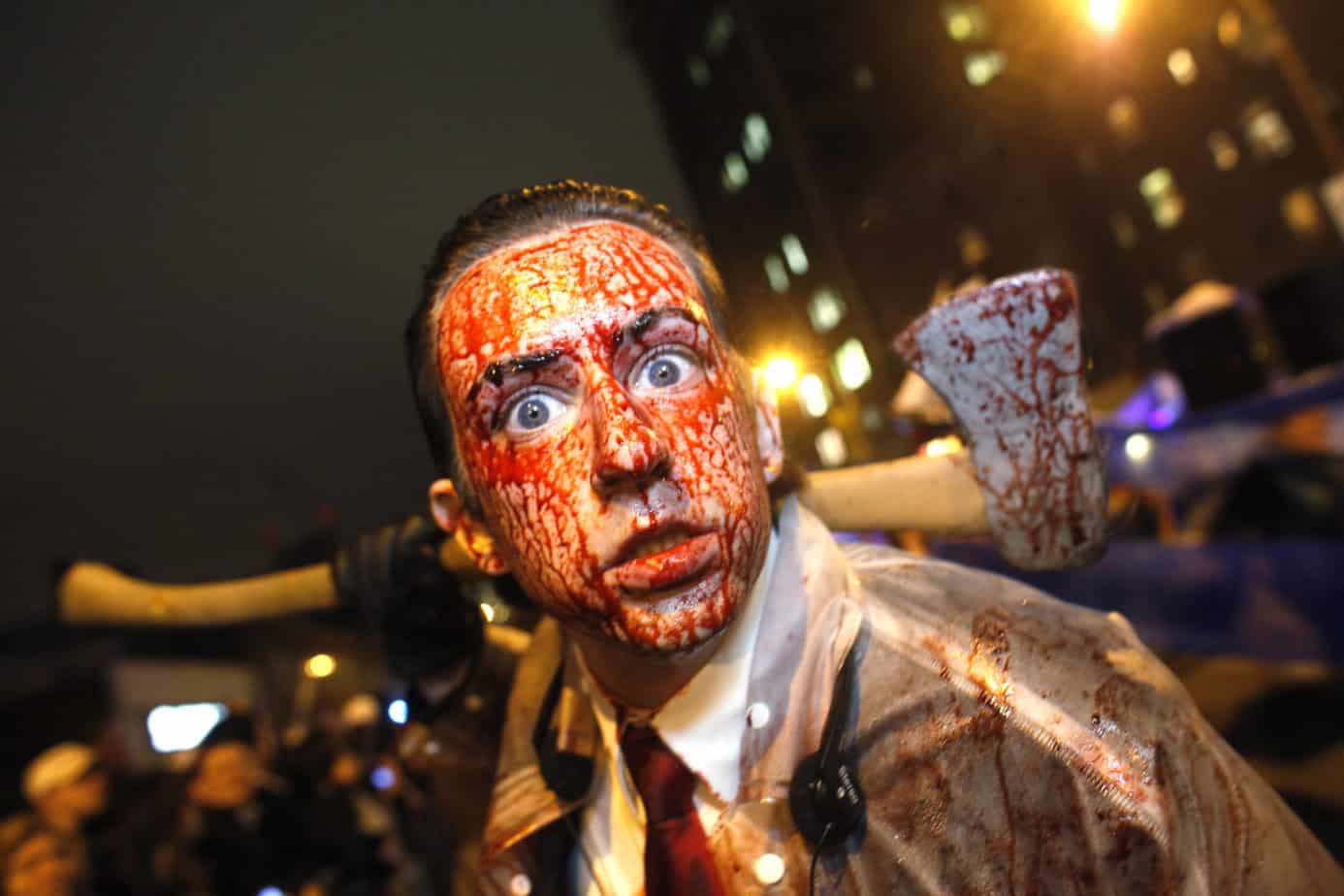 New York City
The Village Halloween Parade in New York City is a vibrant celebration of creativity. At 7 p.m. on the 31st, Greenwich Village comes alive with all things Halloween. The city's only night parade is open to everyone. But here's the deal, you gotta be in costume to join the march, no half-assed outfits allowed! It's an epic spectacle with around 50,000-60,000 marchers each year. Oh, and if you're feeling a bit shy, don't worry! There will be awesome music and dancers to entertain spectators all night long.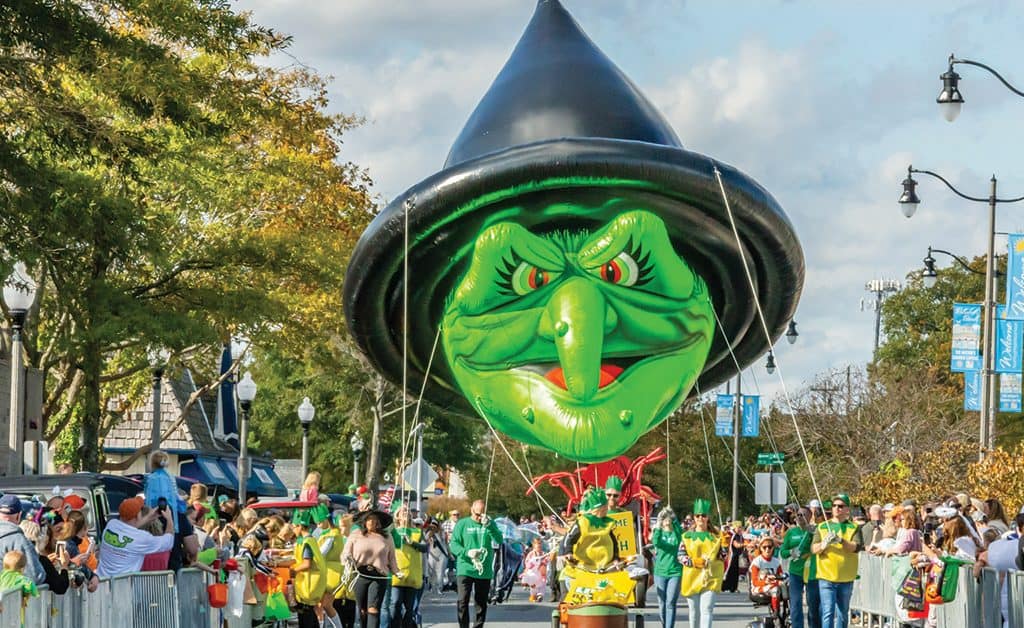 Rehoboth Beach
The Sea Witch Festival takes place over Halloween weekend and is the most family-friendly event listed here. On Saturday, children of all ages show up as witches, monsters, zombies, and other creative characters to march around town. But, Rehoboth Beach nights belong to the queers. Costumes are encouraged at Blue Moon Restaurant and Bar, which hosts its regular drag show: Legends.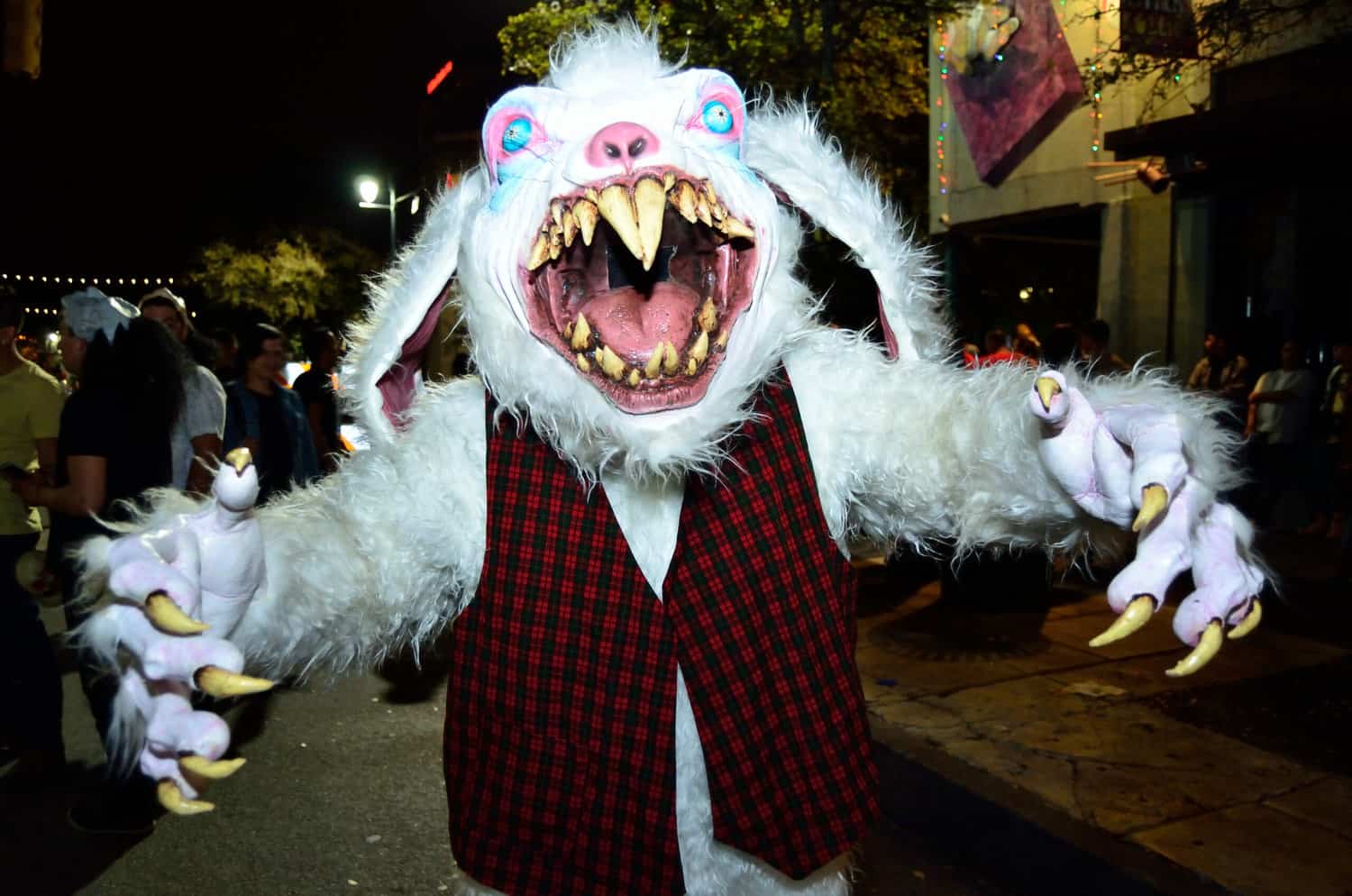 Austin
Every Tuesday night Barbarella is always buzzing with people eager to shake off that mid-week funk on the dance floor. And when Halloween falls on the same day as the Barbarella's legendary TuezGayz, it's like fate had a special treat for all the LGBTQ+ costume lovers who just wanna dance their heart out in the capital of Texas. And hey, let's not forget about other queer hotspots like Iron Bear and Oilcan Harry's, they also throw some epic Halloween bashes of their own!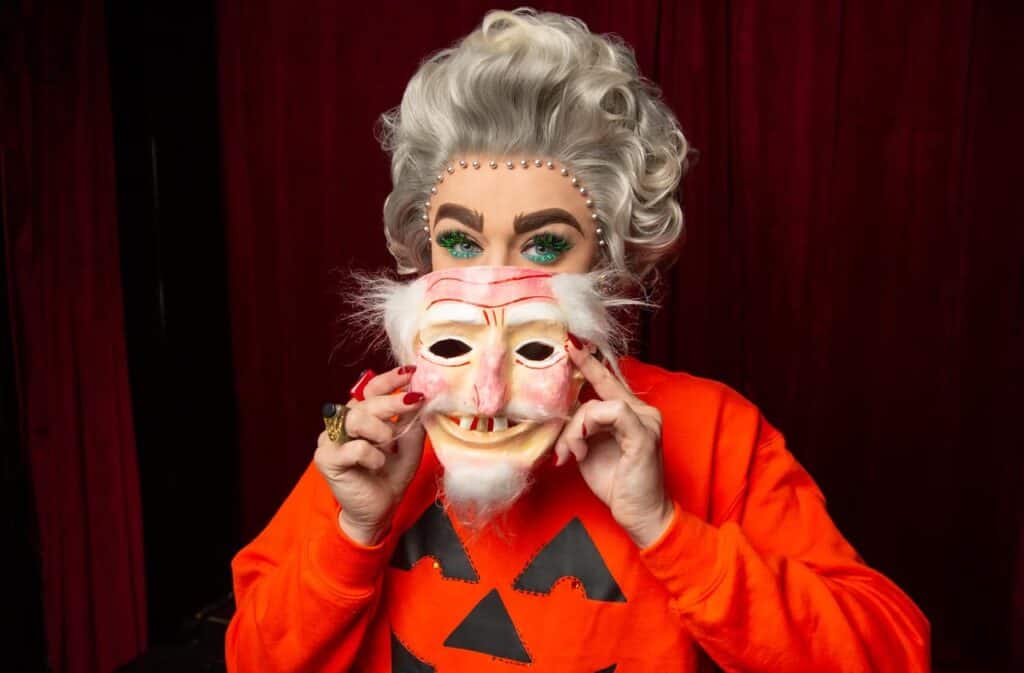 Salem
On October 29th, grab your "sis-taaaas" and head to one of the best LGBTQ+ Halloween events this year, the Tammie Brown Halloween Spooktacular in the Witch City — about 30-minutes north of Boston. The devilish Tammie Brown, from RuPaul's Drag Race is making her witching debut in Salem. Tickets are $40. While you're there, be sure to check out the town that made Hocus Pocus so popular.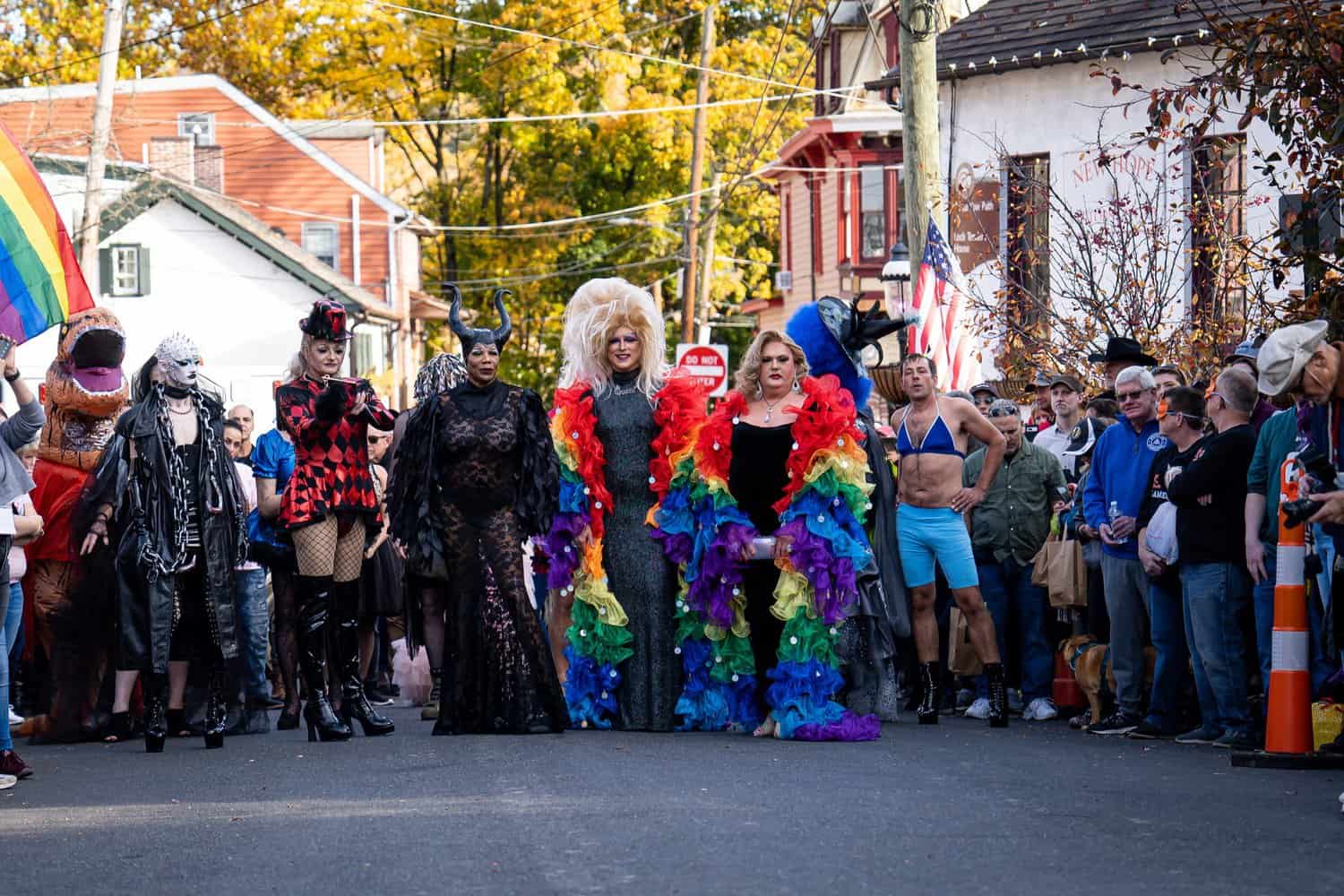 New Hope
Hang out with your ghoul friends on the banks of the Delaware River at the New Hope High Heel Drag Race, sponsored by New Hope Celebrates. This one-block race is quite simple. Runners must wear 3" or taller high heels (sorry, no kitten heels here!). And be decked out in some type of Halloween-inspired drag outfit. Runners will carry a pumpkin up a hill, decorate the pumpkin, and then race back down the hill with the pumpkins remaining in one piece.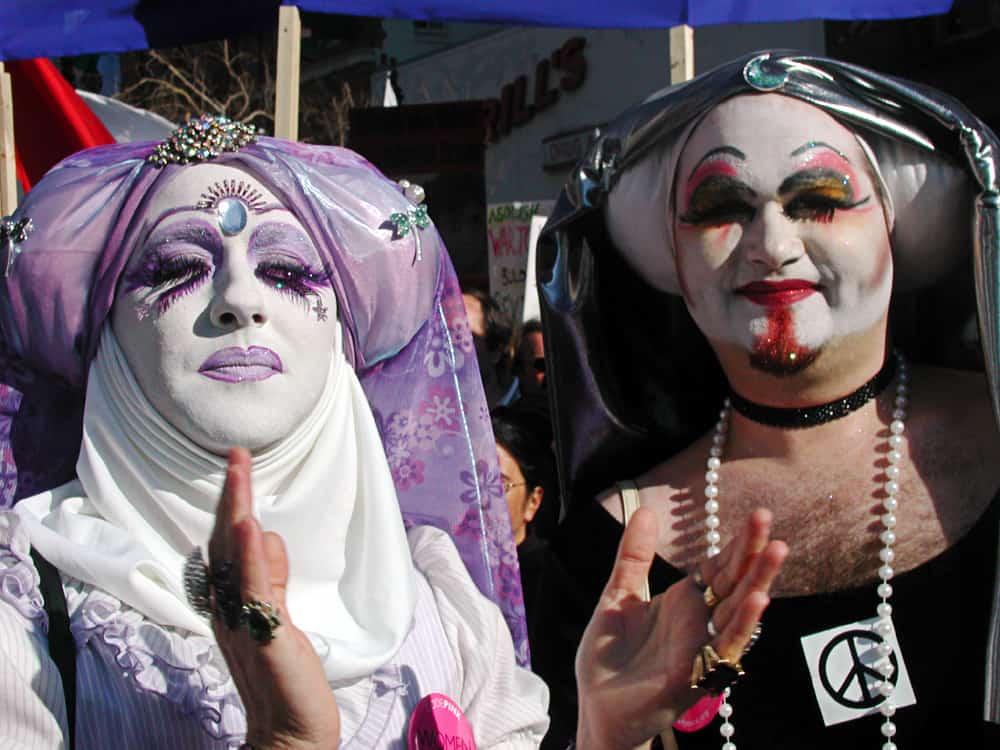 San Francisco
After years without organized festivities, plans for Halloween in San Francisco's Castro are moving forward. However, it won't be the same wild block party that once defined San Francisco's sexual openness.
Quick history: In the past, over 30k people would storm the Castro for Halloween. It was all about having a good time, but things got out of hand in 2006 when it turned violent, resulting in injuries. The magic was lost.
Today: The Castro Merchants Association with The Sisters of Perpetual Indulgence, the Castro Theatre, and the Castro LGBTQ Cultural District are teaming up to bring Halloween back to the Castro in a more old-school, community-based, safe way. On October 28th, there'll be a costume contest at the theatre, featuring a marathon of five films, including The Rocky Horror Picture Show. And on the 29th, local merchants are throwing a family-friendly block party with pop-up drag performances, face painting, pumpkin carving, and more.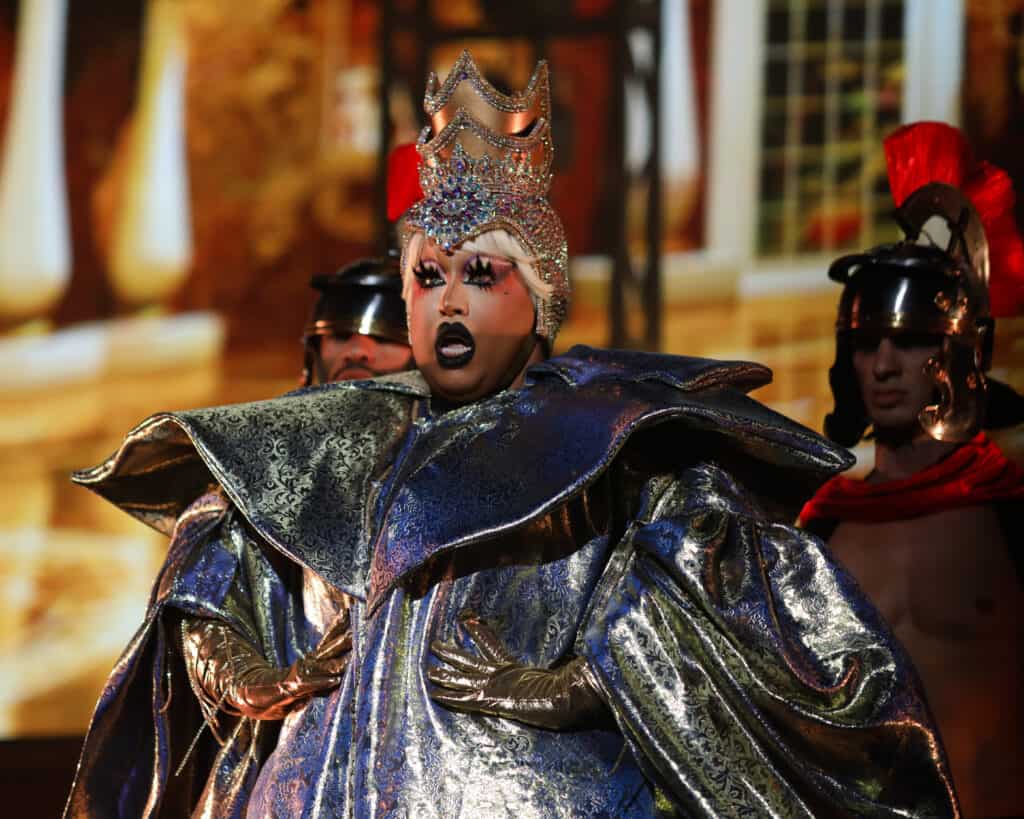 Spooky All Over
RuPaul's Drag Race Night of the Living Drag is a spooktacular event that attracts hardcore fans of RuPaul's Drag Race and newbies alike. It's all about Halloween vibes and bringing the magic of Drag Race to the stage.
This year, get ready for a spooktacular homage to the supernatural and psychological stories of Rod Serling's The Twilight Zone. Picture a night where glamour meets ghoulish, with your favorite queens slaying the stage in Halloween-themed outfits that will give you life! And that's not all — you might even get a chance to meet and greet these queens.
Yvie Oddly, winner of RuPaul's Drag Race season 11, is hosting this fabulous night of drag. Joining Yvie on stage are the fierce Jaida Essence Hall, winner of season 12, the fabulous Icesis Couture, winner of Canada Drag Race season 2, the lip-sync assassin Tayce from RuPaul's Drag Race UK, and fan favorites Plastique Tiara, Angeria Paris VanMicheals, Denali Foxx, Rosé, and Jorgeous.
Presented by Voss Events and World of Wonder, RuPaul's Drag Race Night of the Living Drag tour will be in 26 cities across the North and Southeast, ending with a final show in Newark, New Jersey on Halloween night, October 31st — spooky!
Now, Unleash the Halloween Queen Within at one of these LGBTQ+ Halloween Events
So, whether you're looking for a ghoulish bash in the Big Apple, a frightful soirée on the West Coast or a spooky drag show, there's no shortage of Halloween events that celebrate and uplift the LGBTQ+ community. Remember, Halloween is about being whoever or whatever you want to be, so let your imagination run wild, embrace the chaos, and above all, have a hauntingly fantastic time!
RELATED ARTICLES:
Wanderlust Meets Halloween: Travel-Inspired Costume Ideas You'll Love!
Scare your Pants Off This Weekend